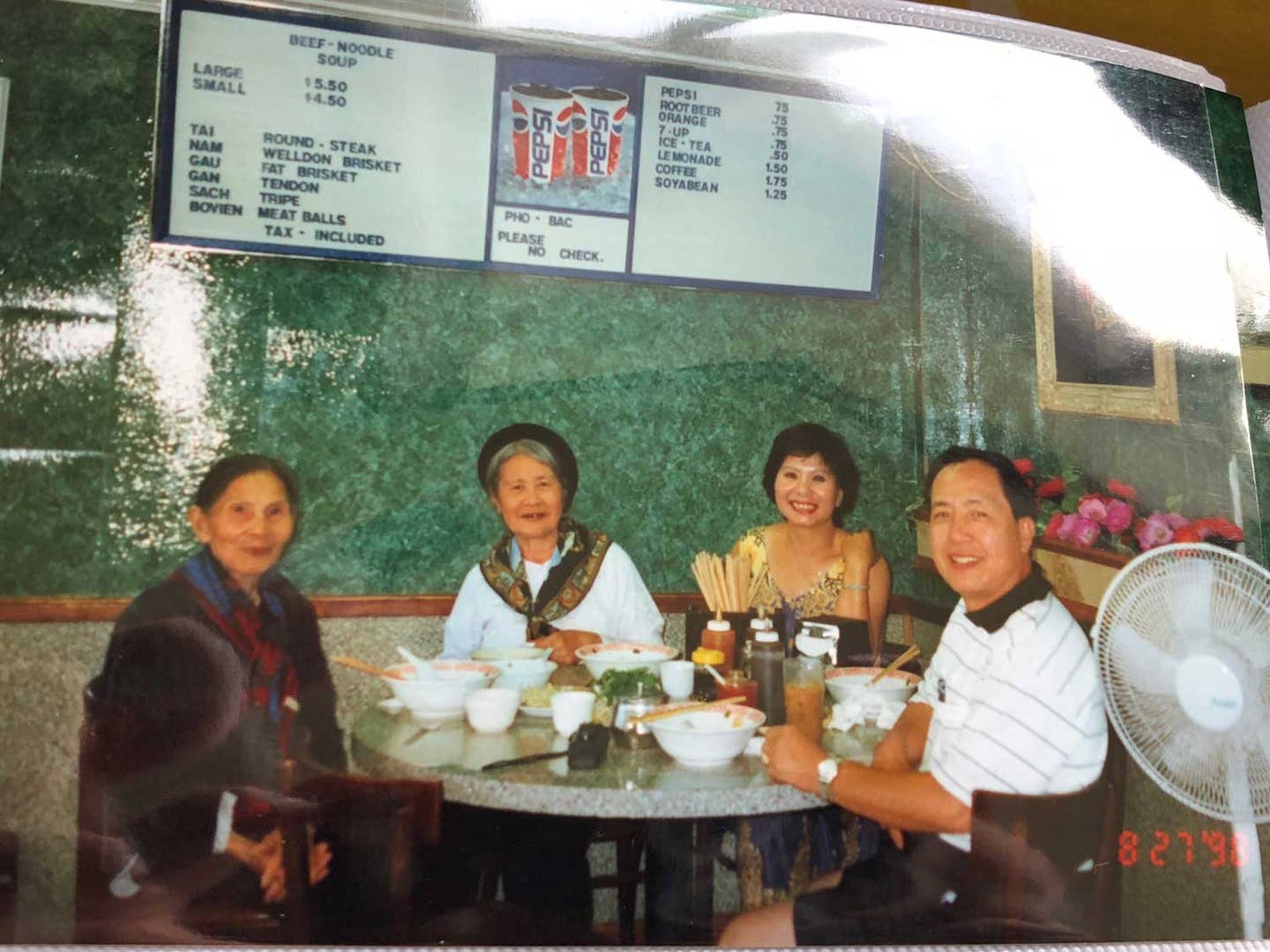 Culture
How the Next Generation of Seattle's Little Saigon is Keeping the Neighborhood's Culture—and Food—Intact
The three siblings behind Seattle's newly-opened Pho Bac Sup Shop are following in their parents' footsteps
"We have to do it before someone else does," says Yenvy Pham of building out the new restaurant, Phở Bắc Súp Shop, she owns with two of her siblings. As gentrification and big developments rapidly eat up the land around Seattle's Little Saigon neighborhood, the Pham siblings look to fend off the loss of their cultural enclave to newer, shinier restaurants by opening one themselves—and, they hope, showing others in the community how they can, too.
Pioneering new ideas in the mini-neighborhood of Little Saigon, sandwiched between the Seattle's Central and International Districts, runs in the Pham family. In 1982, Yenvy's parents changed their sandwich shop, then called Cat's Submarine, into Phở Bắc, the city's first phở shop. Now that her parents are retired, the business is run by three of their five adult children, Quynh, Khoa, and Yenvy, and finding phở in Seattle is about as easy as finding a slice of pizza in New York (and nearly as essential to the city's identity).
"There was nothing there," says Yenvy of when her parents opened the red, boat-shaped original shop at the corner of 14th and Jackson. "It was a really blue-collar area." On weekends, the crowds would spill out of the Vietnamese Catholic church two blocks away and pack in for phở. The community—Washington has the third-largest Vietnamese population in the country—came to shop at the Asian grocery stores and stopped in for soup. Soon, a whole neighborhood sprang up, an unofficial "Little Saigon," centered on "The Boat."
Less than a mile north, Capitol Hill's dense population of hipsters and wealthy new arrivals fills up luxury apartment buildings. To the east is the rapidly gentrifying Central District, once a hub of African-American culture, with its jazz clubs spilling down Jackson and extending into the beginnings of Little Saigon, now filling up with multi-use new developments as the city scrambles to house the tech-boom employees flooding the city.
Today, 40 years after the first Vietnamese businesses opened here, more than 100 small, family-run businesses crowd the micro-neighborhood. A half-dozen bánh mì, or Vietnamese sandwich, shops circle the busy intersection of 12th and Jackson; low-rise buildings hold layers of restaurants boasting their offerings in English, Vietnamese, and Chinese.
Among the three-table noodle spots and two-dollar sandwich counters, the Pham's Súp Shop sprawls. The space, an expanded remodel of Phở Viet, formerly another of their family's restaurants, includes a full bar, a coffee shop, an area for people to settle in and do work, and another for hosting events. "It's the Central Perk of Little Saigon," jokes Quynh Pham.
One corner holds a surprising mini-business: a natural wine shop called Vita Uva, run by Suzi An, whom Yenvy calls her "Korean-American sister." The décor is at once modern and, it seems, a little bit of a throwback to the rickety tables and plastic chair style of their parents' original shop.
Yenvy laughs at the question of how she decided to follow in her parents' footsteps, "I was tapped," she clarifies. Like so many children of restaurateurs, she grew up in the kitchen of her parents Vietnamese restaurant, working since her pre-teen years before joining full-time after she graduated from college. Each time one of the five Pham kids graduated, their parents would encourage them to travel and see the world. "But when we got back," says Yenvy, "they'd buy us a restaurant and make us run it. Just throw us right into the fire."
Today, she runs the three Phở Bắc locations and the Súp Shop with two of her siblings (the other two, she says, "have real jobs.") But running a restaurant in today's Little Saigon is a little different from three decades ago. The Vietnamese church moved to Tukwila, as did much of the community, priced out of Seattle's hot housing market: Little Saigon sits just minutes from Downtown, with easy access to the latest improvements to the city's public transportation system.
"The demographic kind of changed." Now, says Yenvy, the area attracts a mix of customers: those who have been coming for 25 years and young people taking the brand-new street car over from trendy Capitol Hill. She and her sister Quynh both serve on the board of the Friends of Little Saigon, a community non-profit advocating and acting on behalf of local businesses fearing displacement in the face of the incoming developments. With at least three of those large developments slated for the next few years and a strong possibility of more, the younger generation of Phams wanted to open a place that would serve all parts of the community, and they knew just where to do it.
"We were tired of leasing other buildings," says Yenvy of their thought process. "Why not just improve what we have?" Even as more people moved into the neighborhood, nothing around stayed open past nine, and nowhere sold cocktails. "We felt like the neighborhood needed something different: that was our motivator."
Something different, yet quintessentially the same: Súp simply means soup in Vietnamese. The same phở their immigrant parents first brought to Seattle forms the backbone of the menu, with the addition of a few small bites and, of course, the full bar. Weekly soup specials, a short-rib phở, and what she describes as "satisfying comfort food" round out the offerings. What the Phams want to change most are minds, not menus. "We want to set an example for the rest of the community."
The siblings hope, through their own business and through Friends of Little Saigon, to promote the area as a Vietnamese cultural center. "We hope it will be multicultural, that people of color can live, work, and stay in their neighborhood." Many of the Vietnamese own their business's properties, but that's no guarantee they'll be able to flourish in the impending onslaught of development. With Phở Bắc Súp Shop, the younger Pham generation hopes to set an example of how Vietnamese entrepreneurs in the heart of Seattle's Little Saigon can leverage their businesses to help retain the culture and tradition of the neighborhood. It's no different, says Yenvy, from what their parents did in 1982, when they plunked down the first Vietnamese restaurant in the city before anyone else did. "We're just optimizing on the opportunities we have. We want to inspire others to do the same."