10 Picture-Perfect Ways to Bring Traditional Portuguese Pottery Into Your Home
Serve your cabbage soup in a cabbage-shaped bowl, and get some gorgeous tile trivets for your table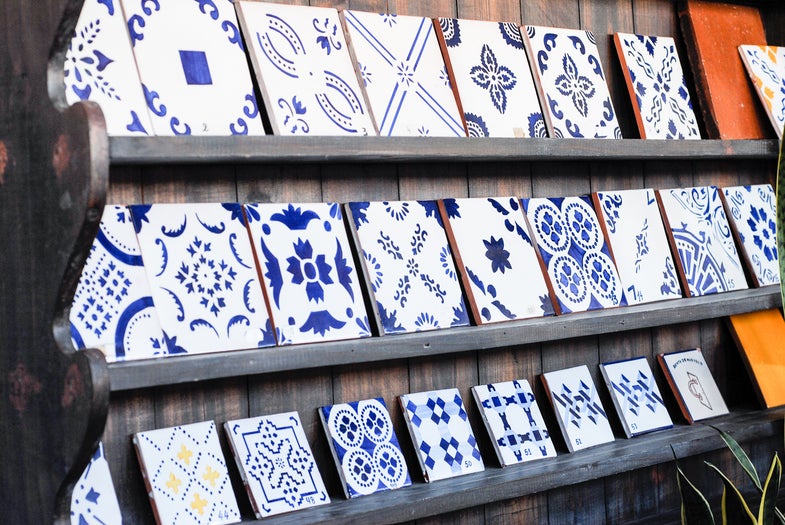 In Lagoa, a small village on the south shore of the Azorean island of Sao Miguel, the da Silva family has been making pots and bowls since 1862. The squat rooms in the family's Cerâmica Vieira teem with platters, covered dishes, decorative figurines, and jugs in various states of preparation. In one chamber, red clay sits freshly formed and drying as women continue to spin wheels. In another, fired pieces sit brown and stacked, awaiting decoration. Before a kiln, geometric patterns and flowing flowers of soft pink await the fire to transform them into a rich ocean blue.
As a child visiting my grandparents on Sao Miguel, I'd tour the factory and bring home delicate hand-pinched finger bowls and two-inch-tall jugs in flowered patterns of white and blue to fill with the dark lava sand and tiny seashells collected on the beach. As I grew, so did the pots I collected, as I returned from one summer to the next.
They belong to a uniquely Portuguese art form that stretch back hundreds of years to the nation's age of naval exploration.
In the early-mid 15th century, the recently established Portuguese Empire had just set its flag in the Azores and Madeira islands. Pushing farther south, they did the same on the coast of Africa and its adjacent islands. As they established naval routes and set trading posts, they not only developed what would become a worldwide spice network, but also brought home with them the Moorish style of bedecking architecture with tiles painted in intricate patterns for massive, aesthetically impressive results. Portuguese artisans were already using their land's mineral rich clay to make rustic pottery; using the resource to increase the artistry of the Empire made good sense.
Over time, azulejos—loosely pulled from the Arabic for "polished stone"—became a fashionable way to both insulate and decorate Portuguese churches, public spaces, and private homes. While hues of blue, orange, red, and yellow are often used, blue-on-white is the dominant color scheme, an attempt at recreating Asian ceramic styles when the Portuguese learned about porcelain.
Dozens of ceramic producers sprung up on the continent and in the Azores, each with different signature patterns and regional specialties. To this day, much of Cerâmica Vieira's custom orders are for azulejos that get embedded directly into concrete exteriors as house markers, depictions of patron saints, and decorative murals at public spaces.
The Moorish style expanded to kitchen and housewares items, too. Patterns extend to olive trays, soup terrines, cake plates, vases, and tapered candleholders. Some patterns are purely floral. Others combine the two.
As the largest and most tourist-trafficked island of the Azores, the Vieira factory is a popular destination for curious folks who tour and then stock up in the adjacent shop. Which is vital if you intend to take the da Silva's work off the island with you: for over 150 years, they have sold exclusively on the island.
Fortunately, the Azores are an easy flight from the east coast, and they make a worthy destination for pastry lovers, sunbathers, and religious pilgrims alike. But if you're eager to bring some classic Portuguese earthenware into your home, or to play a little with tradition, these versatile crafts are a place to start.
If you live near a Portuguese immigrant community—San Jose, California, Newark, New Jersey, or many water towns in New England and Long Island—you'll find imported terra cotta tableware tucked on shelves at every Portuguese grocery (hint, they're usually near the local Portuguese restaurant, so your waiter is a good lead). Small markets are goldmines for essentials regularly found in Portuguese homes.
If you can't reach these hubs, this simple brown terracotta pitcher is a classic start. Found often on restaurant tables whenever red wine is at play, it also makes a great receptacle for pourover coffee, and a rustic vase for flowers, too.
Paprika-infused chouriço (yes, it is different than linguiça and Spanish dry-cured chorizo) frequently gets roasted on an "Assador de Barro" over flames from burning alcohol—a fun party trick as well as a super-traditional way to enjoy the sausage, which stays juicy on the inside while it chars to a crisp.
These can also be found at local markets—easily for around $10—where you should consider a bottle of fiery aguardente (a super strong spirit distilled from grapes) and some sausage to bring the whole experience together.
You can get azulejos in the United States by importing them in bulk through private buyers (look on eBay) or at auction houses like Christie's and Sotheby's (no joke). Otherwise, coasters made from patterns transferred onto travertine tiles bring the look onto surfaces without the fancy fuss. While not safe for use as trivets as the originals are, they also work as charming under-plates for plants and decorative candles.
The returned popularity of decorating large swaths of wall space with azulejas encouraged the production of affordable, easy to assemble, non-ceramic mediums. Made in Lisbon, these panels of stickers can be sized for a kitchen backsplash (heat-safe and easy to clean), or a large living or bathroom wall. Wider tile styles work particularly well when set on the vertical edges of stairways, too.
Founded in the Alentejo region in 1930, Ezequiel Pirraça's bright pieces set with his unique style of floral and geometric patterns continues at the Olaria Pirraça factory now run by his son, Manuel, who studied under his father and prizes the same level of craftsmanship in each piece. Imported by Portugalia Marketplace in Fall River, Massachusetts, try a set of bowls with azulejo-like detail to offset a solid-colored dish set.
900 miles across the Atlantic from Lagoa, the town of Caldas da Rainha teems with rich clay, encouraging the Bordallo Pinheiro factory's founding in 1884. Famed political caricature and ceramic artist Pinheiro's utilitarian products have a modernist style far ahead of his time and completely his own, where bright glazes in solid colors extend from exaggerated edges in shapes of shellfish and produce.
For peak Portuguese symbolism, serve the beloved Portuguese caldo verde soup—potato broth studded with chorizo and shredded kale—out of a bowl crafted to look like a cabbage leaf (the word "cabbage" is commonly used for kale). Too subtle? They sell the style as a chandelier, too.
Out of Portugal's regional pottery styles, Coimbra pots are the most intricate, with roots firm in ancient Moorish and Asian designs. In blue-on-white tradition, deer leap and birds remain forever in flight, surrounded by swirls of flowers and borders of various geometric patterns working away from the center, one after another.
When given free rein with color, the designs become further detailed, such as seen in these candlesticks from Fernando Carvalho, where rabbits are almost lost among the limbs, leaves, and complicated patterns covering every surface around them.
Also from Coimbra but more subtly-hued tone, these salad plates from Keramos Nazari combine the detailed artistry of Portuguese craftsmanship with heirloom-style storytelling: images of animals, nature, and castles of 17th century folklore. They're a touch more playful than most of their counterparts, befitting the "Provence" title that blends with the pottery styles of Spain, Italy, and Greece.
The short version of the legend has it that a man was accused of a crime he swore he did not commit, and foretold that at the moment of his hanging a killed-plucked-cooked rooster would rise from the ashes and crow to prove his innocence. The rooster did, his life was spared, and henceforth the black rooster with red, white, and yellow decor became Portugal's figure of luck, faith, and trust.
Without bringing a clay rooster figurine into your home, try this cute sardine starter plate, both a nod to the story and a serviceable dish for the popular appetizer of freshly grilled or cured sardines that flourish in the Atlantic between Portugal and the Azores.
In the tradition of serving large amounts of food to overflowing family members, no Portuguese pantry is complete without a platter large enough for at least two chicken resting side by side, a huge amount of mariscada, or a whole roasted suckling pig. Dinner choice aside, this earthenware platter from Porches Pottery in the Algarve region is sturdy enough to handle a loaded meal, and decorative enough to wait patiently on a shelf.