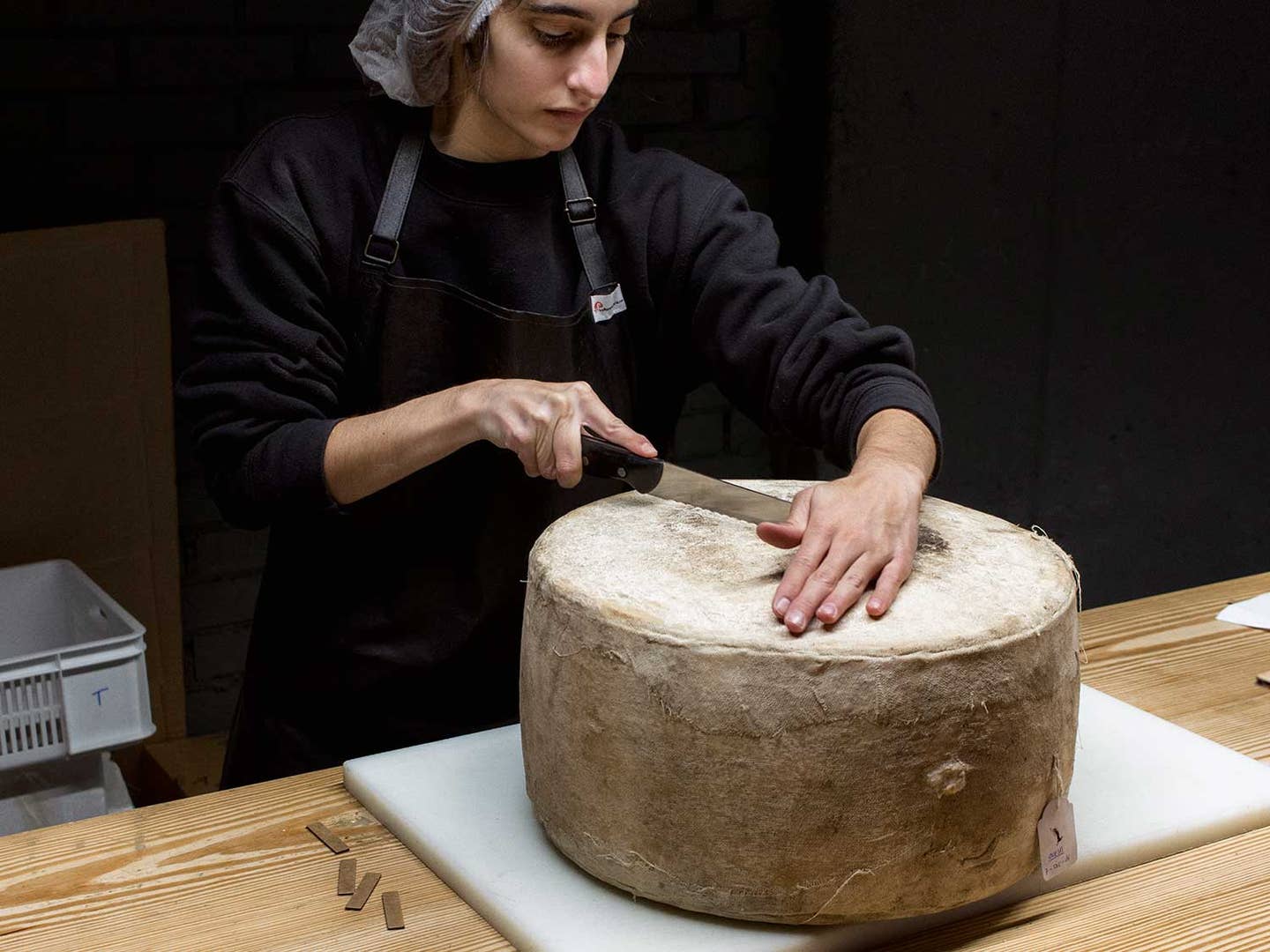 Travel
Queseria Cultivo Cheeses are Coming to the US
How one of Madrid's wildest cheeses is making its way to a few lucky US cities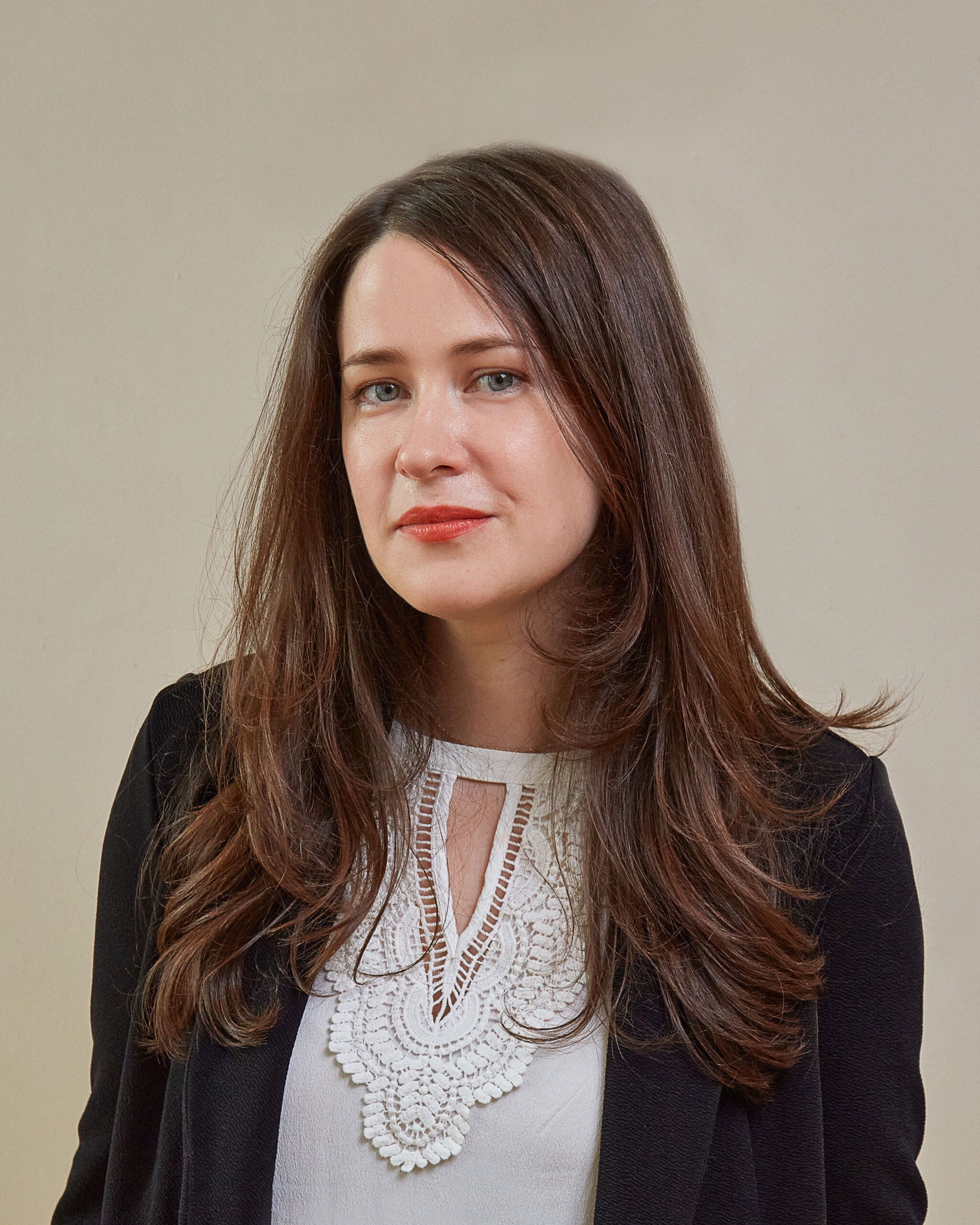 ---
Last summer I found myself on a bit of a Manchego and sherry bender and itching to visit a new city. I'd heard a lot about the evolving food scene in Madrid from a friend, SAVEUR contributor Benjamin Kemper, so when he said he needed a house sitter I was all too happy to show up on his doorstep. Doing so put me within walking distance of a fantastic bakery, more jamòn and marconas than I could consume in a lifetime, and one of the coolest cheese shops on the planet.
In Madrid's July heat, Quesería Cultivo is a welcome and shady oasis. The perfume peculiar to a well-maintained cheese shop—at once lactic-fresh and cow barn musty—gave me a thrill. The shop's climate-controlled main room is chilly, slightly humid, and painted a dark charcoal grey; the matte walls provide a dramatic and Instagram-friendly backdrop to the uncluttered selection: bandage-wrapped cheddars, mahogany-smoked Idiazabal, a hulking aged gouda, and sticky, apricot rounds of stinky, washed rind wheels. Stylish and friendly cheesemongers stand by, willing to slice off a sample of any and everything that catches your eye. Basically, Cultivo is a cheese nerd's dream come true, and until now, their products have been European exclusives.
Quesería Cultivo is not just a great cheese shop. It also has its own affinage program. Affinage—the process of finishing cheese in an actual or simulated cave—requires delicate climate control, monitoring of ambient yeasts and molds, and an obsessive attention to inventory. The storefront's humidity, low light, and temperature allow young cheeses to finish their aging process gracefully in-house before being handed off, perfectly ripe, to eager customers. The project is the brainchild of three families, all of whom run small and innovative farmstead cheese operations. They joined forces in 2014 and their resulting shop features products from all of their farms, in addition to a handful of carefully selected cheeses, wines, and specialty foods from other small producers. The space has a large open workspace where the owners teach training programs for students interested in professional cheese making and selling, plus tasting workshops for customers.
I tried to bring a hunk of Cultivo's phenomenal cultured butter back home with me, but forgot it, tragically, in Ben's fridge. When I did get back to New York, I wouldn't shut up about the operation to my friend and fellow curd nerd, Adam Moskowitz. The head of renegade cheese import company Columbia Cheese and the organizer of the unbelievably wacky Cheesemonger Invitational, Moskowitz sources and imports outstanding and quirky European farmstead cheeses and provides a ton of support for North America's cheesemonger community, so he's a bit of a celebrity in the cheese world.
He also has a knack for navigating the intricacies of import, dairy, and customs laws, so you can imagine my delight when he promptly hopped a flight for Madrid to help Quesería Cultivo coordinate their US debut.
A year later, Columbia is just about ready to put the first wheels of Cultivo cheese out on a truck. 40 Cantagrullas is made on Granja Cantagrullas, a farm owned and operated by Rubén Valbuena and Asela Álvarez, two of the shop owners. It is an adaptation of a traditional English cheddar but it is completely unlike any other cheese I've tasted. First of all, it is made from 100% raw sheep's rather than cow's milk. The massive 60-pound wheels are, even in their size, outstanding—most sheep's milk cheeses are traditionally quite small because ewes are less productive milkers than their bovine or caprine counterparts; Granja Cantagrullas only produces one or two of these wheels a day.
Rubèn and Asela start with the milk of Castilian sheep fed on pasture in Ramiro, a small village about an hour's drive from Madrid. The milk is cultured and curdled using animal rennet, then the curds are are gently heated, stirred and salted by hand, then pressed for 48 hours to extract the whey. Fresh wheels are then unmolded, slathered in a thin layer of butter, and wrapped in strips of linen bandage, final treatments which allow a thin, natural rind to form on the wheels over the course of a 12-month long ripening process.
Start-up cheese operations rarely roll out wheels that require such lengthy aging. Younger cheeses generate an immediate revenue stream and aging such high volume wheels introduces staggering risk, widening both the window of opportunity for something to go wrong and the financial damage if it does. And until recently, the European market, for all its rich cheesemaking heritage, has been resistant to cheeses that veer from the traditional, regional styles. Developing a year-old, 60-pound cheddar out of sheep's milk in Spain was a hell of a gamble.
Fortunately, production of 40 Cantagrullas has been going better than anyone might have hoped. The farmers, cheesemakers, and affineurs behind it have done their homework and have mastered their craft. 40 Cantagrullas has the sweet-sharp "snackable" bite of a familiar cheddar which almost immediately opens up into the barnyardy funk of traditional farmhouse versions, like Quicke's from the UK or Jasper Hill's Cabot Clothbound from Vermont. After the fog of hay, roasted mushrooms, hazelnut, and wet wool lifts, though, a decidedly southern, sheepy heat lingers. Oniony umami and the rich texture found in more delicate Italian pecorinos coats the mouth, leaving me thirsty for a barrel of Amontillado and a 1-way ticket back to Madrid.
Since this cheese takes so long to produce—and since the farm is relatively new—there isn't a whole lot to go around. Moskowitz will only be able to bring in 15 wheels this year, all made between mid-March through July of last year. This order wiped out Cultivo's back stock for the season and when it finally hits the market later this month (the wheels just this week came through customs), only a few boutiques will be able to offer it. At this time, only Bi-Right in San Francisco, Pastoral in Chicago, Cheese Bar in Portland, The Cheese Board in Berkeley, and Caputo in Salt Lake City are confirmed recipients—if you're lucky enough to live near one of those shops, get over there soon to snag a slice. I will be extremely jealous, because while the wheels are making a pit stop in NYC when they get into the US, none of this shipment will be available in the Empire State.
Most of Cultivo's cheeses are made using raw milk and most are too young to be sold in the US, where regulations mandate pasteurization for any dairy products younger than 60 days. Ruben and Moskowitz hope to eventually bring more of Granja Cantagrullas's products (including that phenomenal cultured butter) to the US soon. I've already started hounding my neighborhood cheese shop to bring them in. For any of those little washed-rind stinkers or liquidy soft-ripened wheels, though, you'll still need to hop that flight to Madrid.