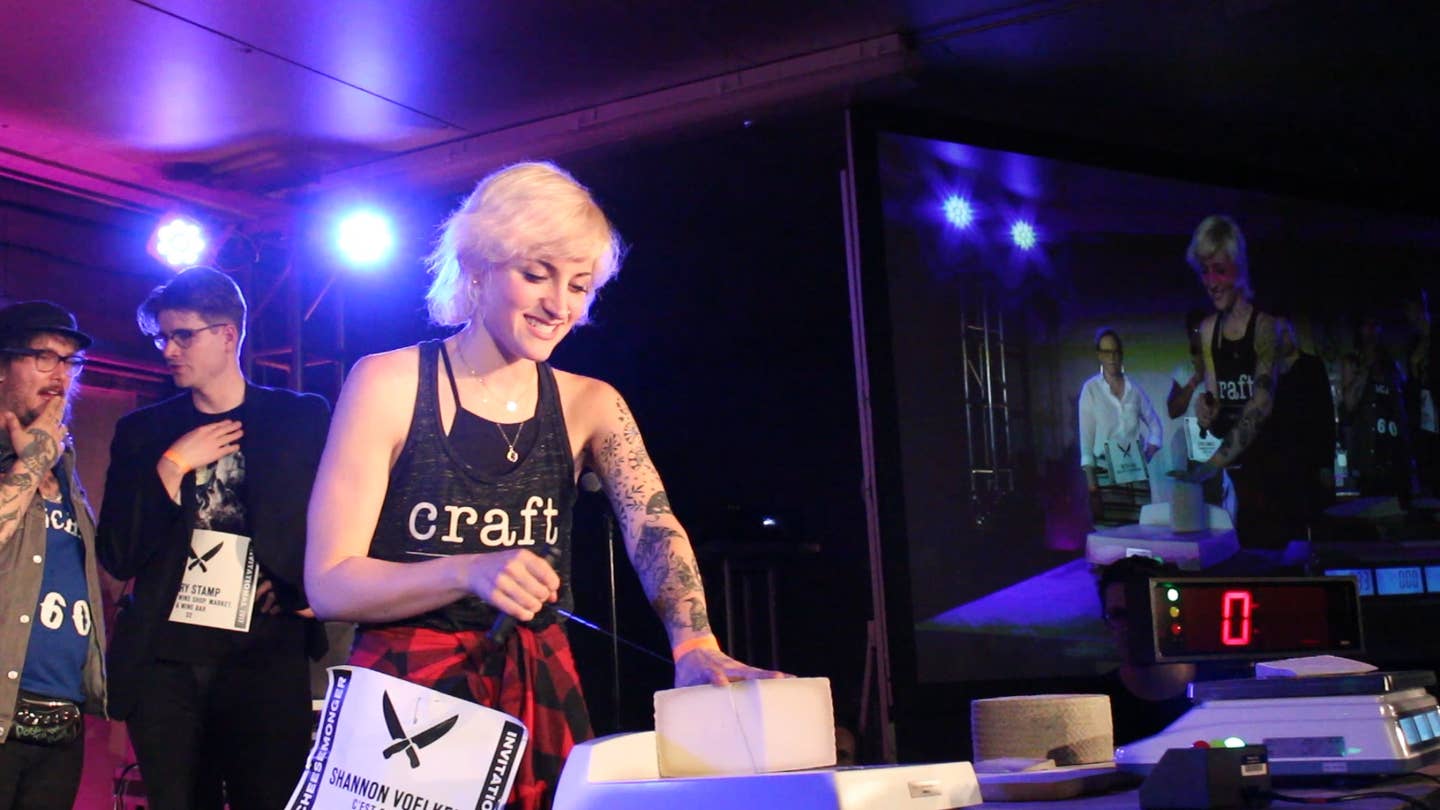 Culture
Inside the Warehouse Party Dedicated to the World's Weirdest and Wildest Cheeses
Welcome to the Cheesemonger Invitational, where the country's top producers and purveyors strut their stuff, taste strange cheese, and hit the dance floor with a guy in a cow costume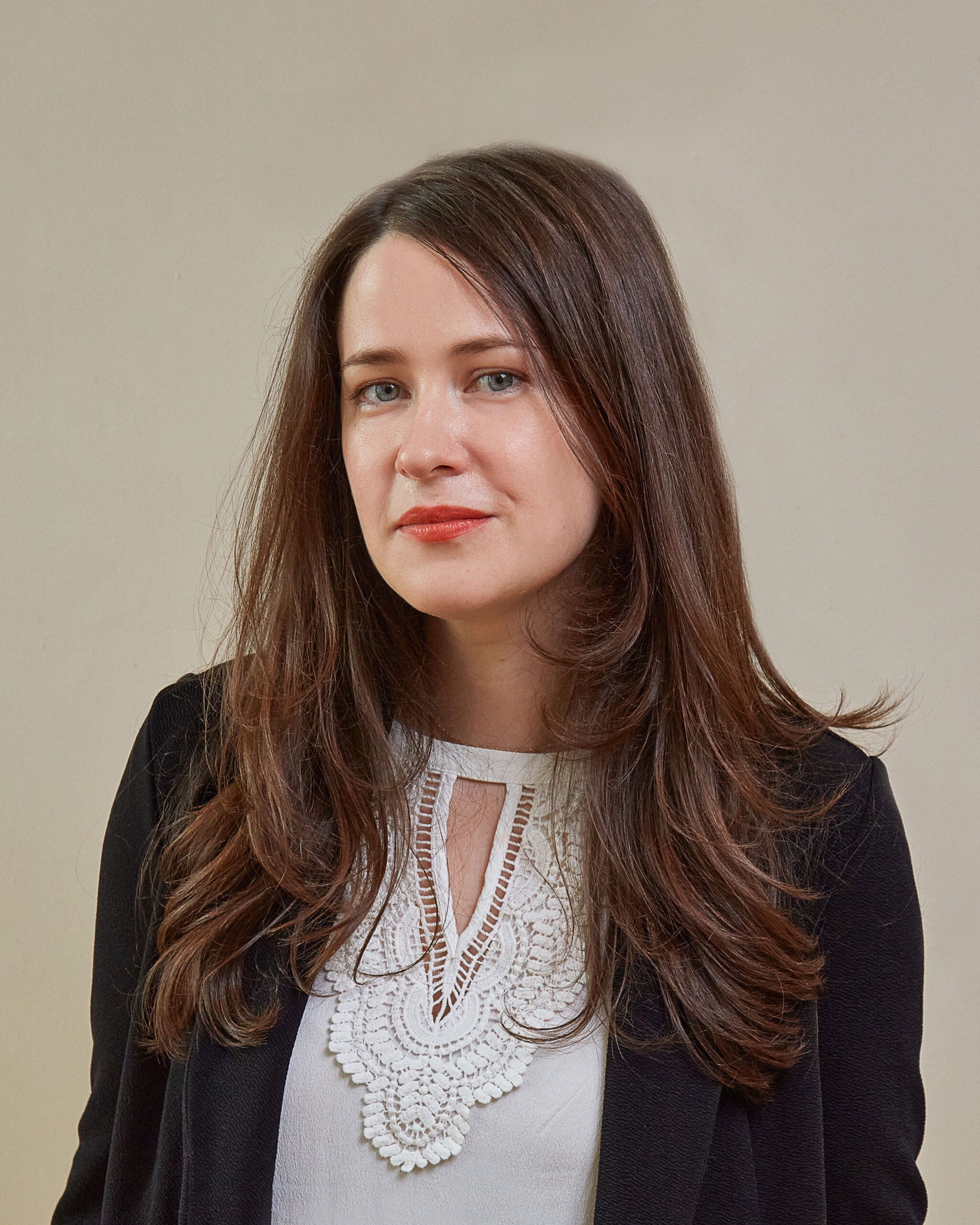 ---
When Andy Hatch, the head cheesemaker at Uplands Cheese in Dodgeville, Wisconsin told me he'd be visiting Queens for this year's Cheesemonger Invitational, I was baffled. I worked in the cheese business through college and culinary school and the event he described—a sort of SXSW of cheese, equal parts professional development conference, sporting event, and warehouse party—was like nothing I'd encountered in my suburban Stilton-schlepping days.
So off I went to the industrial district of Long Island City to find a heard of bearded and ironic-t-shirted 20-somethings at the base of a loading dock, because where else would you throw a cheese nerd convention?
Cheese producers and purveyors take to the Invitational to showcase their weirdest and wildest cheeses. Special items that will make a cheesemonger's heart skip a beat, cheeses with stories to tell. Beauties so weird or pungent or high maintenance that they need just the right matchmaker to convince a consumer to appreciate them for all their messy, stinky strangeness.
Rachel Juhl of Essex Street Cheese Company chatted with SAVEUR's Greece correspondent Katherine Whittaker about a smooth and tangy feta made by nuns on the island of Lesbos, while an Austrian cheesemaker lovingly caressed a wheel of Alp Blossom. By far the most photogenic cheese of the bunch, Alp Blossom is a savory, semi-firm wheel, coated in cornflowers, marigold, lavender, rose petals and herbs: its fragrant trappings are a celebration of the Alpine summer flora that make up the dairy cows' diet.
Neal's Yard Dairy, one of London's top cheese shops featuring cheese exclusives from 40 UK farms, was a platinum sponsor of the event; I stepped towards Neal's Yard's table just as one of their cheesemongers, Karim Lahsinat, was cutting into a wheel of Rollright. The 12-inch disk was sticky and apricot-hued like Burgundian Epoisses, and the outer edge was wrapped in the thin and flexible inner bark of a spruce tree known as cambium. Once Lahsinat cut into the surface, it was clear that the band was more than a decorative element: the creamy interior paste was practically liquid and the thin, tender rind needed the additional support to hold the walls of the cheese upright.
I've been out of the business for almost a decade, but all I could think was how difficult it would be to cut, wrap, and sell this beauty to the cocktail party crowd. A cluster of cheese nerds, drawn like me to the squishy, stinky wheel, oohed and aahed as Lahsinat scooped into its molten center.
When I finally caught up with the party's host and MC Adam Moskowitz—about my height, tattooed, and wearing a hooded onesie cow costume with the arms slashed off and a cowbell on a thick gold chain—the kooky event started to make sense. Adam runs Larkin Cold Storage, a specialty food importing business started by his father, as well as his own Columbia Cheese, which he explained to Cheese Connoisseur, "is an import company that sources, markets and sells exclusive product from Italy, Switzerland, Germany, Denmark and Ireland." He is also a DJ and hip hop artist.
He eagerly shook my hand and walked me through the dance floor (yes, dancefloor), past the DJ booth (yes, that too), and into his office to show us a mounted Wall Street Journal article. Moskowitz and Pope Francis were pictured front and center and, gesturing toward the image with an open bottle of Basil Hayden, he pointed out that "honestly, if you had told me five years ago that I would be in the masthead of the Wall Street Journal, in a cow costume, with the Pope, I'd have told you you were crazy. But this isn't about me," he shrugs. "It's about the mongers."
Moskowitz obviously hosts these events because he loves to throw a party, but he also does it to show some love to an industry of experts that receive little acclaim. As he puts it, cheesemongers "are knights, priests, and politicians for the cheese. They are the last stop before consumption. Without great cheesemongers, cheese dies a lonely, sad death. And when a cheesemonger does their job well, a cheese lives its final days with Nobility, Honor and Respect."
The Invitational's website explains that "This profession requires an unwavering commitment to practical skills, as well as a never-ending desire to learn more about history and science. The Cheesemonger Invitational is that rare opportunity for amazing cheesemongers to be celebrated by their community." The ability to select, source, age, cut, wrap, store, and sell a cheese properly is an underappreciated skill set; to gauge a customer's needs and tastes and to sell them just the right cheese often requires a detective's intuition.
Moskowitz's party is only a component of the Invitational; this year, 40 cheesemongers from across the country arrived for a weekend of cheese history and science workshops. After testing their knowledge and skill, the top six mongers competed onstage, in front of all the partygoers, in rounds dedicated to salesmanship, service, trivia, and blind tasting.
And while all this might sound a bit dry, bear in mind that the event's champion, Jordan Edwards of Pastoral Artisan Cheese in Chicago, brought an impressive, t-shirt-tearing "Macho Manchego Man Randy Savage" impersonation to the sales round. Everybody up on that stage was prepared to put on a show and MC Moskowitz kept the audience engaged with frequent, rowdy call-backs of his cheesy cheer, "MOO, BAA, MAA!"
After Edwards held his trophy aloft, and the audience, sleepy and sweaty from too much cheese and beer and dancing, began to trickle out into the night, I caught a glimpse of Moskowitz. Obviously still amped from another successful weekend of honoring America's cheesemakers, he took a swig from a bottle of Billecart-Salmon as the light from the discoball twinkled off of his cowbell. The DJ, drenched and wilted in his goat costume, began to lower the volume and turn up the lights.