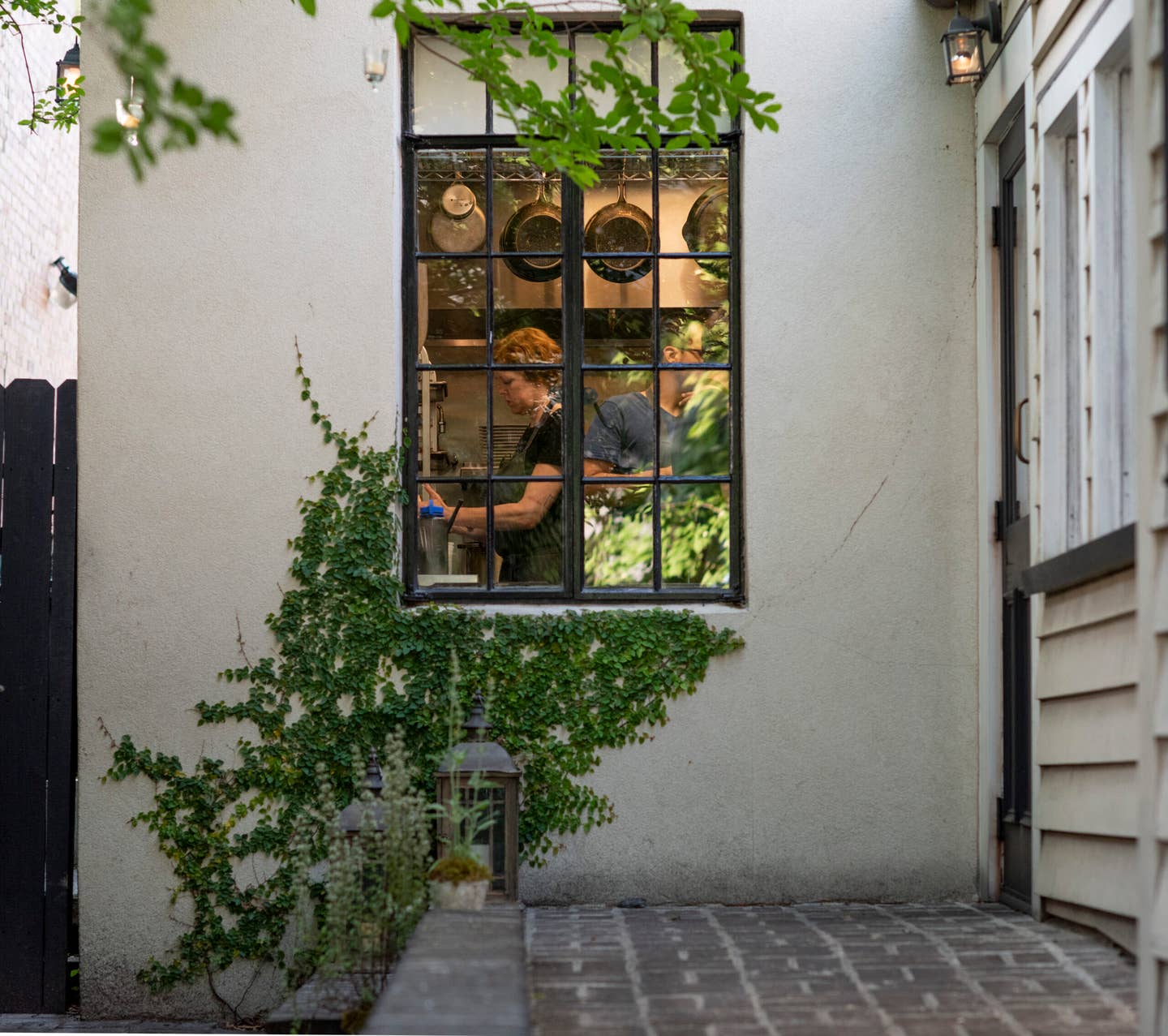 Culture
Best Thing I Ate This Month: Springtime Artichokes at Charleston's Chez Nous
Chef Jill Mathias waits all year for spring vegetables. The thorny artichoke, when paired with a crispy seared halibut, promises brighter days to come.
A monthly column showcasing some of the best bites the country has to offer, Best Thing I Ate This Month celebrates American cuisine. Delve into cookbooks, home kitchens, diners, and fine-dining: The United States are delicious, and this is a reminder of the good food right down the street—or on your very own stove.
No matter how many years I've lived in Charleston, or how many times I've visited Chez Nous, I always get turned around on its block. This is probably because the layout of the city changes faster than my mental map can keep up, but I like to think it's for another reason entirely.
Maybe, I imagine, Chez Nous is hard to find because the restaurant exists in another dimension: one of fairy tales, hiding in plain sight behind a gravel driveway that could be a portal to a magical realm of flavor. Whatever the reason, this seven-year-old restaurant, housed in a stately 19th century Charleston single, feels just as spellbinding as the day it opened.
"Essentially, you're having dinner at our house," says Executive Chef Jill Mathias. "It's rustic, homey."
Part of the homespun appeal that permeates everything at Chez Nous—the classic antique mirrors, the bar staff quietly pouring wines instead of loudly shaking cocktails—is the menu's connection to the seasons. Mathias worked in kitchens in Puerto Rico and Martha's Vineyard before moving to Charleston to work at, then eventually helm, the beloved, now shuttered restaurant, Carolina's. She now hand-writes the Chez Nous menu daily, drawing inspiration from the Mediterranean cuisines of Southern France, Spain, and the North of Italy, then condensing it into an ever-evolving selection of just six items a day. Each dish showcases the farmers and the fishermen with whom she works, and illustrates Mathias' deft hand at restraint to let ingredients speak for themselves. One recent meal at Chez Nous was my clear candidate for the Best Thing I Ate This Month: her halibut and artichokes, a take on the Provençal classic, artichoke à la Barigoule.
A perfectly seared halibut fillet arrived at the table resting in a shallow bowl of broth, surrounded by quartered artichoke hearts. The fish, crusted on top and tender underneath, flaked easily with my fork and soaked up a little broth, each comforting bite bright with lemon, grassy artichoke, and fresh parsley and mint. Like the spring season, it hinted at warmer days to come while still respecting the chill in the waning winter air. In a world of far too many punch-you-in-the-mouth restaurant dishes with too much of everything, this elegant composition allowed a single ingredient—in this case, the chef's beloved artichokes—to shine.
"I get so excited about spring ingredients," Mathias explains, "it would be very easy to shove them all in one dish, but I wait so long for them to arrive, I want to showcase something." And while she acknowledges that fresh artichokes can be a thorny project, the chef believes their superior texture and flavor to be well-worth the time and effort. She suggests wearing gloves while cleaning the thistley blossoms for a bit of protection, but offers that—for her, anyhow—"there is something very satisfying about the whole process."
In Provence, the broth anchoring the artichoke's quirky flavor is delicately seasoned with a bouquet garni, a bundle of black peppercorns, fresh parsley and thyme, and bay leaf. In Charleston, Mathias adds a heady helping of anchovies, cooked down so only their essence remains in the broth. When simmered with chicken broth and white wine, the anchovies add a subtle but distinctive taste of the sea, completing the dish's composition.
Maybe that's the magic Mathias weaves: the idea that if we follow her lead, we could, on a very good night, recreate some early spring enchantment in our own kitchens without the newest countertop gadget or hot technique. All we need is the best ingredients in their season and the confidence to let their natural splendor unfold.