Roasted Cranberry Sauce
Spice things up this Thanksgiving with this roasty, toasty riff on Turkey's favorite sidekick.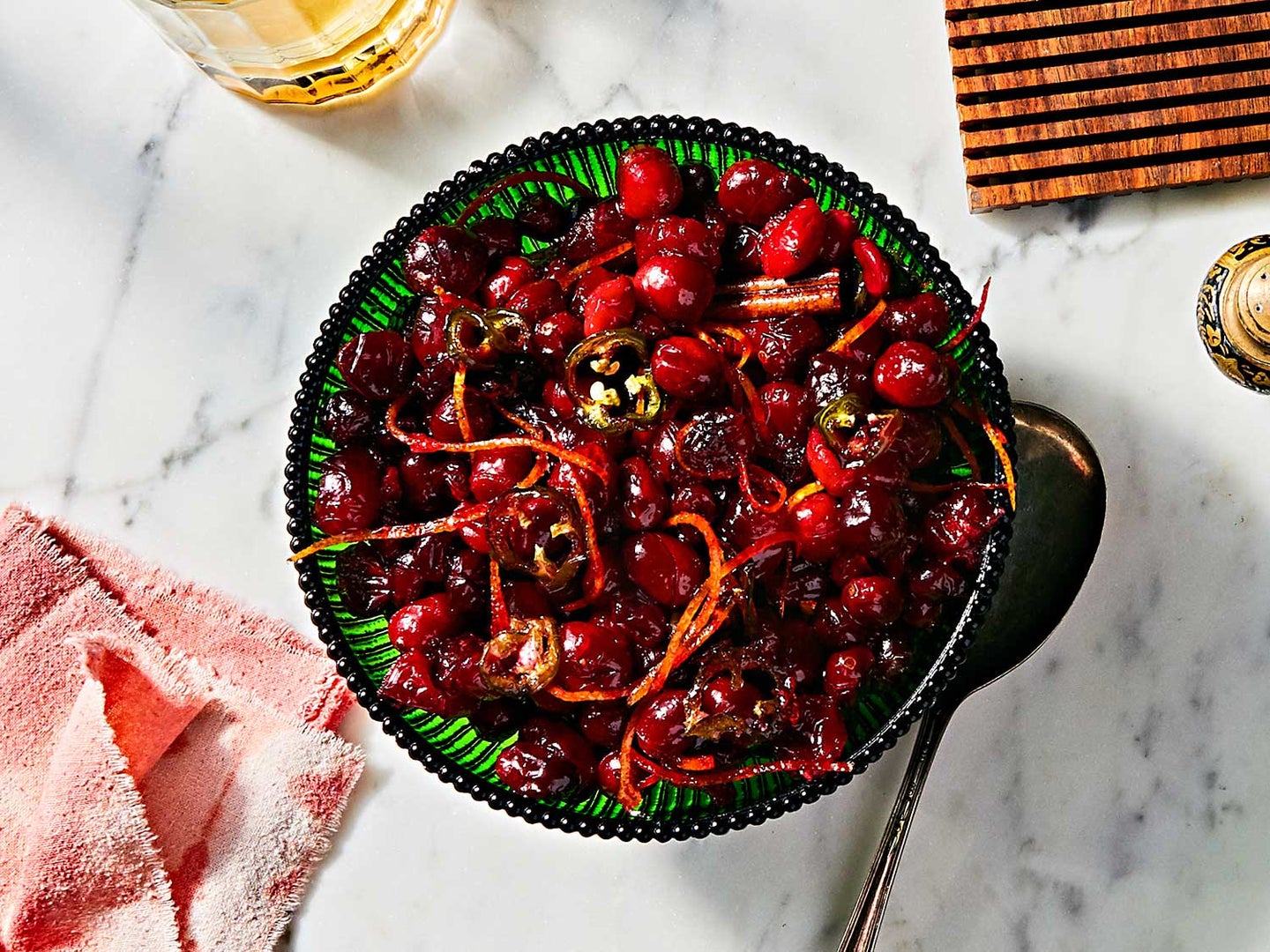 We've all experienced bland, one-note cranberry sauces at Thanksgiving—this fragrant, subtly spicy version that ran alongside Irene Sax's 2008 story "Small Wonders" is anything but. Roasting the fruit with whole spices, sliced jalapeño, and ribbons of orange peel lends a perfumy overtone to the berries' bright tanginess. These unconventional add-ins are new, but the cranberry-turkey combo is as old as our democracy: In the first-known American-authored cookbook published in the United States, American Cookery (1796), author Amelia Simmons recommends pairing the two.  
Equipment
Roasted Cranberry Sauce
In this deeply sweet and flavorful relish, cranberries are roasted with orange peel, jalapeño, and spices until their skins burst.
Time: 1 hour, 35 minutes
Ingredients
1 orange
1 lb. fresh or thawed frozen cranberries
1 cup sugar
2 tbsp. extra-virgin olive oil
1 tsp. kosher salt
4 green cardamom pods, smashed with a pestle of the heel of a knife
4 whole cloves
2 sticks cinnamon sticks
1 small jalapeño, stemmed and thinly sliced
1 1⁄2 tbsp. ruby or tawny port
Instructions
Position a rack in the center of the oven and preheat to 450°F. Using a vegetable peeler, zest the orange, removing as little of the white pith as possible. Cut the zest into very thin ribbons about 1½ inches long. Into a small bowl, squeeze 1 tablespoon of juice from the orange and set aside. (Reserve the remaining juice for another use.)
In a bowl, toss together the orange zest, cranberries, sugar, oil, salt, cardamom, cloves, cinnamon, and jalapeño. Spread onto a parchment paper-lined baking sheet and bake until the cranberries begin to burst and release their juices, about 15 minutes.
Transfer the cranberry mixture to a serving bowl and stir in the port and orange juice. Set aside for at least 1 hour to let the flavors meld. Remove and discard the cardamom, cloves, and cinnamon before serving.