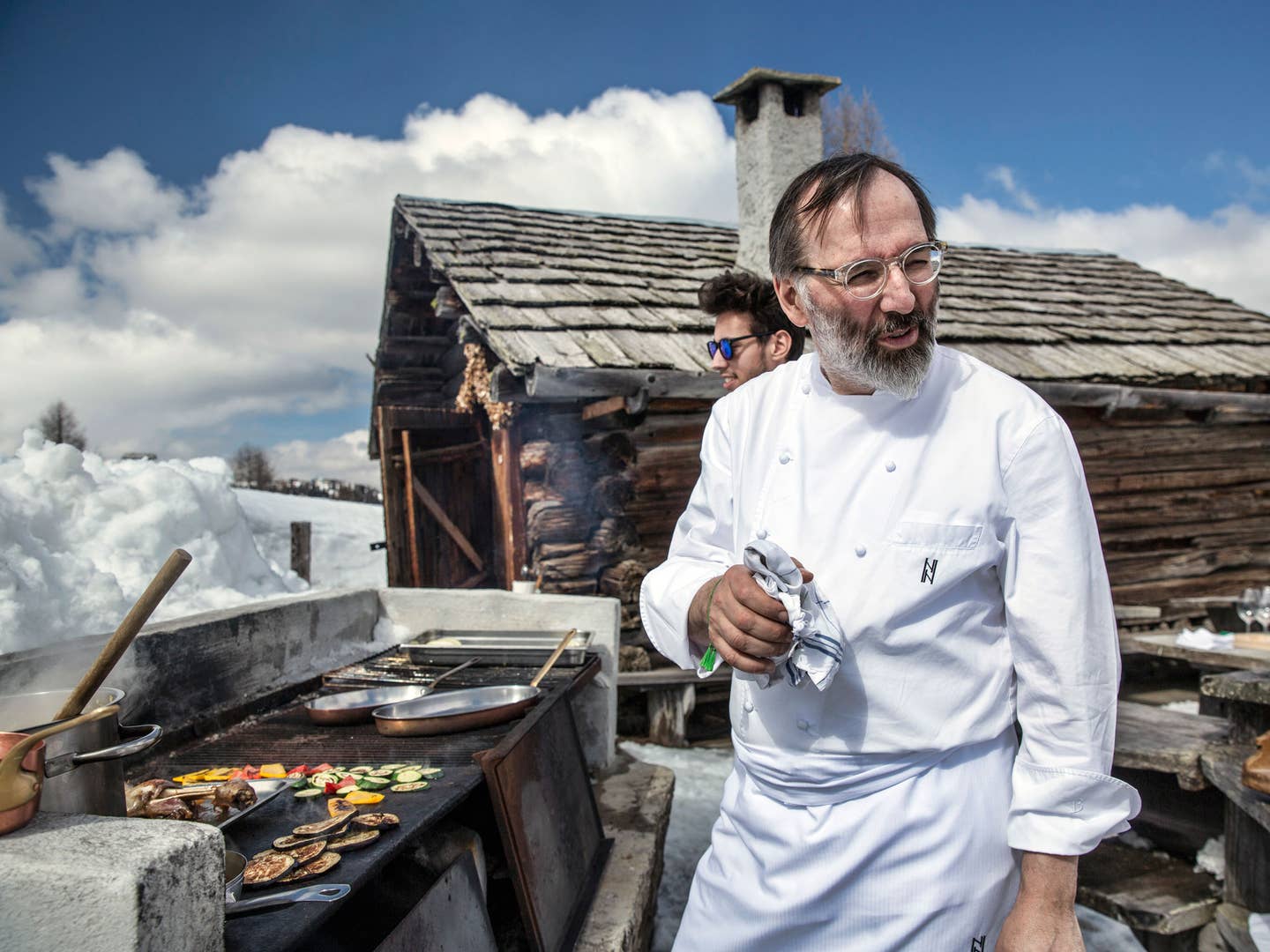 Travel
How to Eat the Dolomites
The incredible food high up the mountains in Italy makes for more than just a ski trip
There are a few indigenous words worth adding to your vocabulary before you go to the Dolomites—and really, unless you are anti-awe or Tyrolean-chalet-averse or just constitutionally unresponsive to the self-evident charms of stunning pink-hued sunsets and green pastures fragrant with edelweiss and speck, the ubiquitous local ham, you should positively, definitely, without hesitation go to the Dolomites.
None of these words relate directly to the act of skiing, though skiing is what brings a lot of folks up here where the powdery peaks of Trentino-Alto Adige overlook the Austrian border. The posh enclave of Cortina d'Ampezzo has been a skier's destination since it hosted the Winter Olympics in 1956. Twenty or so miles of twisty roads and a world away are the quieter villages that compose the Alta Badia: Corvara, Colfosco, and San Cassiano. This is the Dolomites unplugged. Here, skiing is simply a means of conveyance from one rifugio to another. Rifugio, noun: a high-elevation lodge where the food is much better than seems possible on the remote side of a mountain 6,700 feet above sea level and where it's imperative to linger on the terrace sipping icy Aperol spritzes or downing hot Bombardinos—electric yellow, whipped-cream-topped brandy-spiked eggnog shots—while gaping at the craggy cliffs and vistas below and contemplating where to have dinner after a final sunset run.
Where the heck are the Dolomites!?
Word #2: Stube. Le Corbusier is said to have called the landscape of the Dolomites "the most beautiful work of architecture ever seen." Local house builders did Mother Nature one better by adding a Stube, the wood-paneled dining room that serves as the warm snuggly heart of a typical Tyrolean home. The strong influence of the cozy, rustic aesthetic—hand-carved wooden chairs, taxidermy on the paneled walls, oversized plates of cured meats—is felt in dining rooms across these valleys, including more luxurious later incarnations like the one at St. Hubertus, a Michelin two-star restaurant situated within the Hotel Rosa Alpina, a charming, thoroughly updated 19th century inn. Here the chef, Norbert Niederkofler, practices a form of locavorism he calls "cook the mountain."
"We use modern techniques," Niederkofler says, "but really it's an old-style approach. The idea is to bring people closer to the classic dishes of this region." Some years ago I enjoyed a plate of one of the best of these classics—cajinci, a ravioli filled with sharp Graukäse or "gray cheese" made in the Aurina Valley—while the hotel's owner, Hugo Pizzinini, recalled the heavy dumplings his grandmother made him every day growing up. His grandfather bought the hotel in 1940 and built the town's first ski lift a decade or so later.
"The real food of this region is butter and cheese, pork and dumplings," Pizzinini said. "It's what you eat when you have to walk over a mountain to get home." Which brings us to our final vocabulary word: The Pizzininis own a baita, or small hut, on one of the slopes high above the hotel. The baita is like a personal rifugio with the rustic warmth of a Stube in the sky. So when you've had your fill of pampering at the Rosa Alpina spa and elevated eating at St. Hubertus, Pizzinini will send you to the family hut for a night or two of blessed isolation.
The View from Up Top: Scenes from the Dolomites
"Most locals own a cabin like this. Now they've become places for picnics or barbecues, mainly used privately," Pizzinini said. "Ours was built in 1872 by local farmers. They situated the cabins based on where they found groups of cattle huddling during thunderstorms. The thinking was that cattle instinctively choose a safe place, so while a lot of trees have fallen around it, the cabin itself has never been hit by lightning in all these years."
Location, isolation, language: Each factors into the survival of the distinct culture of the Dolomites. Pizzinini, Niederkofler, and their neighbors are Ladins. In addition to Italian, German, and English, they speak Ladin, a distant descendant of Latin. "A century of living under the Austrian Empire, we became Italian after World War I," Pizzinini said. "But whatever our passports, we have always been Ladino people."
Cooking the dishes they've always cooked is another way of keeping Ladin tradition alive. "Ladin language is protected by laws," Niederkofler says, "but its habits are protected by locals who want to make sure they are not lost. Foodwise, we started more Austro-Hungarian than German, and now we have lots of influence from Italian cuisine. You can't really compare it to Austrian cuisine. We have our own style, not just of cooking but of living."
For Pizzinini, the baita is a welcome retreat from the pressures of running the hotel and a nice reminder of time spent with family cooking and relaxing in the mountains. "In August my parents were busy at the hotel, so we kids were sent to the cabins with a babysitter. With no electricity and no hot water, we had the best time. Now I take every opportunity and excuse to get up here. There is a very good energy in these cabins because they are built in a safe place. The views are fantastic and when you close your eyes, you can smell all the flowers all around."
Where to Eat and Stay in the Dolomites
Hotel Rosa Alpina
An elegant base for exploring the Alta Badia by foot or on skis. Or you can just stay put and enjoy Norbert Niederkofler's elevated take on Ladin cuisine at the Michelin two-star St. Hubertus. Book the Pizzinini family's baita for a night of well-cared-for isolation.
20 Strada Micurá de Rü, San Cassiano
Hotel La Perla
There's a lot to like about this glamorous Alta Badia classic, including the platonic ideal of a horseshoe bar (good for bollito misto and après-ski drinks), the wood-paneled restaurant Les Stües, and, not least, a loony and wonderfully well-stocked wine cellar complete with trick doors, dry ice, and a Frank Zappa soundtrack.
105 Strada Col Alt, Corvara
Berghoferin
Great Tyrolean-styled lodge in the northern Dolomites with a classic, intimate Stube and views that go on for miles.
54 Oberradein, Redagno
Ütia de Börz
An exemplary rifugio with up-close terrace views of the towering Sas de Pütia peak, house-made speck, and stabilizing buttered dumplings.
26 Strada Börz, San Martino
Pretzhof
Cozy family-run hilltop restaurant with the fresh pork (and telltale smells) of a working farm.
259 Località Tulve, Tulve
Rifugi Scotoni
Hike up or ski into this little hut where the cook is busily working three cheeses into gooey-crispy polenta and serving it alongside great grilled pork sausages.
2 Alpe Lagazuoi, San Cassiano
Aga
The allure of this new restaurant southeast of Cortina d'Ampezzo is that it's very small (just four tables) and very local (everything is sourced from the owner's garden or hunted or collected from the surrounding hills). 6 Via Trieste, San Vito di Cadore