Recipes
Brown Butter Skillet Cake with Berry Compote (Kaiserschmarrn)
Serves

serves 4

Cook

45 minutes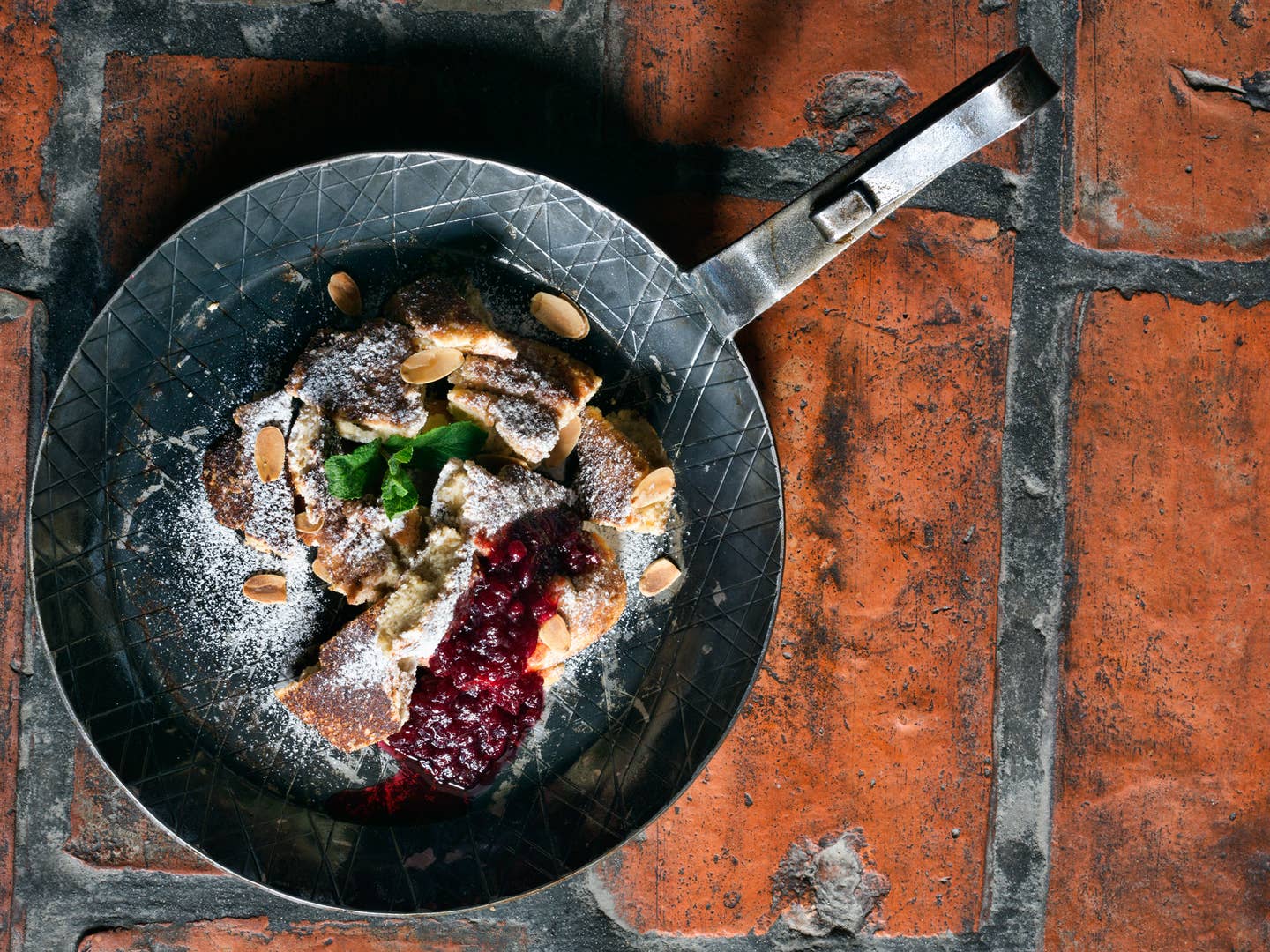 At Hotel Rosa Alpina, chef Norbert Niederkofler serves this Central European dessert—essentially torn pieces of pancake—with berry compote and a dusting of confectioners' sugar.
Ingredients
1 1⁄2 cups fresh or frozen lingonberries or cranberries
6 tbsp. sugar
3 tbsp. white wine
2 tsp. fresh lemon juice
3⁄4 tsp. kosher salt
1 cup milk
1 cup (4 oz.) "00" pasta flour
4 large eggs, separated
1 vanilla bean, split lengthwise and seeds scraped
2 tbsp. unsalted butter
Confectioners' sugar, for dusting
Toasted, flaked almonds, to garnish
1 sprig mint, to garnish
Instructions
Step 1
In a small saucepan, heat 1 cup lingonberries, 3 tablespoons sugar, the white wine, lemon juice, and 1⁄4 teaspoon salt over medium and cook, stirring, until the berries burst and the sauce thickens, about 8 minutes. Purée the sauce in a blender, scrape into the saucepan, and return to medium heat. Stir in the remaining 1⁄2 cup lingonberries and cook, stirring, until softened, about 5 minutes. Remove the sauce from the heat.
Step 2
In a large bowl, whisk the milk, flour, egg yolks, and vanilla seeds until just combined. In a separate bowl, whisk the egg whites until frothy, pour in the remaining 3 tablespoons sugar and 1⁄2 teaspoon salt, and whisk until soft peaks form. Scrape the egg whites into the batter and fold until combined.
Step 3
In a 12-inch nonstick skillet, heat the butter over medium and cook until it begins to brown, about 3 minutes. Pour the batter into the skillet and cook, undisturbed, until set on the bottom, 5 to 6 minutes. Flip the pancake and cook until set, about 5 minutes. Slide the pancake onto a cutting board and tear into large pieces. Transfer the pieces to a serving plate and dust with confectioners' sugar. Sprinkle with almonds, garnish with the mint sprig, and serve warm with the lingonberry compote spooned over top.