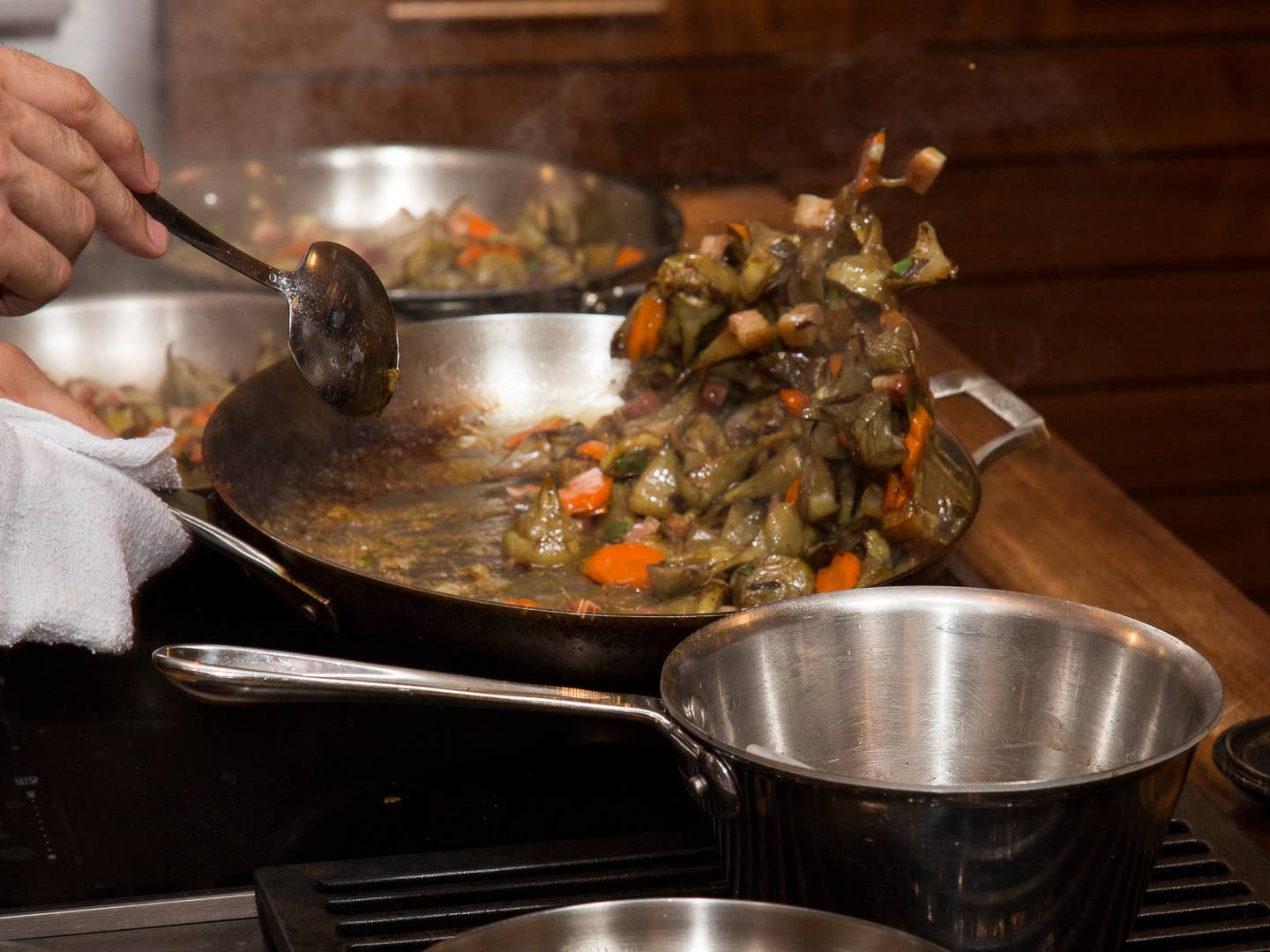 Culture
French and Italian Food Meet in Provence
An education in border cuisine with Italienne's Jared Sippel at a Saveur Supper
Chef Jared Sippel is devoted to French cuisine, quite literally down to his shoes (purchased from Bragard, a French brand that sells chef apparel). "Too much of my heart is still there," he says of Provence, a region of southern France that borders northwestern Italy. He lived there for eight months while he worked at the two Michelin star l'Oustau de Baumanière, and last night he brought Provence back to its Italian roots at our Saveur Supper dinner series.
This dinner was a preview of the French-meets-Italian food he'll serve at his new restaurant Italienne (the French word for "Italian"), opening soon in New York. Sippel envisions the restaurant as Italian with Provençal influence, or as he puts it, "The heart and soul of Italian food with the refinement of French cuisine." This mix shows in his menu: each course incorporated Italian influences into Provençal food. Even the wines blurred the border between France and Italy; all came from towns dotted around the France-Italy border.
It's easy to think of French and Italian cuisines as wholly separate things: salade nicoise on the one hand, insalata caprese in the other. But the countries' cuisines overlap more than one might think. Historically, Provence has been closely tied with Italy—it was occupied by Romans in 125 BC and became part of the Italian Gallia Transalpina. When the Roman Empire crumbled, it became part of Franks' domain and later formally integrated into modern France.
But even today, the influences these regions have on one another are clear. According to Sippel, Provencal food breaks from the cream- and butter-heavy cuisine typical in the north of the country. "Provence is more like Italian food in the sense that it's vegetable-driven, olive oil-driven," he explains. "All the heavy French cooking is in the north, and the lighter is in the south. It's the same in Italy." Sippel's food comes up somewhere in the middle. "In some ways I cook the heavier Italian fare and lighter French food," he says.
Sippel started the meal with one of these richer Italian favorites, a risotto covered in speck, apples, radicchio, and horseradish. He also incorporated crawfish into a green bean salad, a crustacean that appears in both countries. In the third course, Sippel's menu leaned more towards Provençal foods, featuring potatoes roasted in foie gras and the undeniably French ratatouille.
If you're looking to include some Provençal inspiration in your kitchen, try a simple lunch of cheeses, baguette, and olive tapenade, a barigoule of fresh vegetables, or some stuffed seafood. And see more photos from our supper below.