Recipes
Ratatouille
The iconic Provençal dish is a one-pot meal that brings together the best of summer produce.
Serves

serves 6

Cook

2 hours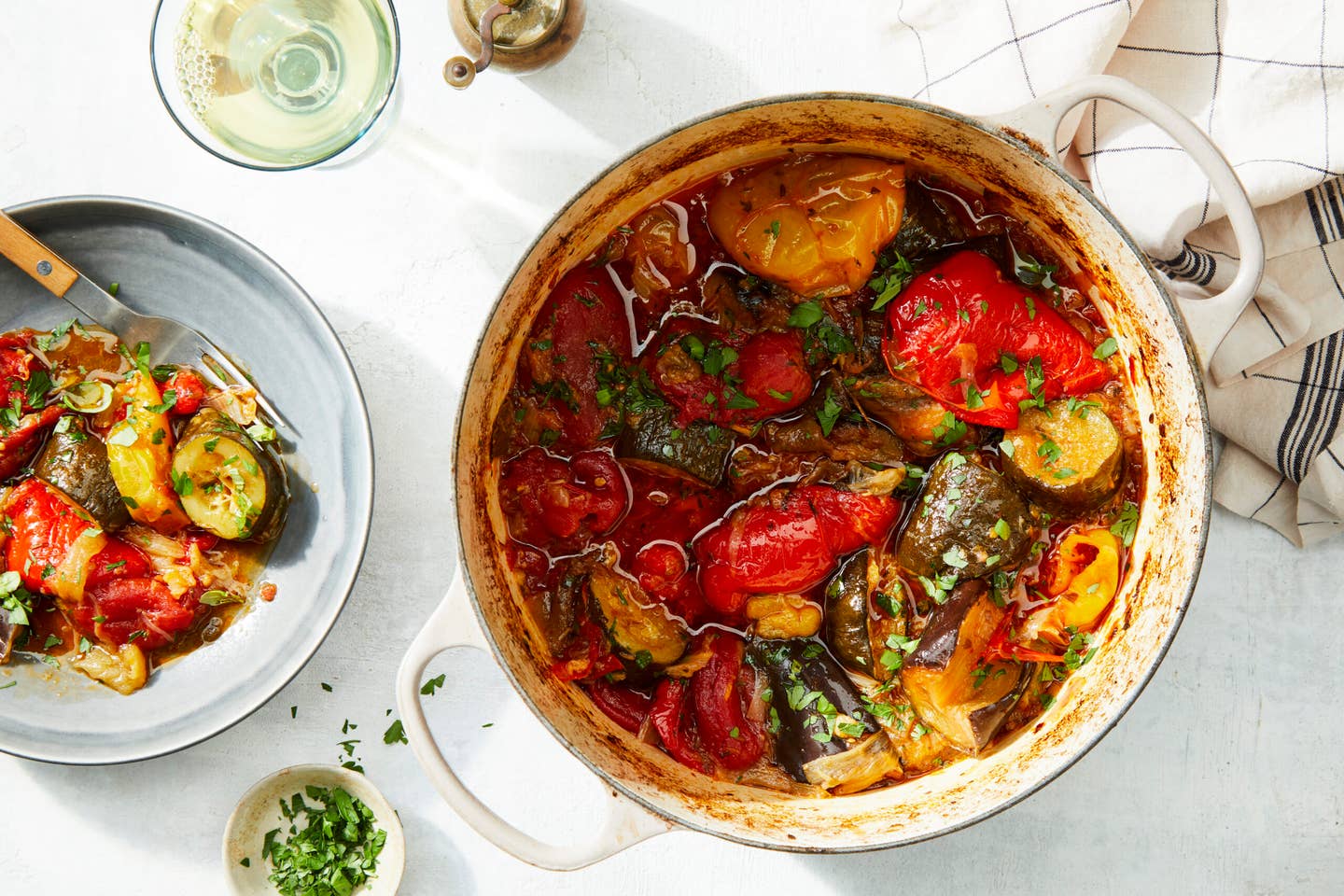 Sautéing dried herbes de Provence in extra-virgin olive oil brings out their fragrance in this vegetable dish, which is one of the most iconic expressions of French Provençal cuisine. If you are preparing ratatouille at the height of summer, substitute in-season fresh tomatoes for canned.
Ingredients
½ cups extra-virgin olive oil
1 tbsp. dried herbes de Provence
6 garlic cloves, smashed and peeled
2 large yellow onions, quartered
1 bay leaf
2 medium zucchini (1¼ lb.), cut into 2-in. thick pieces
1 medium eggplant (1 lb.), cut into 2-in. thick pieces
1 medium red bell pepper, stemmed, seeded, and quartered
1 medium yellow bell pepper, stemmed, seeded, and quartered
10 canned whole peeled tomatoes, drained
Kosher salt and freshly ground black pepper
1 tbsp. chopped basil leaves
1 tbsp. chopped parsley
Instructions
Step 1
Heat the oven to 400˚F. Heat the olive oil in a medium Dutch oven over medium heat. Add the herbes de Provence, garlic, onions, and bay leaf; cover and cook, stirring occasionally, until soft and fragrant, about 10 minutes.
Step 2
Turn up the heat to high; stir in the zucchini, eggplant, peppers, and tomatoes, and season with salt and black pepper to taste. Uncover the pot, transfer to the oven, and bake, stirring occasionally, until vegetables are tender and lightly browned, about 1½ hours.
Step 3
Remove the pot from the oven, then stir in the basil and parsley, and transfer the ratatouille to a wide bowl. Serve warm or at room temperature.