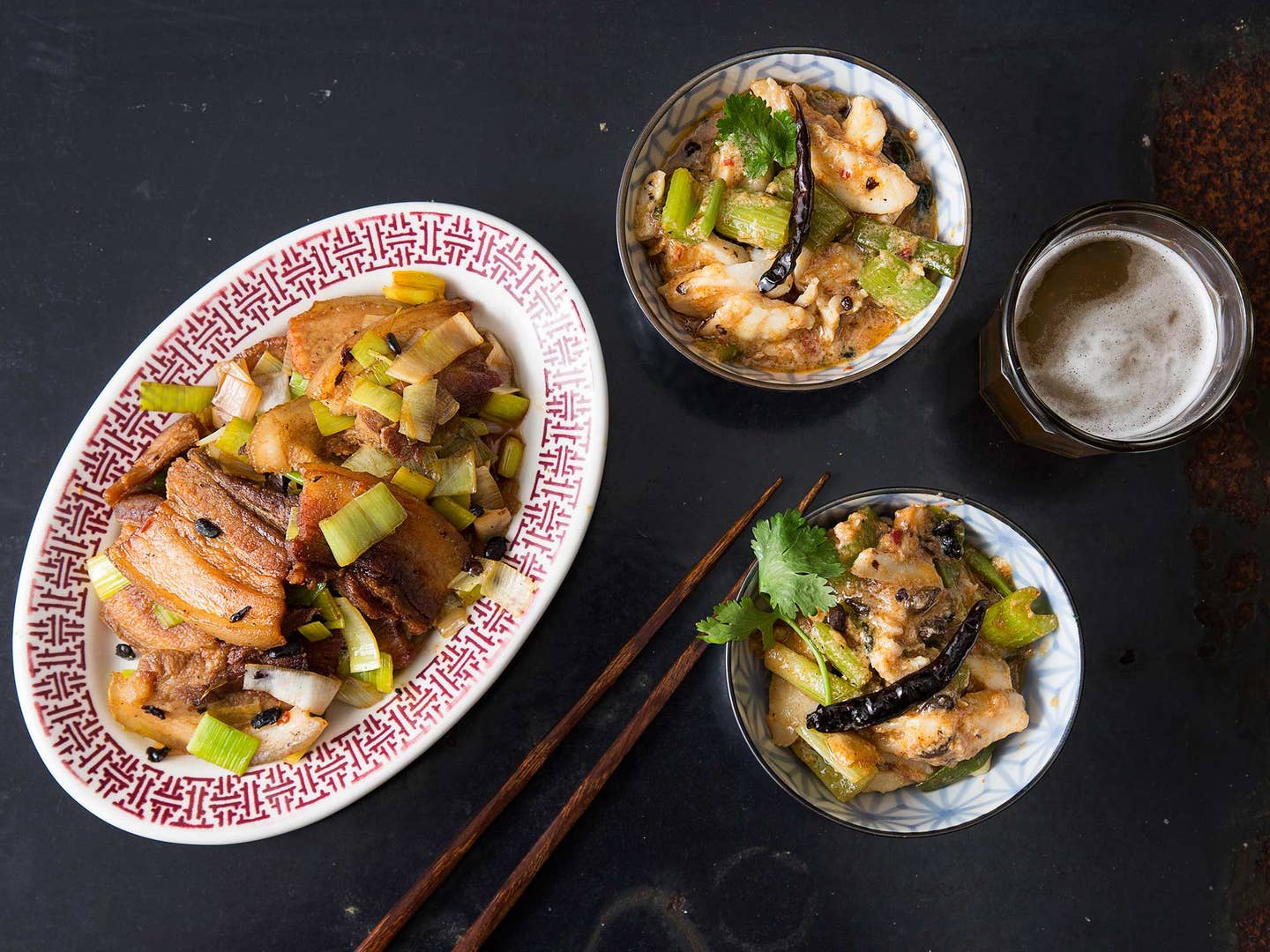 Travel
Twice-Cooked Bacon is the Best Kind of Bacon
An education in the Sichuan classics at San Francisco's Spices II
In Asia, drinking-food (and drinking properly with food) is an art form. So welcome to Asian Drinking Food Adventures, where Dan Holzman, chef-owner of The Meatball Shop, and Matt Rodbard, author of the Koreatown cookbook, seek out the best food from bars, izakayas, pojangmachas, and then some.
It's our server Kenny's birthday and he stands to greet us with a half-cocked grin, lingering for a beat before returning to his own meal at the next table over. We've walked in on a mid-afternoon party at Spices II on San Francisco's Clement Street and it feels momentarily awkward before Kenny makes it right, pouring us shots from his mostly drained bottle of Hibiki. We came to this famous restaurant with our buddy Kyle Itani in search of a mid-afternoon Sichuan snack, but quickly realize we're in it for the long haul and roll up our sleeves and…Ganbei!
Sichuan Province, whose cuisine is marked by flashes of heat mingling with the numbing tingle of its eponymous peppercorn, is in Southwest China. Until relatively recently, Chinese food in the United States had little to do with what you'd actually eat in China. In America, early Chinese immigrants developed a cuisine to suit the American palate (i.e. sweeter and less spicy), using local ingredients and incorporating Asian spices and cooking techniques. Culinary anthropologists, searching for the origins of dishes like General Tso's chicken, dead-end in history that never existed. But as our food consciousness has rapidly evolved, and immigrants from more regions of China move to the U.S., regionally specific Chinese restaurants have begun to open, introducing the West to the incredible diversity of a country whose landmass spans five geographical time zones.
Spices has been a Bay Area hospitality industry favorite for 15 years. Its "Sichuan Trenz" menu is for the adventurous, with an entire section dedicated to stinky tofu (actually a Taiwanese specialty)—tofu marinated in a brine of fermented vegetables, seafood, and meat. It's extremely pungent akin to a ripe Époisses or freshly cut durian.
Dan was introduced to Sichuan cuisine here while working as a cook in early 2000s, and he quickly sequesters with the menu, ordering a couple of the regions tamer dishes: twice-cooked bacon and spicy fish filet bowl with flaming red oil along with some vegetables and rice. "Crowd pleasers," as Dan calls it. We've been eating fermented fish guts and the like for one too many days and a break is needed. We strike up a conversation with Kenny and his pals in search of info on Chengdu, the region's capital where we're planning a trip.
"He's the guy from Sichuan and knows the deal," says Kenny, pointing to Rocky who is finishing off the bottle of Hibiki. "It was full when he brought it for me" he says with a smile. "Hibiki goes with everything, but it goes best with spicy food," says Rocky, who is more interested in talking about where we should go in San Francisco then about his home country "Have you been to Swan Oyster Depot?"
An order of dry-braised green beans arrives, wearing a crown of what must be an entire head of minced garlic. The overpowering flow of warm and fragrant air snaps us back to the meal at hand. The beans are both tender and pungent, the perfect accompaniment to cool our soon-to-be burning tongues. There's no irony in the menu's description of our fish served in "flaming red oil"; it's extremely spicy, a giant bubbling bowl of freshly poached dorade swimming in a sea of fried chiles, celery, and cilantro.
While the fish and veggies are amazing, it's the twice-cooked bacon that steals the show. The "bacon" is not cured or smoked like the name suggests, but fresh pork belly, boiled for the first cooking then sliced thin and fried in a blistering hot wok to crisp it up, earning it's "twice-cooked" title. The pork is mildly spicy, tossed with a generous handful of Chinese leeks and seasoned with fermented black beans and the Shaoxing wine that gives it its signature salt and tang.
The version at Spices is extremely tender, with a unique flavor that we can't quite put our finger on. Kenny tells us what we already know. "The pork belly is first cooked whole, boiled in water, then sliced thin and cooked a second time in a scorching hot wok and showered with leeks."
We press him for more details, hoping the birthday Hibiki might induce him to give away his secret. "So, what's in the pot?" we ask as nonchalantly as possible. "That's for the chef to know," says Kenny without hiding his grin. The man can hold his liquor.
Spices II
291 6th Avenue, San Francisco, CA 94118
(415) 752-8885