Recipes
Spicy Sichuan "Water Boiled" Fish and Celery (Shui Zhu Yu)
Serves

serves 4

Cook

50 minutes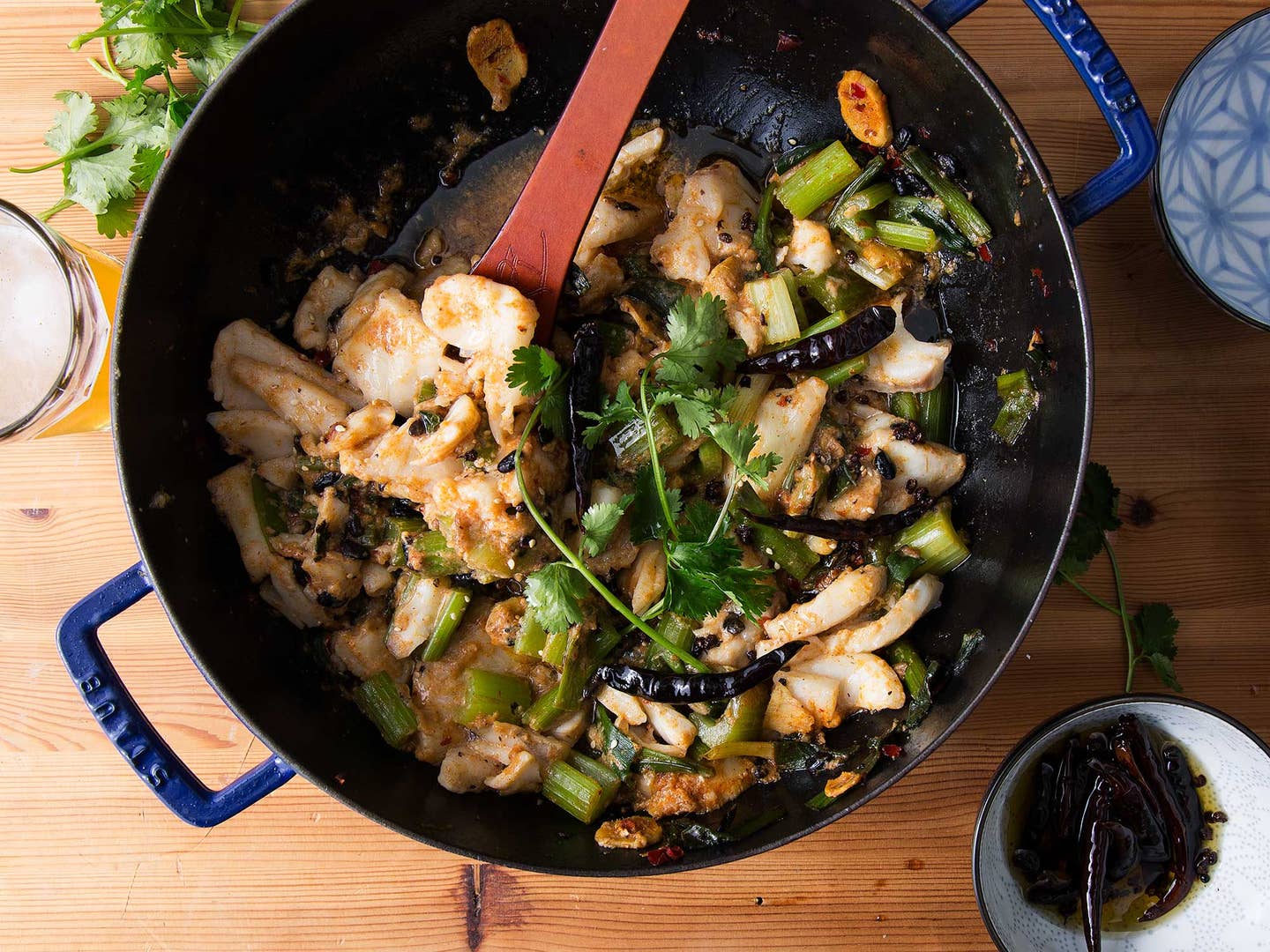 Give mild fish a serious lick of heat with homemade chile oil and fermented black soy beans. You can serve the fish and vegetables with just a little broth, as shown here, or as a soup.
Ingredients
1 tsp. kosher salt
3 egg whites
1⁄4 cup cornstarch
1 1⁄2 lb. boneless, skinless mahi mahi filet, cut into 1-inch pieces
3 pieces pieces of cassia bark or cinnamon sticks
3 whole star anise
1 whole black cardamom pod
4 cloves garlic, peeled and smashed
1 bunch scallions, trimmed and cut into 1-inch pieces
1 (3-inch) piece ginger, peeled and thinly sliced
2 tbsp. chile bean sauce (doubanjiang)
2 tbsp. fermented and salted black beans (douchi), rinsed
4 stalks celery, cut into 1-inch pieces
1⁄2 cup Shaoxing wine
2 tsp. sesame seeds
Roughly chopped cilantro, to garnish
Sichuan chile oil, to garnish
Instructions
Step 1
In a medium bowl, whisk the salt and egg whites until foamy. Whisk in the cornstarch until smooth then add the fish to the batter and toss to combine.
Step 2
Return the large wok to medium heat and add the remaining 2 tablespoons oil. Stir in the cassia bark, star anise, and cardamom and cook until fragrant, about 3 minutes. Using a slotted spoon, remove and discard the spices. Add the garlic, scallions, and ginger to the wok and cook, stirring, for 3 minutes. Stir in the chile bean sauce, black beans, and celery and cook 3 minutes longer. Add the Shaoxing wine and 1⁄2 cup water and bring to a simmer. Lift the fish from the batter and add it to the wok, 1 piece at a time, and cook until all the fish is cooked through, about 5 minutes.
Step 3
Divide the fish and aromatics among bowls and drizzle with the chile oil. Garnish with cilantro before serving.