Recipes
Sichuan Twice-Cooked Pork Belly (Hui Guo Rou)
Make this classic Chinese dish your new weeknight stir-fry.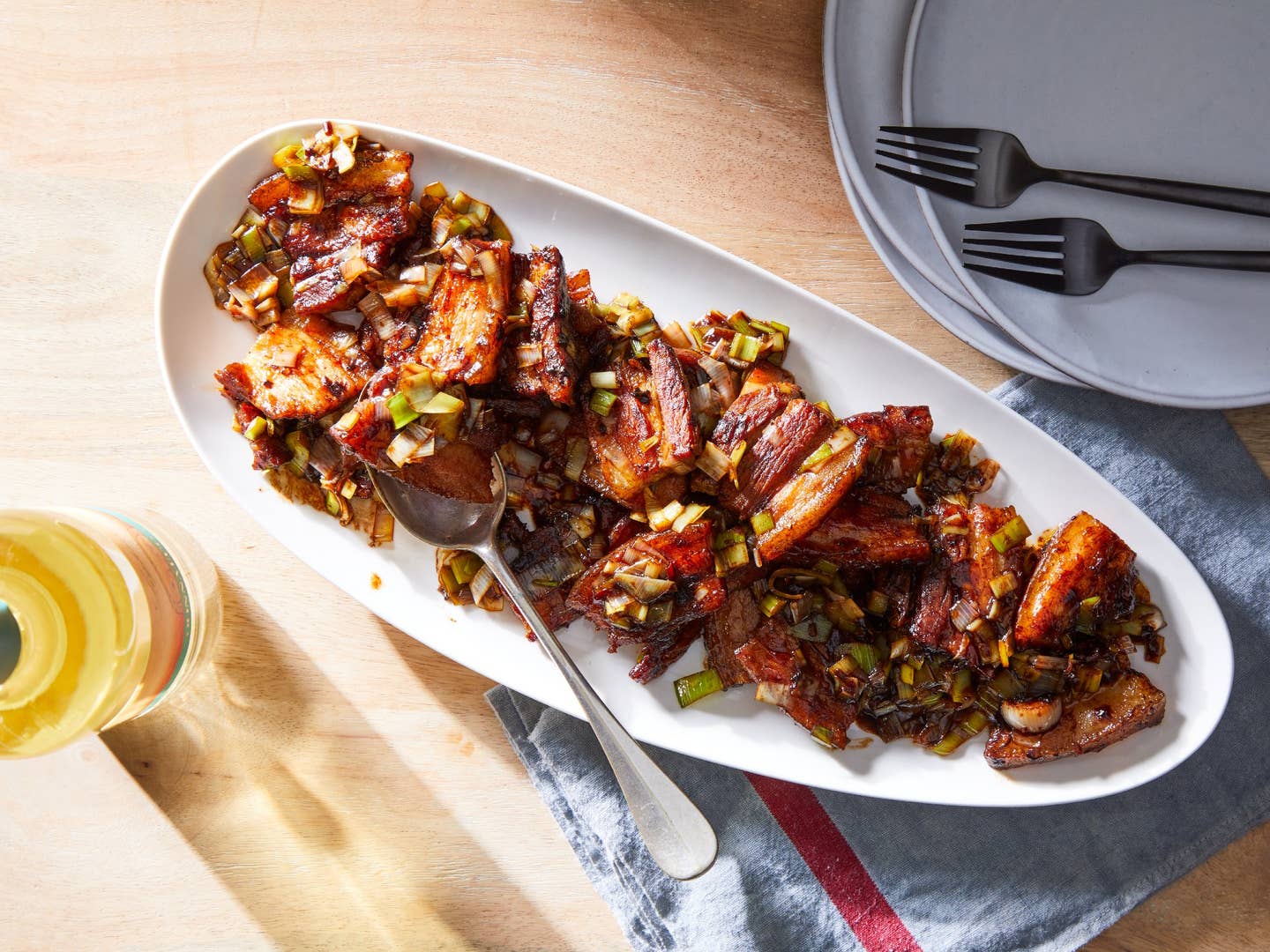 This flavorful Chinese dish, from chef Dan Holzman and cookbook author Matt Rodbard, was inspired by a version at San Francisco's Sichuan restaurant Spices II. Boiling the pork first renders some of the fat and makes the meat easier to slice and crisp up later in a blazing-hot wok. Check out 27 other Chinese recipes better than takeout.
Ingredients
3 lb. skin-on pork belly
2 tbsp. kosher salt
2 large leeks (about 11/2 lb.), trimmed, halved, rinsed well, and cut into 1/2-inch slices
2 tbsp. douchi (fermented black soybeans), rinsed
1 tbsp. doubanjiang (red chile bean paste)
1⁄4 cup Shaoxing wine
1 tbsp. soy sauce
1 tbsp. sugar
Instructions
Step 1
In a large pot, cover the pork belly and salt with water by 2 inches. Bring to a boil, then lower the heat to maintain a simmer and cook for 20 minutes. Drain the pork belly, transfer to a cutting board, cool slightly, slice into 2-inch squares then cut into 1⁄8-inch-thick slices.
Step 2
Heat a large wok over high heat. Working in batches, add the pork in a single layer and cook, flipping once, until golden brown, 5–6 minutes. Transfer the slices to a bowl and drain off all but 2 tablespoons of the rendered fat. Return the wok to high heat then add the leeks and cook, stirring, until they begin to wilt, about 3 minutes. Add the douchi and doubanjiang, stir to incorporate, then stir in the reserved pork belly and its reserved fat along with the wine, soy sauce, and sugar. Cook, stirring frequently, until the pork is warmed through and the sauce is thickened, about 3 minutes more. Scrape the pork belly and leeks into a serving bowl and serve hot.