Sponsored Post
Cranberry Cinnamon Scotch Punch
Hannah Chamberlain's pretty, party-ready cocktail for a crowd.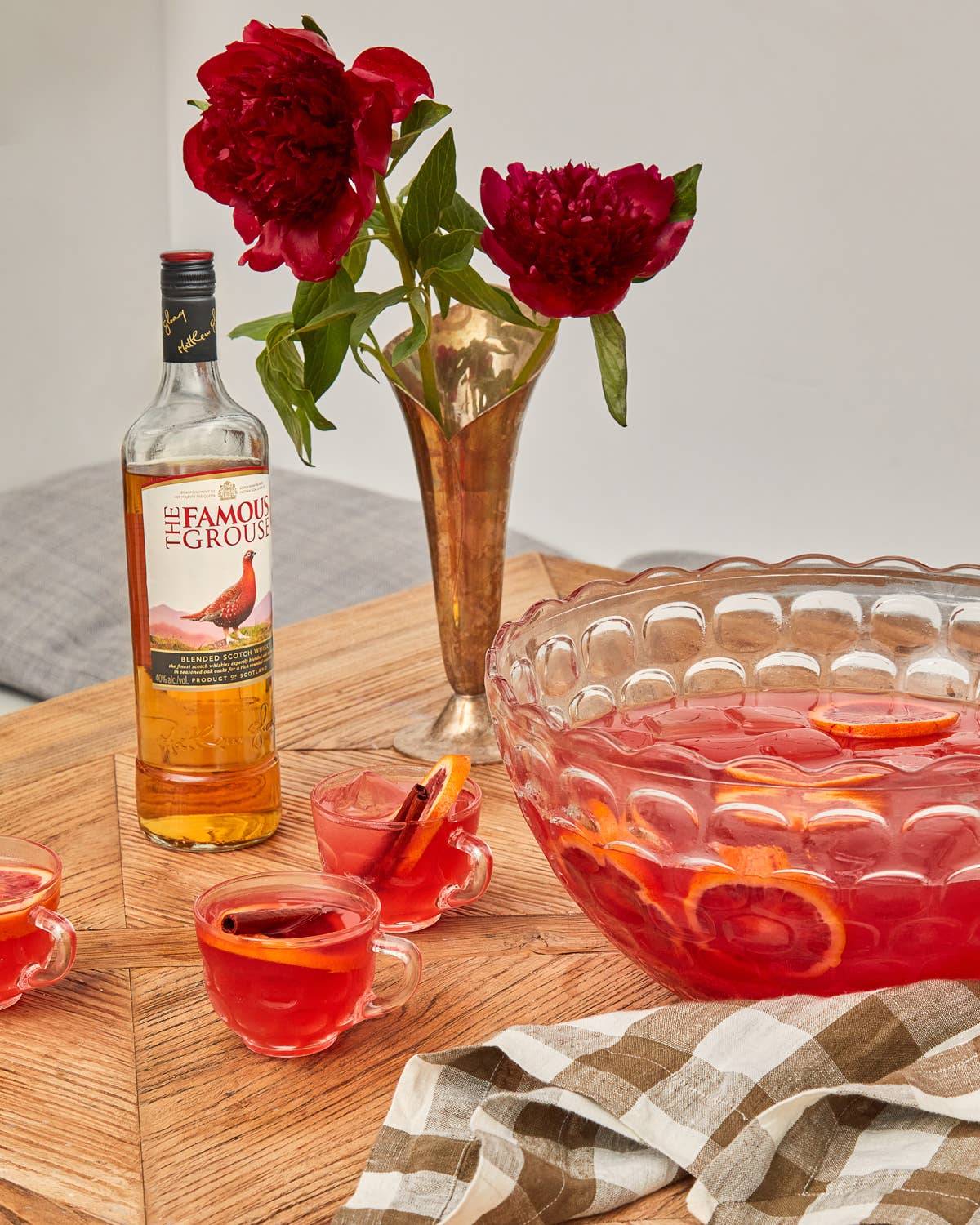 TikTok bartending star and internet cocktail queen Hannah Chamberlain likes to prep this pretty punch ahead of winter holiday gatherings. To give the big-batch cocktail a festive feel she uses the warm, mild flavors of The Famous Grouse, letting the dark, spicy whisky notes play with seasonal fruit and spice.
Ingredients
For the cranberry cinnamon syrup:
2 cup sugar
2 cup fresh cranberries
4 cinnamon sticks
For the punch:
16 oz. The Famous Grouse Whisky
8 oz. fresh lemon juice
8 oz. cranberry cinnamon syrup (from above)
6 dash cardamom bitters
16 oz. ginger beer
Blood orange slices and cinnamon sticks, for garnish
Instructions
Step 1
Make the cranberry cinnamon syrup: In a medium pot over medium heat, stir together the sugar and 2 cups of water. Bring to a simmer, stirring until the sugar completely dissolves, then add the cranberries and continue cooking, stirring occasionally, until the syrup turns a deep ruby color, about 10 minutes. Add the cinnamon sticks and continue simmering until very fragrant, about 5 minutes more. Remove from the heat and set aside to cool to room temperature. Strain into a mason jar, discarding any solids, then use immediately or cover and refrigerate for up to 5 days.
Step 2
In a punch bowl or large pitcher, stir together The Famous Grouse, lemon juice, cranberry cinnamon syrup, and cardamom bitters. Immediately before serving, add several large ice cubes, top with ginger beer, and garnish with blood orange slices and cinnamon sticks.