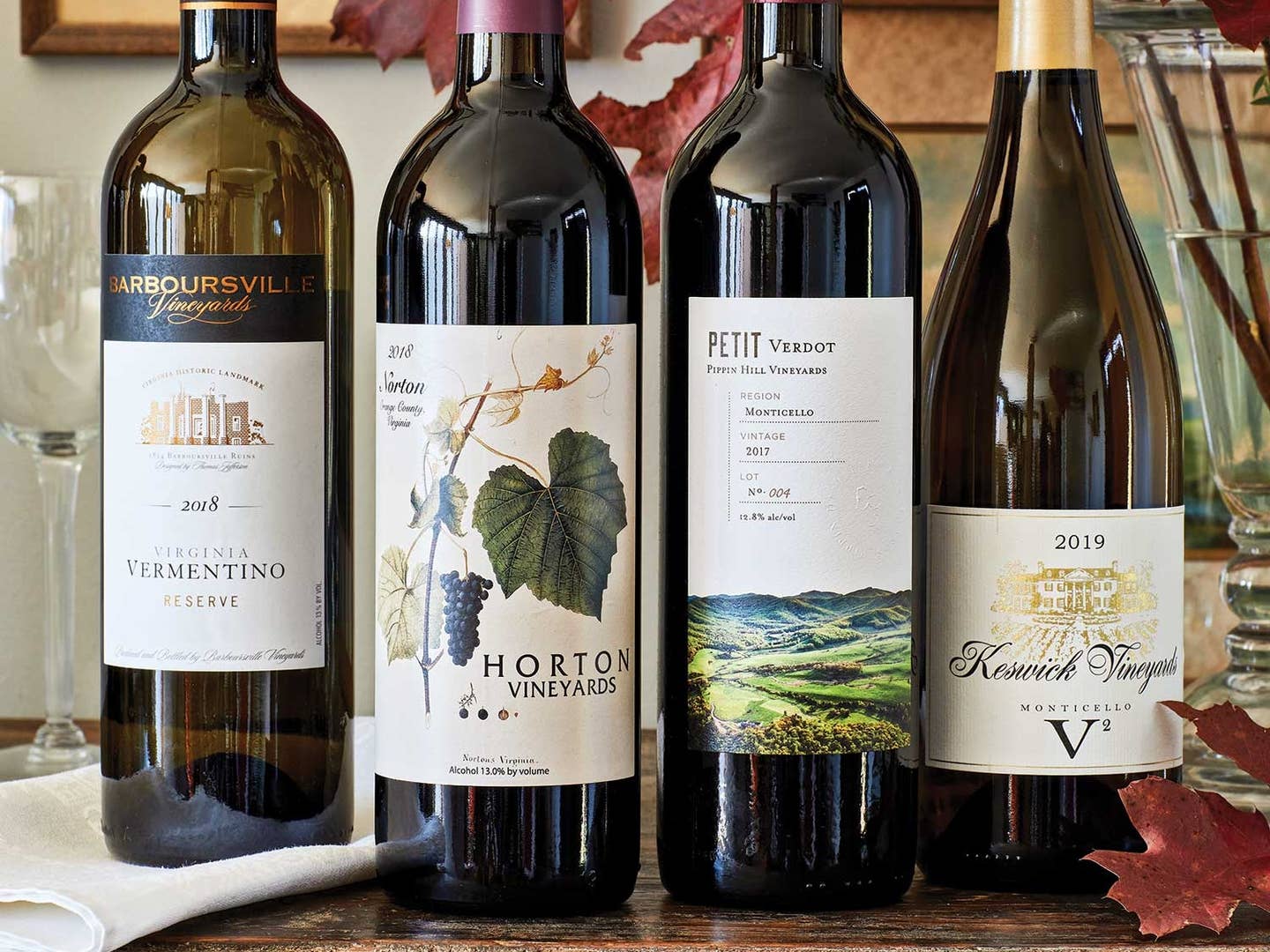 Drinks
Virginia Is for Wine Lovers
Forget what you think you know about sticky-sweet Southern grapes. The Old Dominion produces a number of superb vintages that remain under the radar—for now.
Every state makes wine—even Hawaii, even Alaska. The one with the big reputation, of course, is California, which produces more than 80 percent of this country's vintages and most of its best ones. After those, oenophiles tend to favor bottles from Washington, Oregon, and, to a lesser extent, New York.
There's another state that deserves a prominent place in the conversation, however: Virginia. In virtually every corner of the commonwealth, vineyards large and small are turning out high-quality wines from a wide range of grape varieties. I've tasted a lot of them. My daughter went to college in Richmond, and on my frequent visits, we emptied many a bottle together in the city's better restaurants. "Southern wine" may be shorthand for the sticky-sweet stuff made from indigenous muscadine grapes, but we found repeatedly that Virginia's finest vintages stand up to almost all other American competition.
So, why aren't they better-known or more widely appreciated? There are several reasons, the first being that, while winemaking of a sort began in Virginia four centuries ago, a true wine industry didn't get started there until the mid-1970s.
The early history of Virginia wine is a chronicle of failure. In 1619, the House of Burgesses (the colony's legislative body) encouraged English settlers to plant vinifera grapes—the species that includes chardonnay, cabernet, and most of the other varieties we enjoy today. The vineyards foundered. No lesser personages than George Washington and Thomas Jefferson would try subsequently, to no avail. The nonnative vines simply refused to cotton to the state's hot, humid climate, falling prey to mildew, black rot, and the destructive pest phylloxera.
Local interest in vinifera didn't revive until after the introduction of modern agricultural practices, including pesticides and fungicides, during the mid-20th century. Then it still took a European enterprise to finally kick production into high gear. I'm speaking of the massive Zonin, from Italy's Veneto region, which established its Barboursville Vineyards just outside Charlottesville, Virginia, in 1976. Today, the state claims more than 300 wineries, though only a handful are certified organic. As is the case along most of the East Coast, nature proves too formidable a foe.
Challenges persist. Michael Shaps of Michael Shaps Wineworks, one of Virginia's premier producers and a contract winemaker for several wineries in the region, says that area vintners remain "in a battle with new diseases and pests." Shaps credits Dr. Tony Wolf of Virginia Tech's Viticultural Extension Service for research that "has yielded an enormous improvement in grape and wine quality," through better varietal selections and vineyard management techniques like cover crops, strategic pruning, and more focused treatments for those aforementioned diseases and pests.
As a result of such difficulties, Virginia wines tend to be more expensive than their US counterparts and are rarely exported beyond the state. Many suffer, too, from a lack of distinct regional identity. Chardonnay, Virginia's most widely planted grape, can yield excellent wine there, but it's typically indistinguishable from chardonnay made in, say, California or Australia. The state's top wineries also produce solid reds from classic vinifera grapes (think cabernet sauvignon and merlot); again, these very good wines could come from almost anywhere.
To me, the most interesting Virginia wines are derived from less famous vinifera grapes: reds like petit verdot and tannat, and whites like viognier and petit manseng. Shaps, who works with all four, thinks petit manseng is "without question" the most promising white grape in the state. Among the other area wineries using less common vinifera varieties are Keswick Vineyards (verdejo), Otium Cellars (dornfelder, lemberger), Breaux Vineyards (nebbiolo), and Blue Ridge Vineyard (gewürztraminer and a vinifera-native hybrid called traminette).
Then there's norton, a native American red-wine variety of the aestivalis species, considered to be our nation's oldest cultivated grape. It isn't cloying like muscadine, though the two do share a similar resistance to mildew. The premier examples are Locksley Reserve from Chrysalis Vineyards and Horton Norton (yes) from Horton Vineyards—both plummy, complex, delicious, and quite different from everything else. Maybe norton will be the Virginia export that finally gets the wine world's attention.
---
So, which Virginia wines are best? One key indicator of excellence is inclusion in the annual Governor's Cup Case: a case of the year's top 12 local wines, as selected by prominent wine authorities from around the US and abroad. The box—sent to journalists and members of the trade in an effort to promote the state's burgeoning industry—regularly includes bottles from Barboursville Vineyards and Michael Shaps' Virginia Wineworks. But 868 Estate Vineyards, of Loudoun County, holds the current first-place title, for its 2017 Vidal Blanc Passito, a dessert wine made from the vinifera-native hybrid vidal. You'll probably have a hard time finding it, and other 2020 victors. Never fear! The winners of the 2021 Governor's Cup will be announced later this month. (For more information on the competition, or to track down currently available vintages, visit virginiawines.org.)
---
Colman Andrews, a founding editor of Saveur, has won eight James Beard Awards for his food writing.