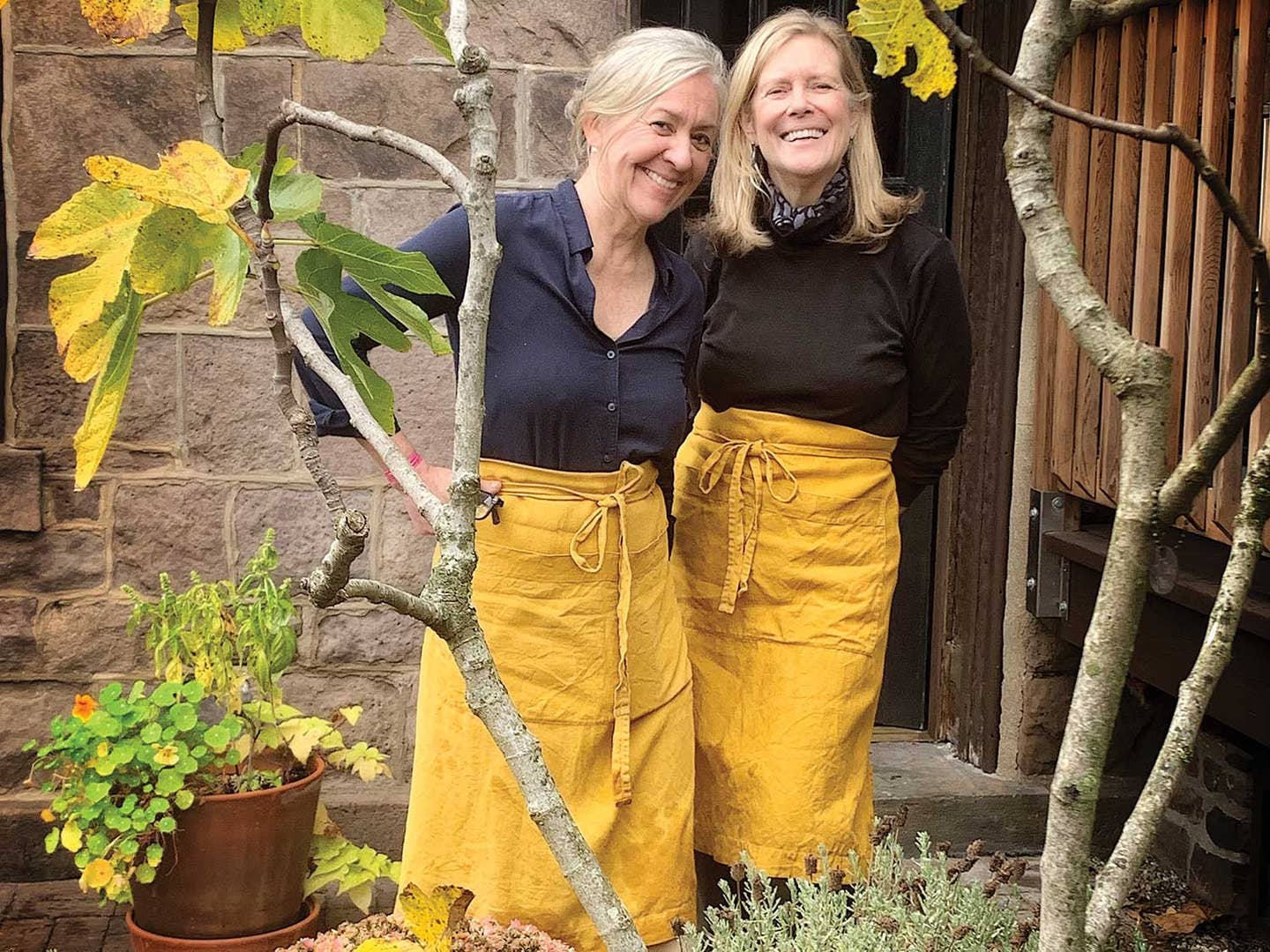 Travel
In an Old Train Station, Taste the Work of Saveur's Founding Food Editor and Former Test Kitchen Director
After decades working behind the scenes, Melissa Hamilton and Christopher Hirsheimer finally take center stage at their new restaurant, Canal House Station
It was two years ago that Christopher Hirsheimer first noticed a for sale sign on the vacant old train station in Milford, New Jersey. She immediately asked Melissa Hamilton, her business partner, to come see the place. "This building—this building—told us it wanted to be a restaurant," Hirsheimer recalls. "We said, 'No, no…,' and the building said, 'Yes. I want to be a restaurant.'" Hamilton nods in agreement. "We have a thing," she explains. "We go on saying 'no' until something makes us say 'yes.' "
Both women live nearby, in the Delaware River Valley, where they met shortly before Hirsheimer co-founded Saveur in 1994. Twenty-five years into their friendship, the two communicate intuitively, conserving words and finishing each other's sentences as they talk about how food should be cooked, seen, written about, and enjoyed. Their distinct vision of culinary authenticity has won them many admirers: Hirsheimer and Hamilton have tested recipes and styled and photographed food for cookbooks by Jacques Pépin, Danny Meyer, Alice Waters, and the late Julia Child.
For more than a decade, that work has been done largely in private, in rented studios along the Delaware River. Every day, as Hirsheimer and Hamilton cooked and photographed food at the behest of others, they made meals for themselves, too, and wrote about what they were eating on a blog called "Canal House Cooks Lunch." Recipes from that blog gradually evolved into the quarterly journal Canal­ House Cooking, as well as the 2012 cookbook Canal House Cooks Every Day. In September, they published a second cookbook, Cook Something: Recipes to Rely On, which features a gorgeous jumble of green onions on the cover.
As straight-up and unadorned as such artistry may appear, it's not easy to achieve. Hirsheimer and Hamilton's grace lies in their knack for concealing the difficulty of what they do—or perhaps, of not acknowledging the difficulty at all, even to themselves. Hirsheimer's photos appear "unstaged," as Alice Waters puts it. "But they care about beauty. It shows in the way they design a book, the way they put food on a plate, the way a table is set, and the way all of it reflects that moment in time." The end results, Waters says, feel "just-picked."
Although the Canal House brand conveys an affirming, unfussy approach to food, until recently you pretty much needed to be a chef yourself to taste anything Hirsheimer and Hamilton cooked. There was no restaurant to visit, only the recipes and images to tantalize hungry readers. Finally, this past July, the pair at last put themselves front and center, opening a restaurant, Canal House Station, in the old Milford train depot that hailed them. "We kind of missed people," Hirsheimer says, in her understated way.
To get to canal house station, you drive on country roads through rolling hills thick with tall-trunked trees; the Delaware River glints in the distance. You pass vine-covered silos, red barns, and, in late summer, farmstands loaded with glossy eggplants, golden cauliflower, peppers, apples, and enormous blackberries—a vegetable spin on Willy Wonka's candy factory. What you see at these stands, you will likely encounter at the restaurant. "Every single thing we have is ephemeral—little squash blossoms, figs, even the flowers," Hirsheimer says. "We do what is at the market. We don't have a set menu."
Their renovation of the stone-and-wood train station preserved the 1874 building's original floor plan. An open kitchen now inhabits the cavernous former freight room. To the left, a corridor leads to two dining rooms, their walls painted a shade of gray that echoes the station's exterior. To the right, there's a casual café with two long wooden tables, a marble bar, and a wood-burning stove flanked with stacks of firewood. The overall impression is that of a large family home. Wildflowers and trays full of mounded fruits and vegetables are scattered about casually, almost as if by chance. It's lovely, it's unassuming—but it's by no means accidental. The appearance of effortlessness is part of the plan.
The morning of my visit, Hirsheimer and Hamilton are in the kitchen, along with a pinch-hitter assistant, Lilah Dougherty, who attended grade school with Hamilton's daughters. Hirsheimer, the commander, alternates between toasting almonds on one burner and minding a pot of chicken stock on another, while also slicing Manchego cheese and quince paste. Hamilton, the adjutant, chops apples, rolls out dough, and snaps green beans. Dougherty peels parsnips, washes pots and pans, and awaits orders. All three wear the universal chef's uniform of a boxy coat (a "mandarin-collared tunic," in Canal House speak), dark pants, and clogs, their hair tied back. Forty-eight guests are expected today, a full house. One group arrives early, and a server—Hirsheimer's grandson, Nash Anderson—welcomes them and leads them unhurriedly down the sunny corridor to the dining room.
"We've got to keep our heads," Hirsh­eimer says offhand, the only indication of the tension that underlies the operation. Hamilton nods and keeps chopping.
In the early 1990s, Hamilton was the mother of a toddler, with another baby on the way, and helping her father run the Hamilton Grill in ­Lambertville, New Jersey. She wanted to branch out and become a food stylist. After a prospective employer told her she'd need seven years of intern experience first, Hamilton called Hirsheimer at a friend's suggestion. "You don't need to go intern with anyone," Hirsheimer said. "I've gone to your restaurant, and I've seen how you put food on the plate. You are a food stylist." She invited Hamilton to drop by a Saveur shoot at a nearby garden.
"I arrived a little bit early," Hamilton recalls, and Hirsh­eimer pulled up in a Volvo packed with groceries. Hamilton offered to help her unload. Hirsheimer declined. Hamilton helped anyway, establishing a back-and-forth dance that hasn't stopped since.
"Oh my god, I'm totally in love with this woman," Hamilton remembers thinking. Hirsheimer asked her to her prep onions for the lapin à la moutarde that would feature in the story. "I started to peel the beautiful onions, and I took off the tops and the stumps, and she said, 'Maybe leave the root part, it's maybe prettier like that?'" To Hamilton, this came as a revelation. "I saw there was permission to make things more natural and beautiful." she says. "Intrinsically, a thing is beautiful in itself, so you may allow it to be its natural self."
She continued to assist Hirsheimer on sets, in a freelance capacity, until 1999. Then, with Hamilton's younger daughter starting nursery school, she went to work at Saveur full time, as the test kitchen director. For the next few years, both women commuted more than 60 miles to the magazine's Manhattan office, while their homes, and husbands, remained in the Delaware River Valley.
Every weekend, canal house station serves "Sunday dinner" from noon to four. On the day I was there, the women were preparing a Spanish feast, inspired by a recent guest on their local radio show, "The Canal House Kitchen Hour." The slivers of Manchego and quince paste Hirsheimer cut in the morning joined the toasted almonds in a tapas spread that also included fried squash blossoms and red peppers stuffed with olives and saffron rice. Hamilton's green beans were eventually scattered atop the main course, a chicken-and-­chickpea stew called cocido. The chopped apples were tossed with sugar and minced ginger, strewn over the dough, and baked into rustic tarts for dessert.
As the restaurant's guests—all four dozen of them—began to arrive in a steady, ­leisurely flow, they behaved more like company than patrons. Sometimes, when a group ambled into the open kitchen, the cooks set down their knives and dispensed hugs before returning to work. Hirsheimer and Hamilton are now hosts as well as cooks, and they steadfastly refuse to let their effort show.
"The truth is," Hirsheimer says later, while pouring glasses of rosé for herself and Hamilton, "we just make it and put it on the plate. When we do it, if other people are there, it doesn't look complicated. It almost looks like we're not doing anything."
Liesl Schillinger's articles and essays have appeared in The New Yorker, New York, Vogue, and The New Republic. She also teaches journalism and criticism at The New School in New York City.