Recipes
Shrimp Remoulade
Serve with lemon wedges and buttered toast.
Serves

serves 4

Cook

4 hours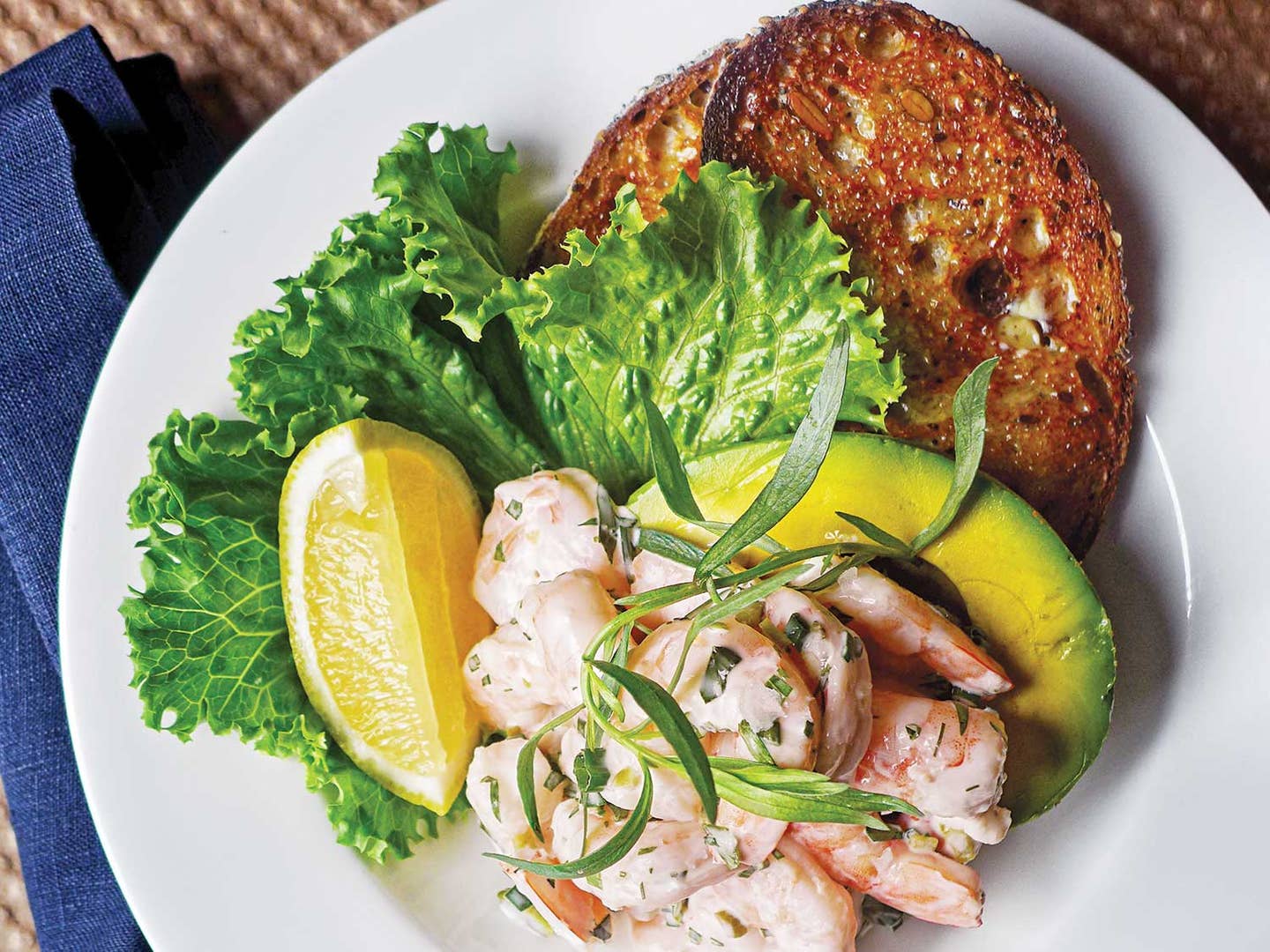 Classic, tangy remoulade sauce is a luxurious accompaniment to any crustacean.
Ingredients
2⁄3 cup mayonnaise
2 cornichons, finely chopped, plus 11/4 tsp. reserved pickling brine
1 1⁄4 tsp. capers, finely chopped
2 tsp. finely chopped fresh parsley
2 tsp. finely chopped fresh tarragon, plus extra whole leaves, for garnish
1 tsp. finely grated lemon zest
1 Tbsp. fresh lemon juice, plus more as needed
1 Tbsp. plus 1 tsp. kosher salt, plus more as needed
Freshly ground black pepper plus
2 tsp. whole black peppercorns
2⁄3 lb. medium shrimp, peeled, shells reserved
1 1⁄3 cups dry white wine
2 sprigs fresh thyme
3 sprigs fresh Italian parsley
1 small yellow onion, thinly sliced
1 small celery stalk, thinly sliced
1 bay leaf
4 green leaf or butter lettuce leaves
2 ripe hass avocados, halved, pitted, and peeled
Finely chopped fresh chives, for garnish
4 lemon wedges
Buttered toast, for serving
Instructions
Step 1
Make the remoulade sauce: To a medium bowl, add the mayonnaise, cornichons and their brine, capers, parsley, tarragon, lemon zest, and 1 tablespoon lemon juice and stir to combine. Season with salt, ground black pepper, and additional lemon juice to taste, then refrigerate until ready to use.
Step 2
To a medium pot, add the shrimp shells, wine, 1 tablespoons plus 1 teaspoon salt, the whole peppercorns, parsley, thyme, onion, celery, bay leaf, and 4 cups cold water. Bring to a boil over high heat, then lower the heat to maintain a simmer and cook until the vegetables have softened, 18–20 minutes. Set a fine mesh strainer over a large bowl and strain the stock, discarding the solids. Rinse out the pot, then return the stock to it and bring to a simmer over medium heat. Add the shrimp, then immediately turn off the heat , cover, and set aside until they are cooked through, 2–3 minutes.
Step 3
Using a slotted spoon, transfer the shrimp to a large plate or baking sheet, spreading them out so they cool quickly. Devein the shrimp, then cover and refrigerate until chilled.
Step 4
Toss the shrimp in the remoulade sauce to coat. For each salad, place a lettuce leaf on a plate and set an avocado half on top, cut side up. Spoon some of the shrimp over the avocado, sprinkle with chives and top with a few leaves of fresh tarragon. Serve with lemon wedges and buttered toast.