Culture
Taiwan's Changing Tastes, in a Bowl
Beef noodle soup is a big deal for Taiwanese eaters. But its popularity came relatively recently
Serves

serves 6-10

Cook

3 hours 45 minutes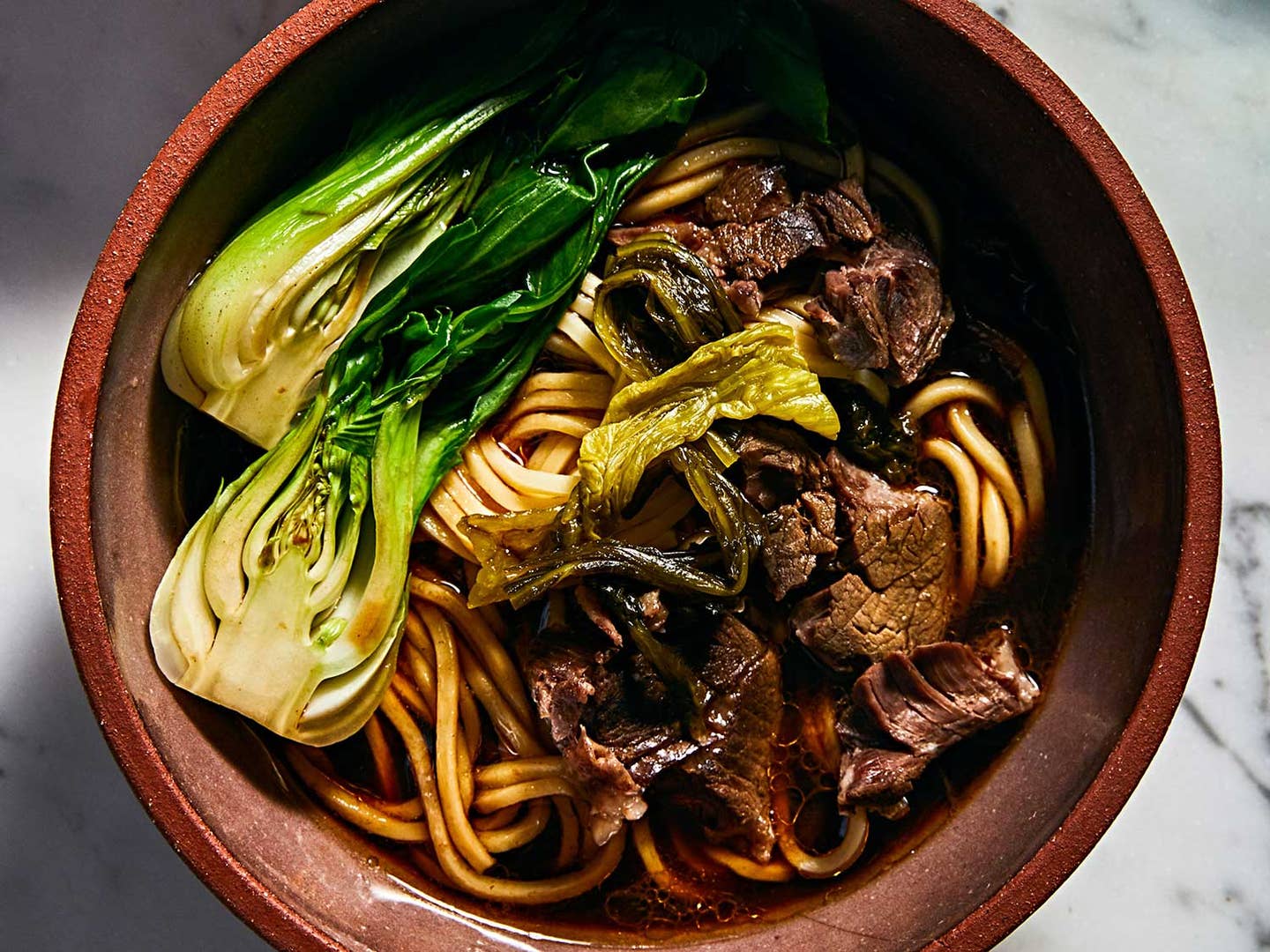 For many Taiwanese living abroad, beef noodle soup is the spiritual slurp of the homeland. According to Eric Sze, chef-owner of 886, a Taiwanese restaurant in New York City, longing for the dish was what got him into the restaurant industry.
"It was literally on almost every corner of Taipei. And most if not all of them were pretty great," says Sze, who grew up in Taiwan's capital.
But when he set out to make the dish from scratch at home, he learned just how complicated it is. While it may appear simple, the noodle soup is a rich blend of influences from mainland China and Taiwan, often made with tomatoes and locally-produced Taiwanese bean paste to buoy the deep, earthy broth of beef shank. Its robust punch of flavors and comforting effect is well-revered on the island and zealously reanimated abroad by restaurateurs such as Sze.
Rewind 60 years ago, and beef noodle soup, or just eating beef, wasn't much of a thing in Taiwan. The story of Taiwanese beef noodle soup is indicative of the story of Taiwanese food as a whole over the course of the last half-century or so. In the late 1940s, China's Nationalist Party retreated from the Communist Party, setting their base in Taiwan and declaring martial law. The Chinese Nationalist military and those traveling with them brought food traditions from all around China, including the northern provinces where wheat noodles and buns were regularly eaten, integrating these and other food customs into the huge array that is Taiwanese cuisine today.
Another transformation was happening in tandem: wider acceptance of beef-eating in Taiwan, which had been culturally taboo in previous centuries. A taste for beef amongst locals was cultivated in part by canned meat rations from the United States that were served to Taiwan's military.
"For a couple of generations, every healthy male served two years in the armed forces and had to eat what he was given. Sometimes this included beef, so many men from families that did not eat bovine meat became familiar with it," explain Katy Hui-Wen Hung and Steven Crook in A Culinary History of Taipei. Beef-eating was also encouraged by Taiwanese officials, as part of a diet for a strong, healthy population. This attitude may prevail.
"I feel like every Taiwanese mom that comes in has their own little secret that they whisper to me," says Rich Ho, chef-owner of Ho Foods restaurant in New York City, which specializes in beef noodle soup. "Whether that's true or not, they tell me things like, 'That's how I get my kids to grow up big and be a basketball player.'"
As one might suspect, there are millions of ways to make the perfect bowl of beef noodle soup, and which way is best is all a matter of subjectivity—unless it's your mom's, in which case, the case is closed. Here's how to make our favorite version, based on a recipe from Taipei's famed Yong Kang Beef Noodle shop.
Some cooks like to add carrots and even apples for a touch more sweetness to the broth. Some use boneless shanks to simplify the process (I'll admit to doing this, and advocating for home cooks to do this in my cookbook, The Food of Taiwan.) Some like it spicier, with the addition of hot bean paste (doubanjiang) and dried chiles, while many are totally devoid of heat. Some suggest browning the meat to deepen the flavors before adding the aromatics to the pot. In our recipe, the beef shanks are boiled, sliced into bite-size pieces, and browned.
Next up are the aromatics: the beef is pushed to the side, and in goes the ginger, garlic, and dried chiles. They're cooked until fragrant, then stirred together with rice wine, soy sauce, black vinegar and sugar. The frying in this step adds crucial flavor and color to the finished dish.
Tomatoes seem to be one universally agreed-upon element of the broth. According to Trigg Brown, chef and co-owner of the Taiwanese-American restaurant Win Son in New York, it should be added at the beginning stages of building your soup, so that it blends invisibly into the final product.
"It adds a depth of flavor and umami because there's a lot of naturally-occurring MSG in tomatoes," says Brown.
At this stage, onions and spices like star anise and peppercorns have just been added to the pot as well.
The archetypal bowl of Taiwanese beef noodle soup has beef shank, which, when braised, transforms into meaty chunks with slippery, collagen-rich tendons running through them. This is especially texturally pleasing to Taiwanese eaters obsessed with "Q" or "QQ" texture (this roughly translates to bouncy, like tapioca pearls). That's why Brown and Sze often add oxtail to the shank when building their soups. But this predilection might not be such a huge factor for everyone—especially folks who are not necessarily chasing after a specific beef noodle soup nostalgia.
"It adds an interesting unctuousness without being fatty," says Ho, of beef shank. But, he says, "You can buy chuck if you don't want tendon-y stuff and just want a chunk of meat. The tendon part is what I'm looking for."
Ingredients
2 lb. 14 oz. long-cut boneless beef shanks (about 3)
2 Tbsp. canola oil
One 2-inch piece ginger, unpeeled, cut into ¼-inch slices
10 cloves garlic, crushed
3 dried chiles de arbol
¼ cup Taiwanese rice wine
2 Tbsp. dark soy sauce
1 Tbsp. black vinegar
1 tsp. sugar
2 medium yellow onions, quartered
3 plum tomatoes, quartered
4 star anise pods
1 Tbsp. whole black peppercorns
Kosher salt
6 baby bok choy
2 lb. thin egg noodles
Pickled mustard greens, chopped, for garnish
Instructions
Step 1
In a large pot, add the beef shanks and enough cold water to cover. Bring to a boil and cook for 10 minutes; drain. Let cool for about 30 minutes, then cut the beef into ½-inch slices.
Step 2
In the same large pot, heat the oil over medium-high. Add the beef slices and cook until both sides are lightly browned, about 8 minutes. Push the beef to the sides of the pot, then add the ginger, garlic, and chiles to the empty center; cook until fragrant, about 2 minutes. Stir in the rice wine, soy sauce, black vinegar and sugar; cook for 1 minute. Add the onions, tomatoes, star anise, peppercorns, 2 tablespoons salt, and 8 cups water. Bring to a boil, then reduce the heat to maintain a simmer and cook, covered, for 1 hour. Turn off the heat and let stand, still covered, 1 hour more.
Step 3
Uncover the pot and transfer the beef to a medium bowl. Strain the broth and set aside, discarding the other solids. Return the beef and broth to the pot and reheat over medium.
Step 4
When ready to serve, bring a large pot of salted water to a boil. Add the bok choy and cook until just tender, about 2 minutes. Transfer to a bowl. Add the noodles and cook until softened, about 4 minutes; drain. Divide the noodles, bok choy, beef, and broth among bowls, garnish with pickled mustard greens, and serve.