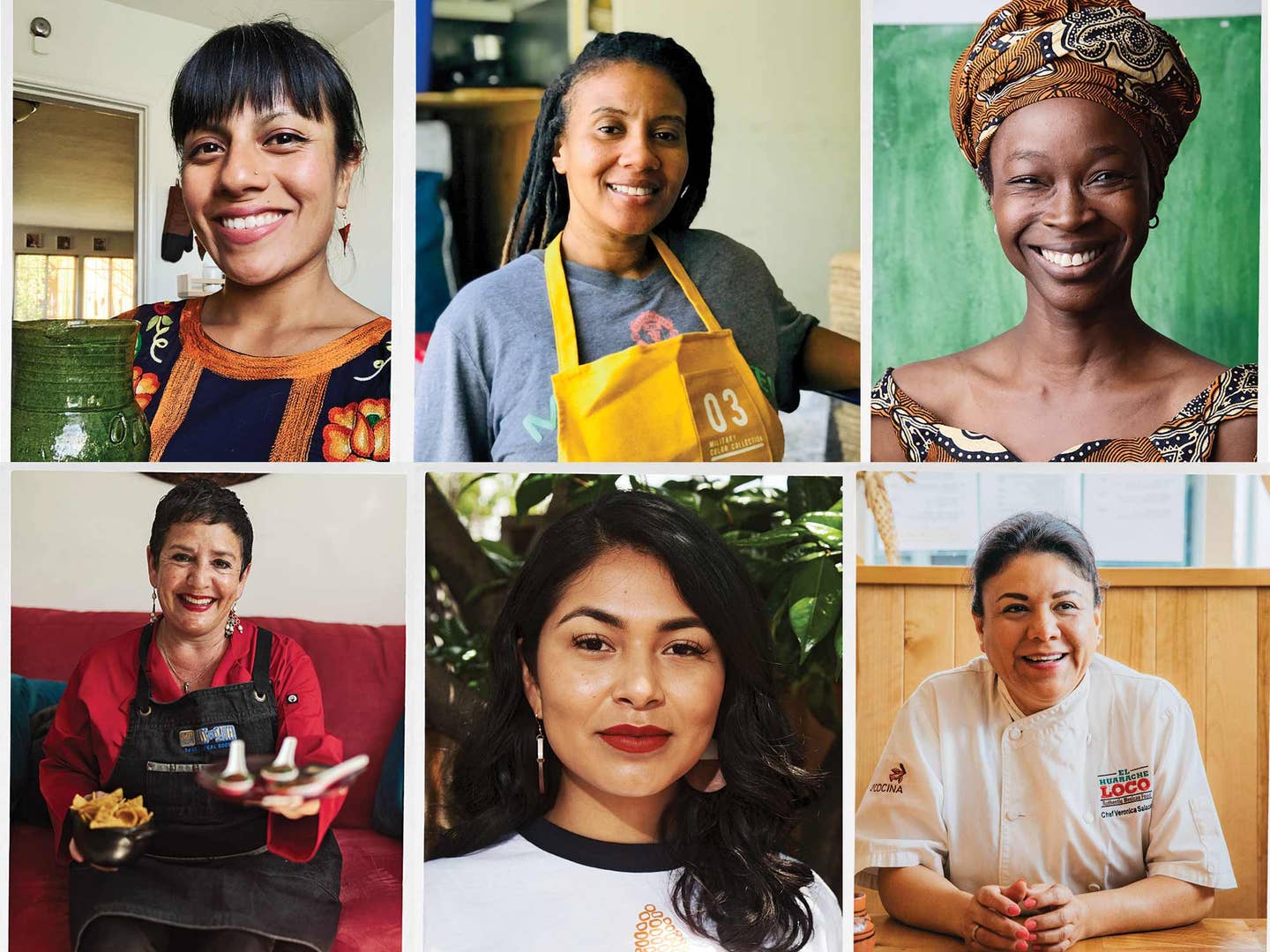 Culture
The Ladies of La Cocina Pick Their Saveur 100 Entries
Graduates of La Cocina, a food-business incubator for women of color in San Francisco, make their selects.
The toughest barrier for would-be food entrepreneurs who are women, of color, or, harder still, women of color? Access. To financing. To professional kitchen space. To legal assistance. La Cocina, the food-business ­incubator that focuses on minority start-ups in the San Francisco Bay Area, has been addressing these inequities head-on since its inception 15 years ago. To date, the nonprofit organization has birthed more than 55 culinary enterprises. The application process can be rigorous, but it is not fraught with the usual biases. La Cocina is now taking on another stumbling block: access to real estate. La Cocina Municipal Marketplace, a 7,000-square-foot space that will be the country's first women-led food hall, is scheduled to open in the Tenderloin next year. Saveur invited six of the program's graduates to reflect on their La Cocina experience and offer up their own Saveur 100 entries:
Business: Boug Cali is a Cali-Creole deli that offers Louisiana dishes with a West Coast vibe.
On La Cocina: "To share a kitchen with other women who work their butts off to run their businesses is daily inspiration."
Saveur 100 Nomination: Williams Sonoma Wood Spoon (Blunt-End Wood Spoon, starting at $13; williams-sonoma.com). "Perfect for stirring the roux I use to start my shrimp étouffée—and for pointing at my teenager when I go into mom mode."
Business: Mi Oaxaca (@­mi.oaxaca) serves authentic Oaxacan cuisine with a focus on Santiago's Indigenous Zapotec culture.
On La Cocina: "La Cocina has created the atmosphere we need to grow a more equitable food industry."
Saveur 100 Nomination: Epazote, the deeply aromatic herb native to southern Mexico and Central America ($5.99 for a 1.1-ounce jar; thespicehouse.com). "I add it to black beans—a staple at my house—as well as to mole verde, quesadillas, and eggs. I even brew tea with it."
Business: Teranga is a line of fresh bottled juices and snacks made with natural ingredients.
On La Cocina: "The guidance of the experienced staff helped me to foresee obstacles and navigate my way around them."
Saveur 100 Nomination: "Baobab, a fruit we use in a lot of our products, has a tangy, bright flavor. Nutritionally, it really stands out. In Africa, it's known as the tree of life—for good reason."
Business: La Guerrera's Kitchen started as a tamale cart in the Mission. Today, Reyna and her mother, Ofelia Maldonado, host pop-ups selling their tamales and other dishes all over Oakland.
On La Cocina: "We're a community passionate about each other's gifts."
Saveur 100 Nomination: The guajillo, a dried mirasol pepper, and the morita, a red jalapeño that's smoked and dried (guajillo chiles, 4-ounce bag for $7; chipotle morita chiles, 2-ounce bag for $7; thespicehouse.com). "We use a variety of chiles. The guajillos add a fruity heat to our mole, and the moritas lend smoky sweetness to meats."
62. Karla Rosales-Barrios
Business: Pass the Sauced makes ­sauces in small batches using produce from family- owned California farms.
On La Cocina: "Being part of the La Cocina network gives me the opportunity to collaborate with other ­women-owned businesses."
Saveur 100 Nomination: Cartagena, on Colombia's Caribbean coast. "This city, founded in the 16th century, has African, Indigenous, and European roots. Its history, culture, people and, of course, food are rich in tradition."
Business: El Huarache Loco is known for its Mexican huaraches, the oblong cakes of masa that are stuffed and grilled.
On La Cocina: "Working with La Cocina led directly to opening my own restaurant. It's an honor to be part of an organization so dedicated to helping entrepreneurs every step of the way."
Saveur 100 Nomination: Molcajete (lava-stone ­mortar and pestle, $49; mexgrocer.com) and comal (10.5-inch cast-iron griddle, $20; lodgecastiron.com). "These are my go-to kitchen tools. I cannot cook without them!"