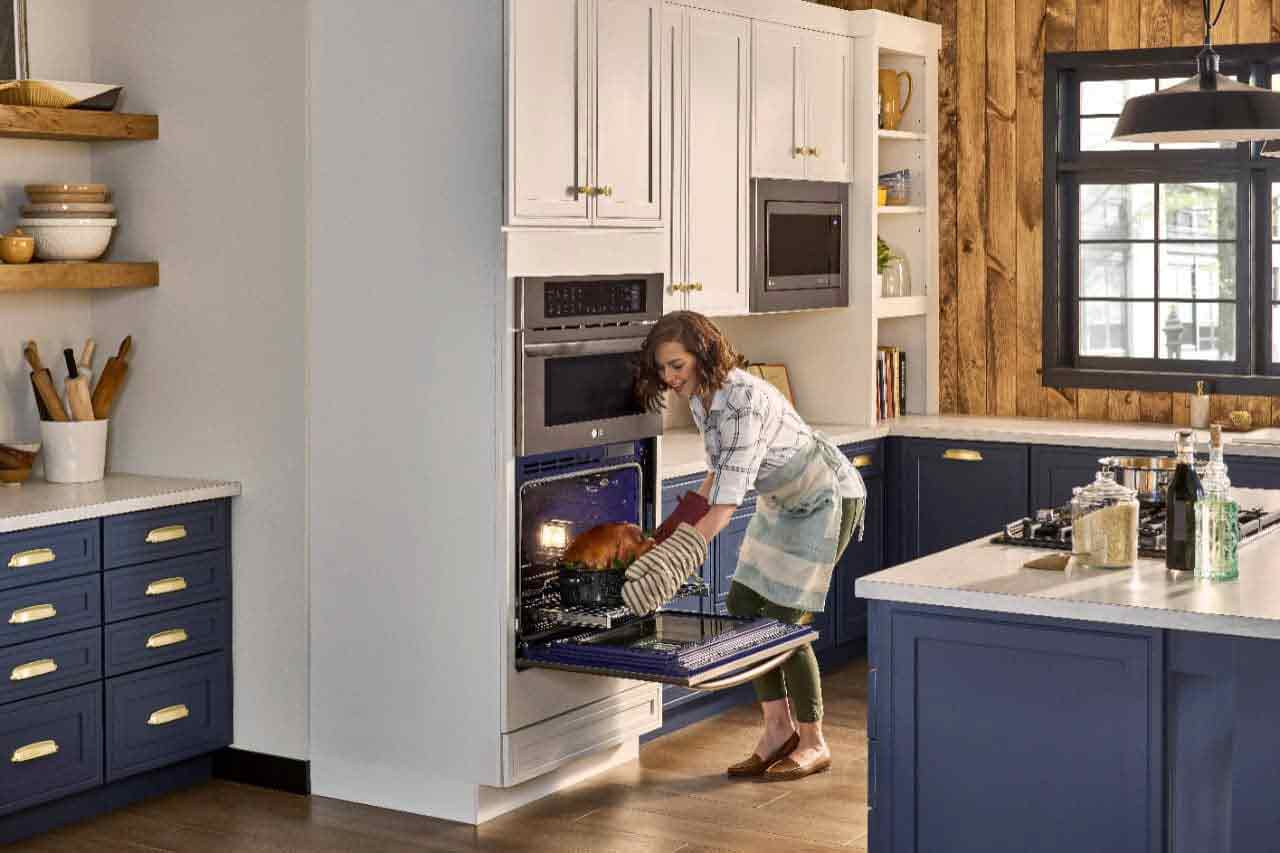 Techniques
How a Combination Oven Will Help You Prepare an Unforgettable Holiday Feast
Upgrade your holidays with one smart appliance.
The holidays are a time for togetherness—the season many feel is the most wonderful time of the year—and a staple of that togetherness are the meals you sit down to share with your friends, family, and loved ones.
And while the holidays might be unfolding a little bit differently this year than we're all used to, that doesn't mean you have to enjoy them any less. You can still have one or several feasts that include traditional recipes, new takes on dishes, or a combination of the two.
If you're hosting a dinner or just making something for your immediate family, a smart, state-of-the-art oven like an LG combination double wall oven can help you cook your way through the holidays.
Here are a few ways it'll provide an assist when it comes to making every meal a memorable one.
You can prepare all your cooked dishes with one kitchen appliance.
LG combination double wall ovens are two ovens in one, with the actual power of four different oven types—so they're ready to help you make whatever dishes you're going to have on the menu during a holiday feast.
You can use the True Convection oven that delivers precise heat for dishes that you want to be crisp on the outside, but moist and delicious on the inside. Then there's the TurboCook speed oven that heats up super fast and produces oven-quality results every time, enabling you to make delicious food while lessening cooking time. You can also employ the healthy steam cooking feature for evenly distributed moisture.
There's even a conventional microwave oven that is always ready to lend a mechanical hand for super-easy everyday cooking and reheating.
Essentially, LG combination double wall ovens bring endless possibilities to your holiday cooking repertoire, whether you're sticking what you know or letting your culinary imagination run wild.
You'll be able to get plenty of food on the table, fast.
With the versatility of four ovens, you'll be able to cook or bake several dishes simultaneously, so you can get more done and ready to serve in a shorter amount of time than you would if you were working with a single oven in your kitchen.
LG combination double wall ovens also feature an Infrared Heating system that takes preheating out of the equation, enabling you to cook 2-4 times faster* without losing out on taste or quality.
All your dishes will be cooked to perfection.
If you have an LG combination double wall oven, there won't likely be any overdone, dried-out turkey or any undercooked green bean casserole in your home this holiday season.
They stop cooking automatically whenever your food reaches its set temperature, so you can dial in your settings and then walk away without worry. And if you want to give your food a quick look to see how it's heating up, you can use the WideView window to check on whatever you're making without opening the oven and letting out any heat.
You can take a break from the kitchen without worry.
With an LG combination double wall oven, you can control what you're cooking from wherever you happen to be, whether it's spending a little pre-meal time with family or even if you have to step out to the store to pick up some ingredients or supplies.
The ovens work with the LG SmartThingQ app, which means you can start the oven, set timers and check on how your dishes are coming along by simply using your smartphone. Some of the oven features also work with Alexa and Google Assistant, so you can program settings using only your voice.
Presets provide an easy preparation assist.
When you're preparing a holiday feast for the family, you have plenty to think about and prepare for. Luckily, LG combination double wall ovens offer more than 50 preset options for common dishes, so you can set your oven to cook family favorites without much effort or guesswork.
And if you're ready to upgrade to one to fit in with your kitchen, you still have some time to do so before the holiday season comes to an end!
*Based on LG internal testing comparing LG combi wall oven LWC3063BD to a conventional LG double wall oven LWD3063ST.