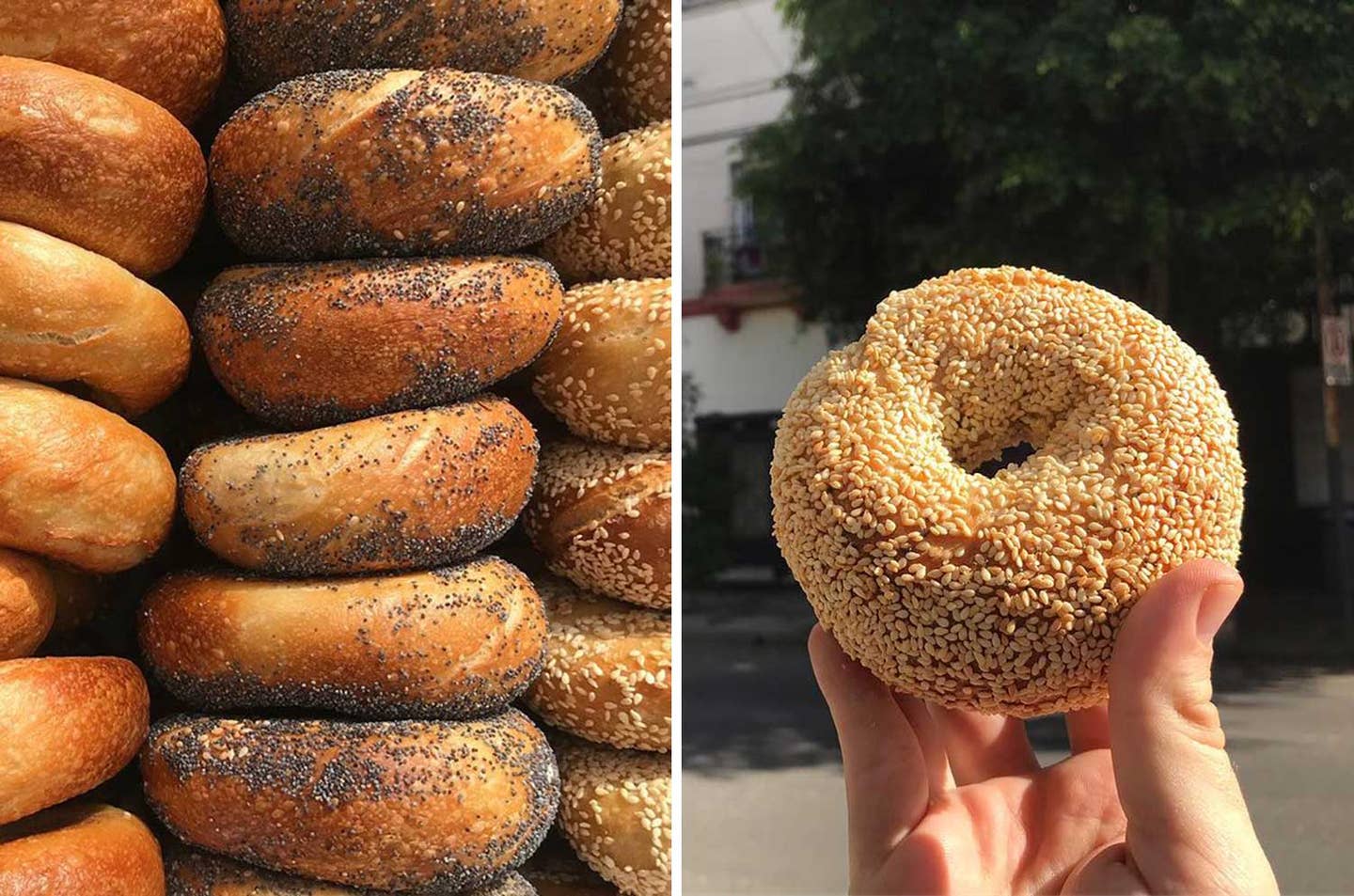 Travel
The Best New York Bagels South of the Equator
In Buenos Aires, locals and expats are striving to recreate Manhattan's legendary bagel shops
When I heard that bagels were becoming a thing in Buenos Aires, I was intrigued. I had come to Argentina for steaks and empanadas, not the carbs I ate at least three times a week back home in New York City, a city that bills itself as the bagel capital of the world. But when I walked into La Crespo, a Jewish deli in Buenos Aires's Villa Crespo neighborhood—which is often referred to as Villa Creplaj (Spanish for Kreplach)—with beautiful tilework and giant posters of bagels, my curiosity got the better of me.
I ordered a pastrami sandwich and a bagel with lox and cream cheese. The pastrami was lovely—the meat piled high and layered with pickles, caramelized onions, and Dijon mustard—but the bagel was the real surprise. It didn't quite have the chewy density of a traditional New York-style bagel, but schmeared with cream cheese and topped with lox, onions, and capers, it was close enough to the actual thing to make me a little homesick.
The doña of La Crespo, Clarisa Krivopisk, is tight-lipped about her bagel recipe. She moves quickly from table to table, taking orders and chatting up customers, while her husband sits behind the register. Krivopisk takes pride in how precisely similar her food is to the Jewish delis of New York's Lower East Side, which was exactly her plan, she explains in Spanish. The shop was filled with porteños (people of Buenos Aires) when I was there, closer to lunchtime than breakfast, and only got busier as we sat.
While Eastern European Jewish immigrants introduced the bagel to New York at the end of the 19th century, the now-iconic bread didn't make it to Argentina until recently, despite the fact that the country has the largest Jewish community in Latin America and the fifth largest in the world—mostly concentrated in Buenos Aires. The city's cuisine was much more strongly influenced by the waves of Italian and French immigration that occurred during the same time period. However, as the culinary scene has evolved, Jewish food has seen a huge surge in popularity, with high-end restaurants such as Mishiguene drawing local and international acclaim for its reinvented upscale classics (think sous-vide gefilte fish). And La Crespo isn't the only place you can find bagels in Buenos Aires these days.
In 2014, New York native Jacob Eichenbaum-Pikser started Sheikob's Bagels ("Sheikob" is the Argentinian-Spanish pronunciation of "Jacob"), hawking his homemade bagels outside coffee shops in the Palermo neighborhood, and in 2017, he settled into a brick-and-mortar store. Eichenbaum-Pikser describes the initial reaction as a "mixed bag." American tourists and expats were excited, he explains, but the locals were dubious.
"It had to do more than anything with the timing," Eichenbaum-Pikser told me. "People saw I was selling smoked salmon sandwiches at 11 a.m., and the reaction was one of repulsion. They thought I was crazy, saying 'No, no, I would never eat salmon at that hour!'" This, he says, boils down to the breakfast culture of Buenos Aires, which mostly consists of sweet breads like the ubiquitous medialuna croissant. By adjusting his opening hours to cater to a lunchtime crowd, he was able to sell more.
While the rise of Jewish cuisine in Buenos Aires has included more local interest in bagels, Eichenbaum-Pikser is skeptical about the trend's staying power. "Bagels are a really bougie thing here," he says. "In a way, it's an exotic food, and exotic foods are never really going to be popular because they're not everyman's foods, just because the culture isn't there to eat these things." Nevertheless, Eichenbaum-Pikser isn't deterred: he's determined to create the most authentic New York bagel experience he can, both for adventurous porteños, and of course, for the expats like himself craving a comforting taste of home.