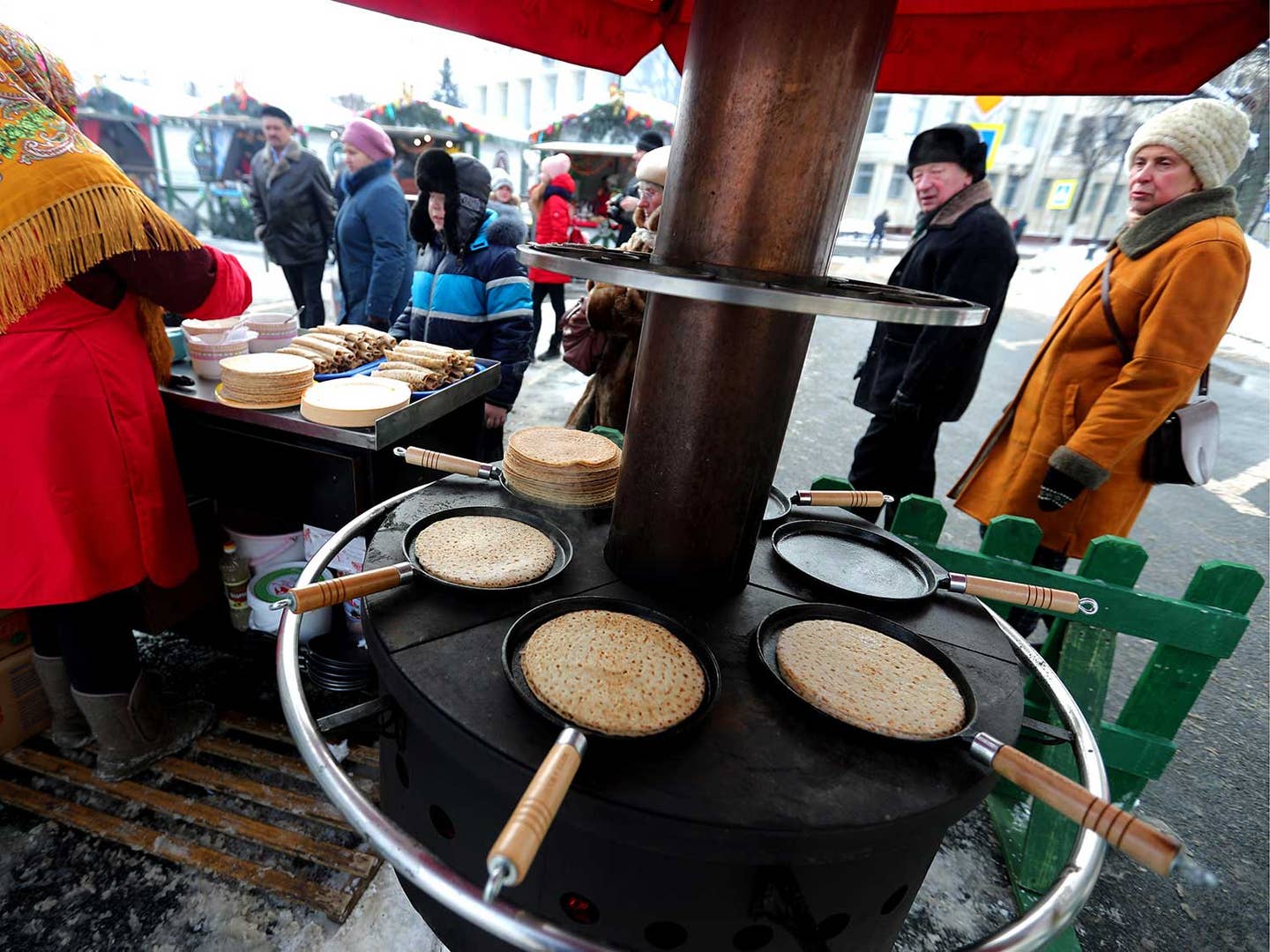 Travel
Maslenitsa: Russia's Butter-Soaked Bacchanal
This week-long celebration of winter's end is a pre-Lenten fever dream of rich blini, caviar, and vodka.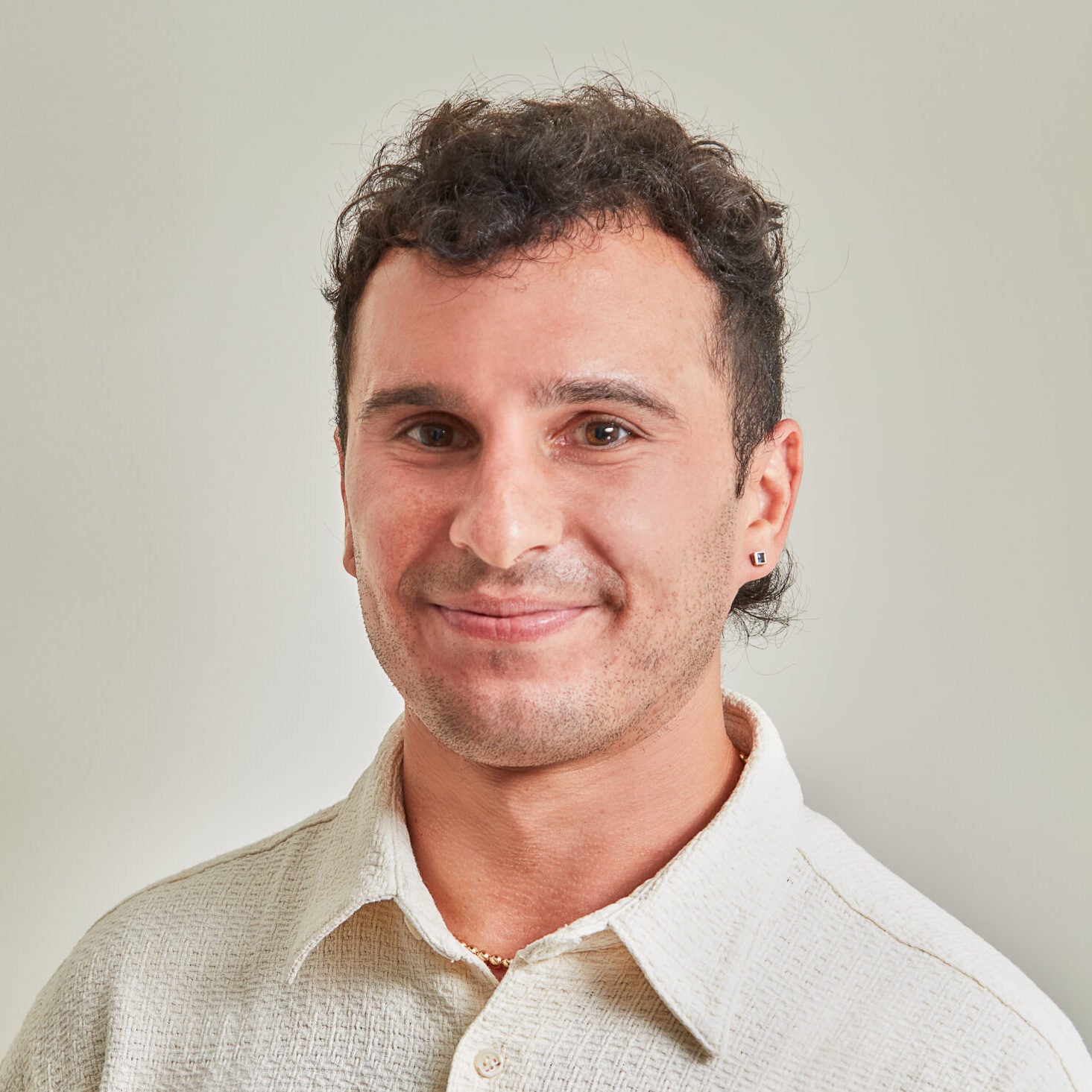 ---
What do burning effigies, public kissing, and hot buttery pancakes have in common? They all come together this year from February 24 to March 1, when Slavic communities from Russia to Ukraine to Belarus unite to bid winter farewell with one final, extravagant hurrah before Lent.
The celebration's signature treat actually predates Christianity. "Blini are one of Russia's most ancient dishes," Darra Goldstein, a food scholar and expert on the region's cuisine and culture, writes in her latest cookbook, Beyond the North Wind. "Shaped into rounds in the image of the sun, they beckoned its return after the long, dark months of winter." That's right. The Slavs were so confident in their blini chops, even eons ago, that they thought they could (literally) butter up Volos, the pagan god of farming and livestock, in exchange for a spot or two of sunshine.
Made from hand-churned butter and freshly ground grains, you can bet the ancients' divine offerings tasted better than the bland roundlets most of us are used to in the States. Just one forkful of a real-deal blin (that's blini singular)—its lacey edges curled, say, around a smear of sweet farmer's cheese (tvorog), some mushrooms fried in butter, or a generous dollop of caviar—and you'll be an instant convert to the Slavic school. Buckwheat blini, in particular, have an earthy undertow that's hard to resist.
What to drink with them? Vodka, of course. "That much goes without saying!" says Goldstein. But when swanning around any Maslenitsa fairground in the snow, black tea poured straight from the samovar will warm your innards almost as quickly.
Moscow holds its biggest festivities on Revolution Square in the center of the city, but individual neighborhoods also get in on the action, with snowball fights, toboggan slides, and other late-winter activities in honor of the event. Three hours southwest of Moscow in the Russian countryside, a Bohemian contemporary art park called Nikola-Lenivets (an Instagram hotspot: @nikolalenivets) celebrates Maslenitsa with the burning of sculptures and effigies constructed by zany park founder and artist Nikolay Polissky. In Kyiv, the capital of Ukraine, you can get in on the mayhem at the city's Expocenter, or celebrate at open-air venues around the city such as Pyrogovo, Kievan Rus, and Mamaeva Sloboda.
Historically, each day of Maslenitsa brought with it ritualized events. Tuesdays, for instance, were for courtship (young men would whisk potential girlfriends out for sleigh rides, and couples would kiss on stage to affirm their love), while Wednesdays were reserved for blini dates between mothers-in-law and sons-in-law. Even now, Thursdays remain centered around traditional Russian sports like wrestling and tree-climbing, and on Sunday, the festival still culminates in a day of forgiveness that ends with the burning of a scarecrow said to symbolize winter.
Can't make it to Eastern Europe this year? Consider hosting a mini-Maslenitsa at home, by serving blini (see recipe below) with a smorgasbord of zakuski (literally, "little bites") such as brined apples, cultured butter with whitefish roe, or Russian hand pies stuffed with melty mushrooms and sauerkraut. The key to a successful batch of blini is butter employed in quantities you won't later care to recall. Let it sputter in the pan, slather it between pancakes as you stack them, and then drizzle it liberally over each warm bundle. Taste that? It's spring.