Recipes
Pink Blini with Gooseberry-Apple Compote
Serves

makes Twenty 6-inch blini

Cook

1 hour 10 minutes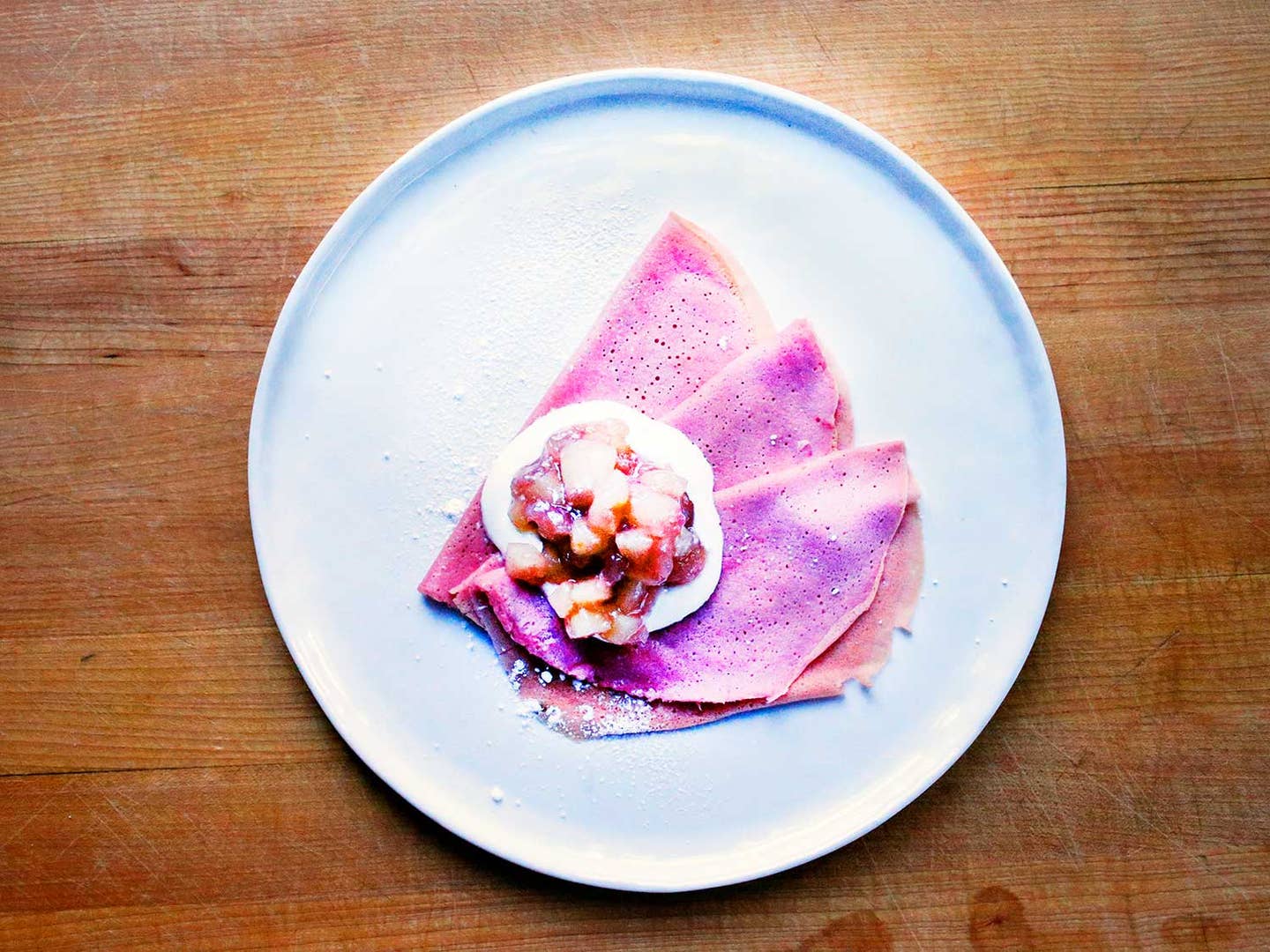 These pancakes are drop-dead gorgeous, with a deep pink hue from the addition of beet juice. The great Russian poet Alexander Pushkin adored them, if we're to believe his friend Alexandra Smirnova-Rosset, who recalled in her memoirs that he would eat 30 pancakes at one go, to no ill effect. Pushkin also adored gooseberry jam and kept a jar on his desk. Darra Goldstein, who developed these recipes for her book, Beyond the North Wind: Russia in Recipes and Lore, suggests following Pushkin's lead and serving these blini with gooseberry compote.
Ingredients
For the blini
2 cups all-purpose flour
1 tsp. kosher salt
4 large eggs, separated
1½ cups buttermilk
½ cup beet juice
2 Tbsp. melted unsalted butter, plus more for greasing the pan
Sour cream, for garnish (optional)
For the compote
1 lb. green or pink gooseberries, fresh or frozen
1 lb. tart apples, such as Granny Smith, peeled, cored, and cut into ½-in. cubes
¾ cup sugar
½ vanilla bean
Instructions
Step 1
Make the blini: In a medium bowl, stir together the flour and salt. In a second medium bowl, lightly beat the egg yolks. Stir in the buttermilk, beet juice, butter, and 2 tablespoons of cool water. Whisk the liquids into the flour mixture to make a thin pancake batter. In a clean, medium bowl, beat the egg whites just until they begin to hold stiff peaks. Use a silicone spatula to gently fold the whites into the batter then set aside.
Step 2
Make the gooseberry-apple compote: To a medium pot, add the gooseberries, apples, and sugar. Use a paring knife to slice the vanilla bean lengthwise and scrape the seeds into the pan, then toss in the scraped pod as well. Bring to a boil over medium heat, then lower the heat to simmer and cook, stirring occasionally, until the juices are thickened and the apple pieces are tender, 10–12 minutes. Cool to room temperature before removing and discarding the vanilla pod. (If not using immediately, transfer compote to an airtight container and refrigerate for up to 2 weeks.)
Step 3
Preheat the oven to 175°F. Brush an 8-inch cast-iron crêpe pan or nonstick skillet with a thin layer of butter. Pour about ¼ cup of batter into the pan and swirl the pan so that the batter forms a thin, even round, 5–6 inches in diameter. Cook over medium heat until bubbles appear on the surface, 1–2 minutes. Flip the pancake with a spatula and cook on the other side just until faintly browned, about 1 minute more. Turn the pancake out onto a plate and repeat with the remaining batter, greasing the pan again as needed to prevent sticking. Stack the pancakes on a plate to keep warm in the oven until you've used all the batter. Serve the pancakes topped with compote and a generous dollop of sour cream (if using).