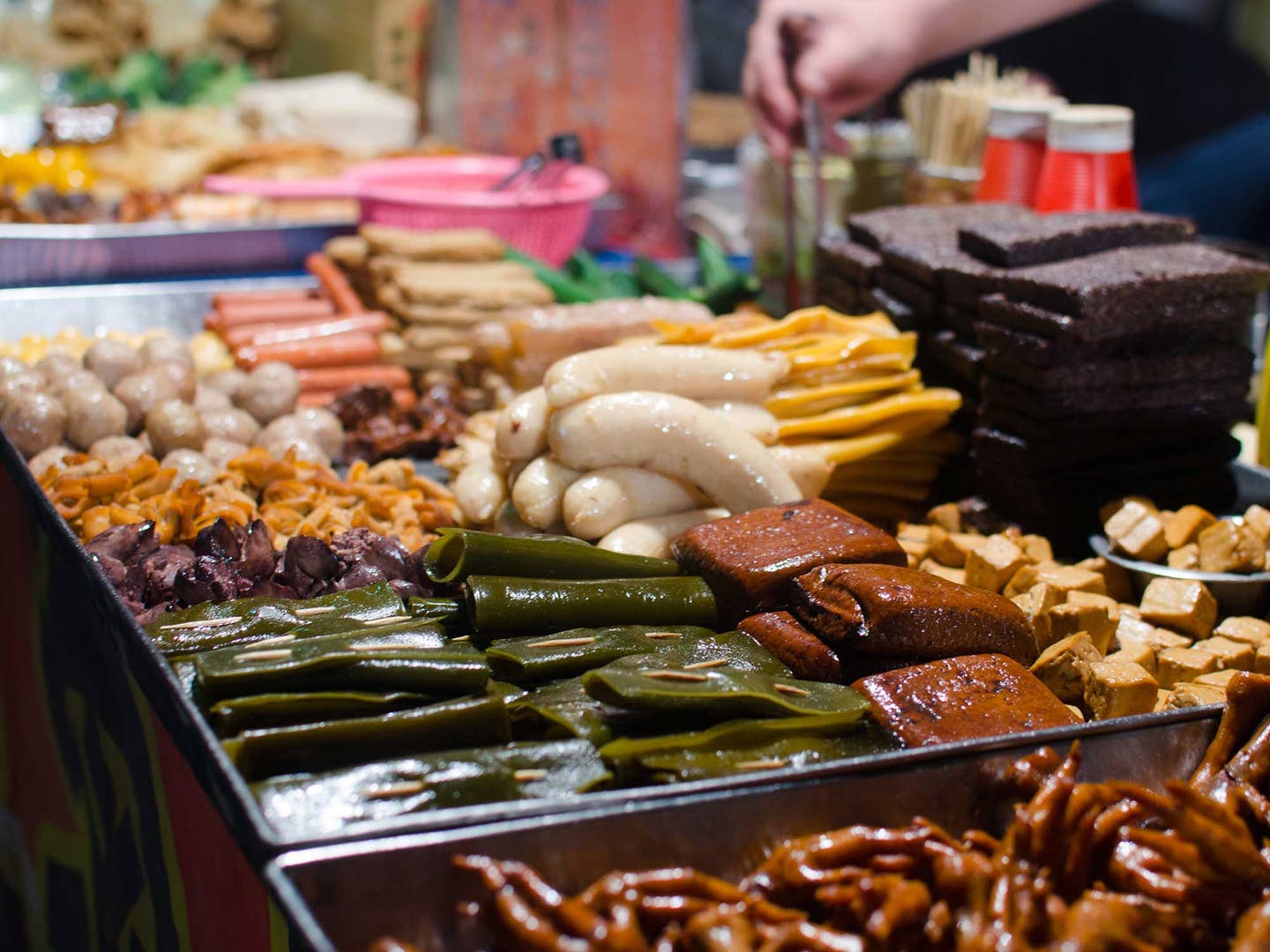 Travel
How to Navigate a Taiwanese Night Market
What to eat, where to go, and tips for catching your own live dinner
Are you going to see any night markets?
Tell travelers you're visiting Taiwan and, New Taiwan Dollars to Taiwanese doughnuts, that's the question they ask you. The island's reputation for night markets is so great that, at times, it eclipses all other aspects of the country's multifaceted cuisine. After all, this is a country that makes one of the world's greatest breakfasts and has a fine tea culture to rival China and Japan; it's a challenge to eat poorly here, whether you're slurping superlative soup dumplings in Taipei or snacking on rare mountain greens in the countryside.
But hey, if you're visiting Taiwan, chances are you will in fact be hitting some night markets, perhaps even by accident as you wander down the streets of Taipei and come upon a skewer-wielding fried chicken artist next to a hawker furiously scrambling oyster omelets. The markets are, in truth, great fun. They're also, for the uninitiated, totally overwhelming, crowded, and noisy with little signage and lots of food. Where do you start eating? How do you know what's good? And why are they such a thing in Taiwan?
It helps to have a guide. Consider these tips your starting point.
So What Exactly is a Night Market?
In brief: a regular market that pops up at night, when locals can shop and snack and gather. Vendors sell all sorts of goods, from clothes and accessories to produce and drinks, but food is certainly a big draw. In a country where alcohol and bars aren't monolithic cultural fixtures, night markets play an essential role in nightlife, anchoring not just hungry Taiwanese, but whole communities and, in larger cities, specific neighborhoods. The markets can run quite late into the night, with food built for snacking—a roving buffet.
But...Don't Expect All the Food to Be Fantastic
Yes, it is hard to eat poorly in Taiwan—7 Eleven and Family Mart are convenience stores from heaven, and even supermarket produce is pretty excellent—but, to be honest, night markets are far from the pinnacle of great eating. Some are better than others, but the average quality of stalls may very well be...average. A lot of romantic myth-making says otherwise, but if you want to eat the best of Taiwanese food, head to family-run restaurants and specialist shops. The street food is often quite good, but better to keep your expectations moderate and appreciate the sheer variety of what you can eat.
The common street food adage applies: follow your nose—and the crowd. Night market hawkers specialize in particular foods—fried chicken, stinky tofu, pork belly buns, fish-your-own-shrimp (more on that in a minute)—and locals tend to know which specialists are the best. You won't always find orderly queues, but you won't have to shove. And if you're clueless about what a hawker makes, ask! Taiwanese hospitality is, to put it mildly, incredibly generous, and most strangers are more than happy to help you out if you show a genuine interest in the food.
A few staples you'll find pretty much everywhere: fried chicken, popcorn-style to peck at with skewers, insanely good with sugar, chile, and pepper in the breading and plenty of aromatic Thai basil thrown in for good measure; gua bao, steamed buns filled with anise-braised pork belly, pickled greens, and shaved peanut brittle; the famous stinky tofu, which smells way more pungent than it tastes, but announces its presence from half a block away; whole stands full of skewered stuff, from chicken to sausage to squid to blood cakes, which you pile into plastic baskets and hand to a cook to fry or grill for you. But keep an eye out for regional specialties—Taiwanese cooking is a many splendored thing, with impressive variation from city to city.
When it comes to night markets, bigger doesn't mean better. More options, sure, but not necessarily superior quality, and certainly more crowds. Smaller night markets also offer a more distinctive look into a local community, and if you head out of the cities and into small town Taiwan, you're in for a treat, because there night markets become the nightlife thing, a block party meets county fair with some excellent blood kebabs for good measure. It was at a tiny town in central Taiwan's Nantou County where I encountered a night market game of "catch your dinner": little kids with fishing poles hooking live shrimp from a tank, skewering them, and gathering around a tiny grill to cook them right then and there. Small town night markets: fun for the whole family.
Hit the claw games. Taiwanese people love them. And rather than having a single game with a mix of prizes, they set them up in long rows that gleam in the night, each with its own set of prizes for you to choose from. Pound back some boba tea, snack on some popcorn chicken, and try your luck.