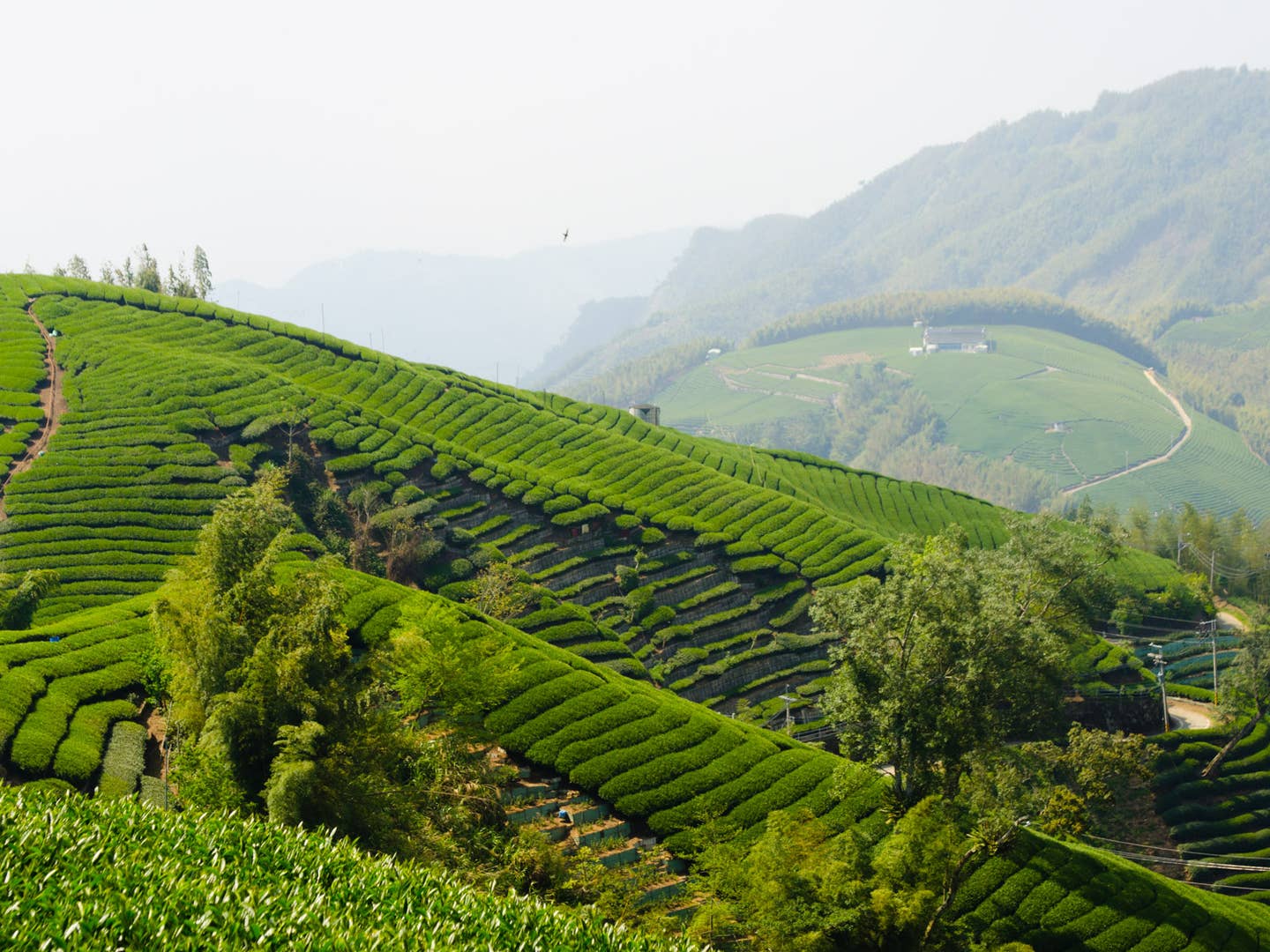 Drinks
All the Tea in Taiwan
On traveling Taiwan's oolong trail
It's all fun and noodle soup at the teahouse until Theresa Wong gets to brewing. The smells of heather and burnt caramel fill the room and we sip a few steepings of Maokong village's local specialty: Muzha tieguanyin. It's buttery and orchid-sweet, with a ferrous intensity that blooms in my throat.
Theresa takes a sip, diplomatically nods her head this way and that, then says to me, "This is alright. It has the dark roast, but not the rich base flavor I like in tieguanyin."
"Alright" for Theresa is still top of the line for most tea drinkers, but there are dozens of teahouses in Maokong like this one, and we didn't fly 18 hours to Taiwan, then ride the Taipei subway to the end of the line and take a gondola up a mountain, for "alright."
Wong is the owner of T Shop, a devout but welcoming tea room in New York City. She's here to meet farmers, visit teahouses, and sample as many teas as she can in search of a few exceptional batches worth adding to her collection of Taiwan's prized oolongs.
Black tea leaves are fully oxidized before they're dried. Green tea leaves are completely unoxidized. Oolong teas lie somewhere in between, and they're the most labor-intensive teas to make. Every step of processing—withering, bruising, resting, rolling, drying, and roasting—has to be done just so to coax the right balance of sweetness, body, flavor, and fragrance out of the leaves. In Taiwan, this isn't just an industry, it's an art form, and Theresa and I aren't the only ones out on the oolong trail.
Tea tourism here is a national pastime, the Asian equivalent of wine tasting trips in the West, and one that draws thousands of Taiwanese, Chinese, and Japanese tea drunks to hike the lush countryside, then sip some of the world's most distinctive tea in farmers' quaint tasting rooms. That may mean nutty, sesame-tinged dong ding; or a verdant-green shan lin xi loaded with woodsy, tropical aromas; or prized vintages of aged tea that some obsessive has hoarded for decades.
Though Taiwanese tea began with mainland Chinese cultivars and traditions, over the past 150 years it's developed into a culture and style all its own. Pristine high-elevation farmland, ample government support, and innovative processing methods all make Taiwan a standard-bearer in the global tea market. And a high-speed rail system helps visitors get around easily—it takes all of two hours with a bus transfer to reach the famed tea mountains of Nantou County from Taipei, their misty peaks a world away from the city's swampy haze.
The most difficult part of a tea trip is fitting enough eating in between all the shops; a mere five meals a day don't suffice to properly binge on the local fare. Oily pancakes draw crowds in Taipei, but out in tea country, herb-stuffed chickens roast streetside in clay ovens, then get doused in their drippings to moisten the bronzed skins. Young bamboo, served a dozen ways, is invariably juicy, woodsy, and unfairly good. For dessert there are pineapples tender to the core, so imbued with coconutty sweetness they're practically piña coladas already.
The day after our visit to Maokong, we catch a mid-morning train south to Taichung City, then ride a bus into one of Nantou's many mountain tea villages. On some winding roads, every other storefront is a tea shop run by their farmer's family, ready to offer you a free cup of tea. At the tea table, there's no ceremony or pretense. Maybe you talk about this year's harsh drought, which cost some tea farmers 50 percent of their harvest. You might make friends with strangers also on the hunt for good tea. And you drink, and keep drinking, because a proud seller always plays fast and loose with the samples.
The "kill green" stage of tea processing, where rolled tea leaves are heated in spinning drums to halt oxidation
A farmer friend of Theresa's joins for an afternoon and introduces us to a buddy on Dong Ding mountain. The farmer brews a few dong ding-style oolongs, classically nutty and creamy, but they're not Theresa's speed. Seeing her disappointment, he digs around for one last tea. It's another dong ding, but harvested from a plot not sprayed with pesticides, so little leaf-hopping bugs can chew on the leaves, driving the wounded tea bush into nutrient-producing overdrive. The resulting brew might as well be peach juice, with toasted undertones brought into clear, crisp focus, and a tarte tatin sweetness on every outward breath. Theresa sips more and smiles. This one is coming back to New York.
Getting Around in Tea Country
Adventurous travelers or Mandarin-speakers should have an easy time trekking the oolong trail on their own. Taichung City, near Dong Ding and Shan Lin Xi mountains, has no shortage of cheap but high-quality hotels, and tea villages like Lugu and Xitou are full of family run B&Bs with full amenities for all of 50 USD a night. Regardless of where you go or where you stay—or if you simply buy Taiwanese tea from your local tea shop—sip your tea slowly. It's come a long way.
Where to Get Great Taiwanese Tea
To brew your own Taiwanese tea without making the trip, try these sellers that buy directly from Taiwanese farmers.