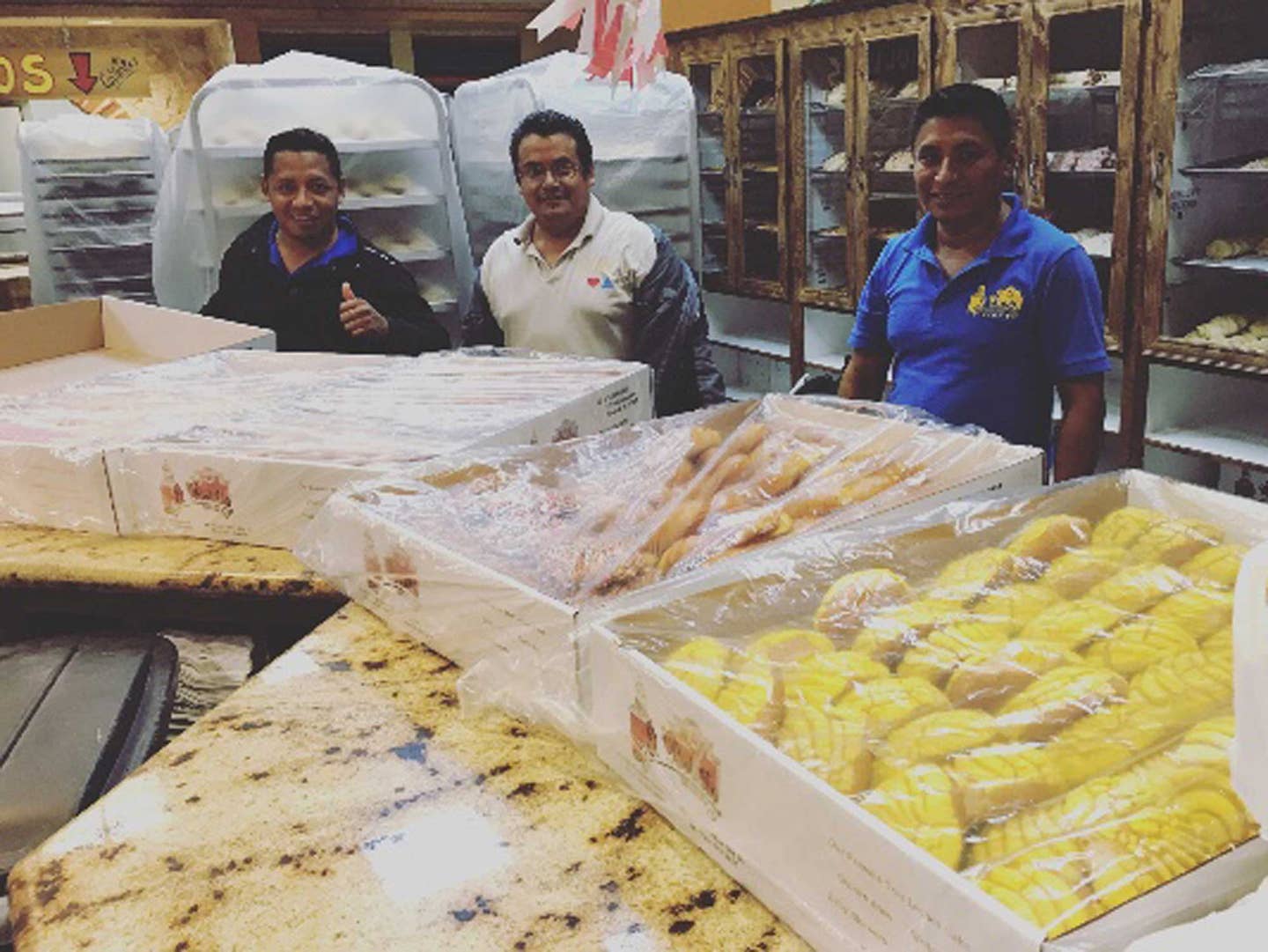 Culture
Trapped By Hurricane Harvey, These Bakers Made Thousands of Pan Dulce Loaves For Those in Need
Over the course of two days, bakers at Houston's El Bolillo used up over 4,200 pounds of flour
As much as my heart has hurt for my hometown in the aftermath of Hurricane Harvey, so have Houstonians—and those around the world who've so generously provided support—given me a renewed sense of hope. While the Gulf Coast region is only beginning the road to recovery, I can't help but marvel at the human endurance and kindness we've already witnessed. Over the weekend, while thousands of folks were trapped inside their homes and offices, one group of bakers trapped at the Wayside Drive location of Houston's 20-year-old panaderia El Bolillo decided to make the most of their time: by baking their namesake bolillos, loaves of sweet Mexican breads, for those in need.
The team—Jorge Abundiz, Javier Ponce, Pancho Ponce, Regino Morales, Miguel Gonzales—says that they decided to bake because they didn't know what else to do. "They were worried about their families and wanting to keep their minds off of their wives and children who were calling and crying about the water rising in their homes." Meagan Michaelis, daughter of owner Kirk Michaelis, tells SAVEUR. "They also knew that we would have a lot of people to feed after watching the news."
Over the course of the two days, the group baked their way through over 4,200 pounds of flour. As the waters begin to recede, Michaelis was able to pick up the men in his old Jeep Wrangler, and they immediately begin delivering bread to first responders. With more employees joining the effort since then, the store's three locations have baked thousands of loaves to be delivered to the makeshift shelters set up at the George R. Brown Convention Center, nursing homes, and local churches.
Meagan Michaelis says that some of the employees have been with her family's business for nearly 20 years and feels that they are all one big family. "We weren't expecting any attention," says Michaelis. "We were just doing what we know—that's serving our community with bread and cake and having an amazing diverse team of people working here. They're heroes all the time."
Stories like this are emerging from across the region as Texans of all stripes rally around the Southeast coast. In other hurricane relief news, Texas' fast food burger darling Whataburger has pledged $1.65 million to recovery efforts. Meanwhile, the Houston Independent School District has announced that will feed all its students three free meals a day for the upcoming school year to aid families that may be struggling in the wake of the storm. As always, if you'd like to support relief efforts in Houston, you can click here to donate directly to the El Bolillo bakers and their families and see a full list of food banks and nonprofit organizations accepting donations.