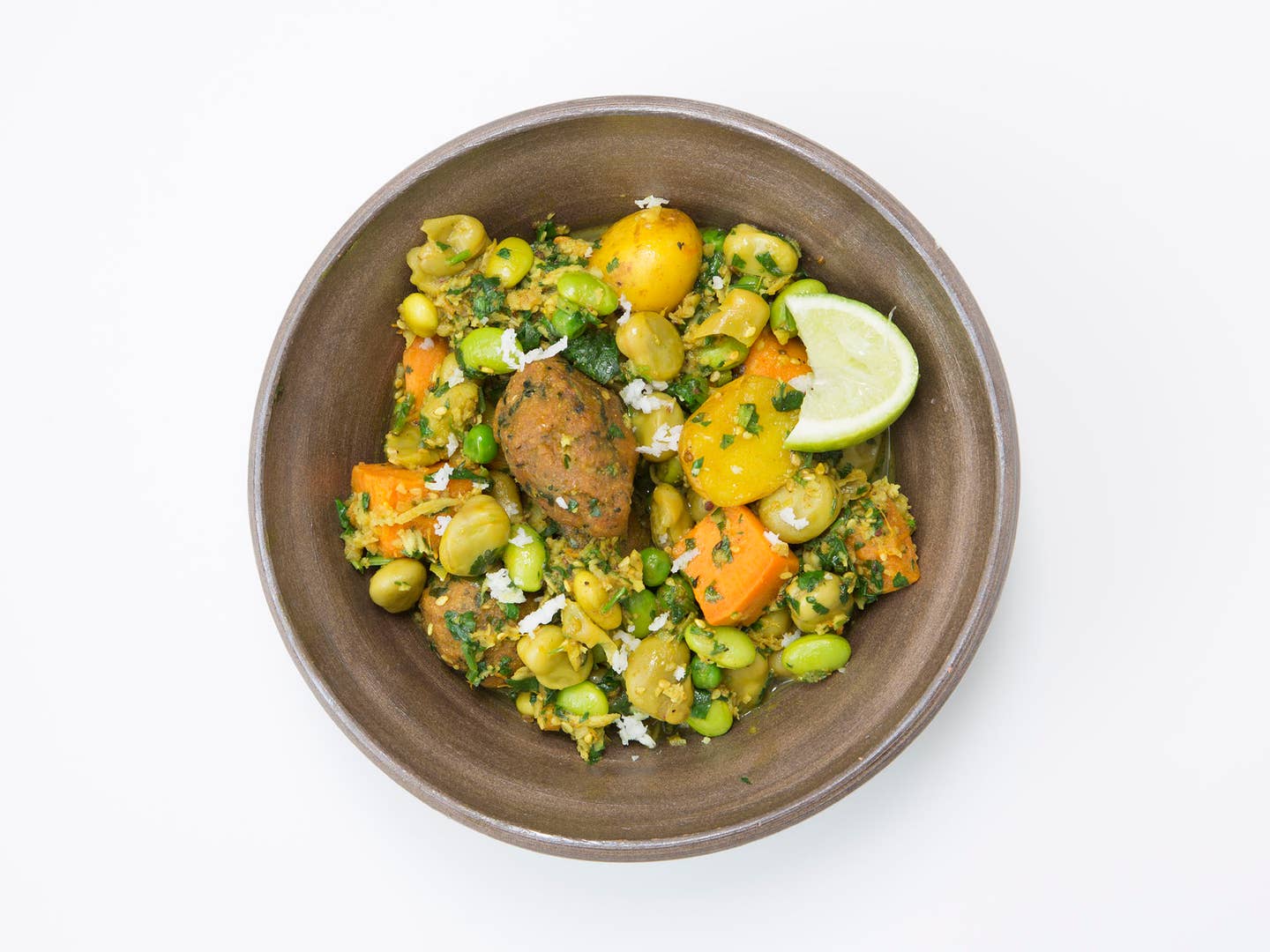 Culture
The Vegetable Diaries: How I Adapted to Cooking in a Foreign Land Where Nothing Tastes Right
Heena Patel looks back on bringing the tastes of her native Gujarat to America
Gujarat, India, 1970: I'm five years old, and we are celebrating the spring harvest on my grandparents' vegetable farm amid their rows of beans. Into my bowl I spoon heaps of vegetables from a steaming earthenware pot that has just been dug out of the ground after spending all night there, toasting under the embers of a fire until its contents are transformed into tender, mushy comfort. Everything in this celebratory undhiyu (which translates to "upside down," because the pot is sealed and buried upside down) is smoke-flavored: my grandparents' own beans, of course, some of which I picked myself the day before, but also potatoes and other vegetables from neighboring farmers that my grandparents got after bartering their beans in the informal trading economy that pops up every season. We are all vegetarians, like most Gujaratis, and I chase my bowl with a mango that I grab after scampering up one of the trees that dot the property, the buttery fruit dripping juice on my cousins below, who scream happily.
London, 1987: I'm 22, and for the first time in my life, have gotten on a plane. I meet my new husband at the airport, and a few days later find myself perusing the aisles of a frigid, fluorescently lit supermarket near our flat, which we share with his parents. Everything is foreign to me. The language, sure, but more important, there is no sun, no dirt, no plants from which I can pick a basket of vegetables myself, just plastic-wrapped, antiseptic, drab substitutes. Instead of the pigeon peas I'm used to, I grab some English peas. Instead of the starchy sweet potatoes I'm used to, I get a few waxy tubers that look decent enough. I go home and try to bring the flavors of Gujarat to London, sprinkling a little turmeric here, a little cumin there, from my masala dabba, a round container with six spice jars inside that my mother had packed for me before my journey. It was her way of saying you can take the tastes of home with you, even though you're heading to an unknown land.
San Francisco, 1992: My husband, our three-year-old daughter, and I have moved to America, and a few days after landing, I head to the San Rafael farmers' market. I don't yet know that it is the third largest in the state, but I do know that I've stumbled upon something wonderful—heaps of baby carrots, purple and yellow and orange, next to piles of shimmering purple eggplant, willowy stalks of herbs, and so many different colors of potatoes and peppers and onions I don't know where to begin. That night, I ask my husband if we can buy a place within walking distance, and a few weeks later I'm unpacking in a house a mile from the market. I cannot drive, but know I need to be here, in the sun, smelling the vegetables before I put them in my basket, and so for years, I walk to the market every Sunday, load up on vegetables, and then walk back, bags swinging from my arms. During the spring one day, as I pick fava beans by the handful so I can take them home for a stovetop spring undhiyu, I suddenly realize that, for the first time in years, I don't feel homesick.
Heena Patel runs Rasoi, a Gujarati catering company in San Francisco.