Recipes
Gujarati Spring Vegetables with Chickpea and Fenugreek Dumplings
Serves

serves 6 to 8

Cook

1 hour 30 minutes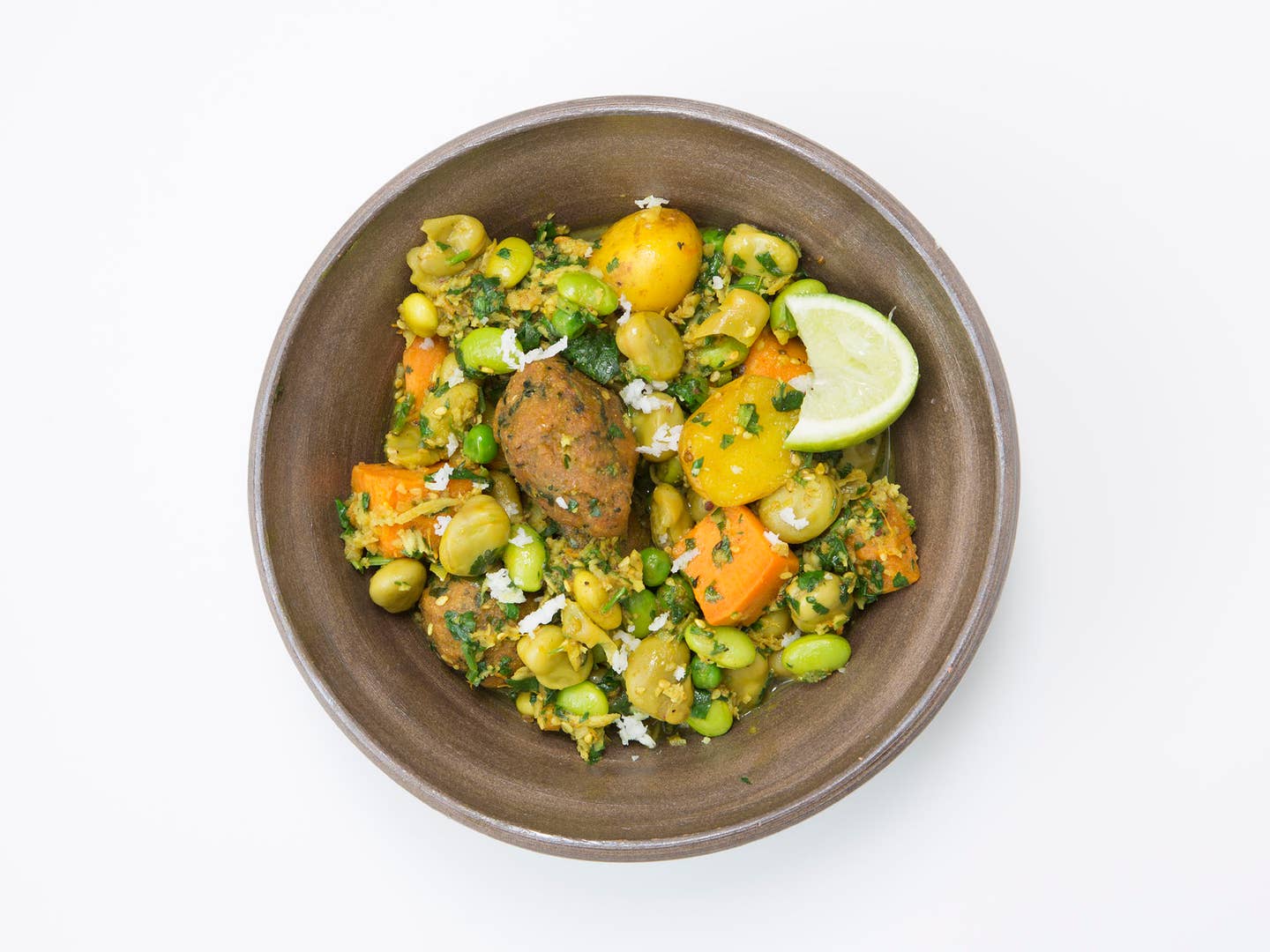 Though it is typically made with root vegetables, come spring, Heena Patel likes to put a bright seasonal spin on the southern Gujarati vegetable dish undhiyu. The muthias, or chickpea dumplings made with fresh fenugreek leaves, are a traditional addition and add a faintly sweet, celery root—like aroma and flavor.
Ingredients
For the Dumplings
1 cup chickpea
1⁄4 cup fine semolina
2 tsp. kosher salt
2 tsp. sugar
1 tsp. ground turmeric
1 tsp. sesame seeds
1⁄4 tsp. baking soda
1⁄4 tsp. garam masala
1⁄2 cup fresh fenugreek leaves, minced (or 3 Tbsp. dried)
2 tbsp. vegetable oil, plus more for frying
1 tsp. minced garlic
1 tsp. minced small green
Indian chile or serrano
For the Vegetables
6 tbsp. vegetable oil
2 tsp. ground turmeric
1 tsp. ajwain seeds
1⁄4 tsp. asafetida
4 small new potatoes, peeled and halved
1 sweet potato, peeled and cut into 1-inch chunks
2 cups packed cilantro leaves, roughly chopped
2 cups peeled fresh fava beans
1 cup peeled fresh edamame
1 cup peeled fresh (or frozen, thawed) peas
1⁄2 cup plus 2 Tbsp. finely grated fresh or frozen, thawed coconut
2 tbsp. garam masala
2 tbsp. minced garlic
2 tbsp. minced ginger
2 tbsp. sesame seeds
1 1⁄2 tbsp. sugar
1 tbsp. minced small green
Indian chile or serrano
Kosher salt
Lime wedges, for serving
Instructions
Step 1
Make the dumplings: In a large bowl, whisk the chickpea flour with the semolina, salt, sugar, turmeric, sesame seeds, baking soda, and garam masala. Add the fenugreek, oil, garlic, chile, and 7 tablespoons water, stir until a dough forms, and knead the dough in the bowl until smooth. Pinch off about 20 pingpong-ball-size pieces of dough, shape each into a 1-inch-long oval, transfer to a parchment paper—lined baking sheet, and refrigerate.
Step 2
Pour oil to a depth of 2 inches in a 6-qt. Dutch oven, attach a deep-fry thermometer, and heat to 350°. Working in batches, fry the dumplings until golden brown, about 3 to 4 minutes. Using a slotted spoon, transfer the dumplings to paper towels to drain.
Step 3
Make the vegetables: In a large saucepan, warm the oil over medium heat. Add the turmeric, ajwain seeds, and asafetida and cook, stirring, until fragrant, about 1 minute. Stir in both potatoes, cover the pan, and cook until almost tender, about 10 minutes. Add the cilantro, fava beans, edamame, peas, 1⁄2 cup coconut, the garam masala, garlic, ginger, sesame seeds, sugar, chiles, and 2 cups water, season with salt, and cook, stirring, until all the vegetables are tender, about 10 minutes.
Step 4
Stir the dumplings into the pan and cook until warmed through, 6 to 8 minutes more. Remove the pan from the heat, sprinkle the stew with the remaining 2 tablespoons coconut, and serve with lime wedges.