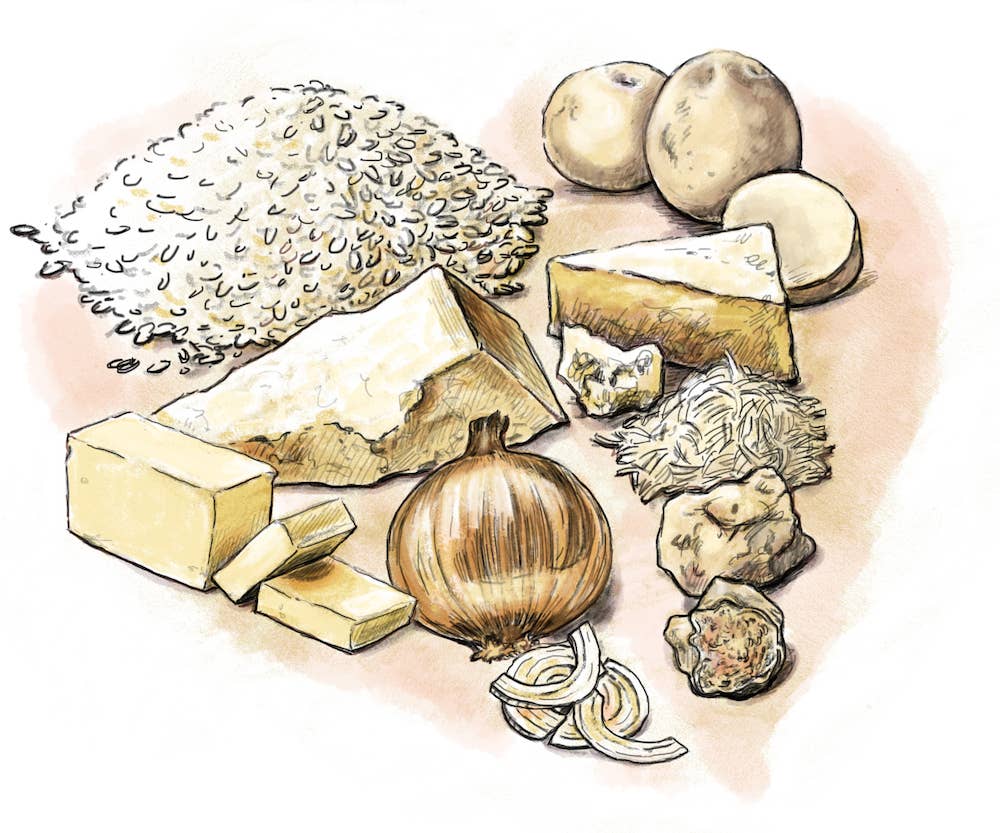 Culture
Victor Hazan on Cooking with Marcella
Victor Hazan shares memories of special meals shared with his late wife, Marcella
Facebook is an unlikely place for love letters. Cat videos, yes; heartbreakingly poignant missives to a loved one, no. But there, Victor Hazan is quietly sharing some of the most romantic writing on the internet.
Throughout Marcella Hazan's career—which began with Italian cooking classes taught from her New York kitchen, spanned 7 cookbooks, birthed the world's most famous tomato sauce, and landed her titles like "godmother of Italian cooking"—her husband Victor was at her side, cooking and writing, translating her handwritten manuscripts into English.
"This day, one year ago, was Marcella's last. On September 29th, at 9:30, her great heart stopped. We had been together, as a woman and man who merged into an indivisible unit, for sixty years. I am now split in two. One part of me breathes life in and out each day at life's own pace, accepting life's demands, carried forward by life's aloof momentum. My other half continues to be with Marcella. I speak to her all day in Italian, out loud when I am alone. I now cook for myself, and I ask her advice, divining her responses."
He sporadically writes about the dishes he cooks at home, or with his sons; about his dismay at the produce selection at his local Whole Foods in Florida; about memories of Marcella and her food. Posthumous Facebook accounts are rarely anything but uncomfortable; this is a living love letter, a blog of sorts, a generous offering of very personal information, eagerly and gratefully received by Marcella's many fans.
As Valentine's day approaches and the world foists visions of romantic meals on us, I began to wonder what the Hazans cooked for each other on special occasions. Victor graciously fielded my questions over the phone from his home in Longboat Key, Florida. He started with an explanation of his current project:
I am at work on a book of Marcella's manuscripts that she left for a book on ingredients. It has been hard for me to do—it's handwritten, she only wrote by hand, and handwriting is very much an expression of the person who writes it. It's hard for me to look at it too long.
What would you and Marcella cook for each other on special occasions?
When we had an event like a birthday, we were very private with each other. We didn't even share this with our sons if we could help it. Marcella's relationship and mine was something extraordinary that lasted for 60 years and it was exclusive of other people. So we did things for each other, period. My birthday is in October. She usually made lasagne—in Italian you spell it with an e, because it's several layers of dough, so we use an e.
So she made green lasagne, with spinach. There were a lot of layers, from 7 to 10 very thin homemade layers, and it was something unique. Marcella's cooking was spellbinding: There was something about her that transformed a recipe into something that other people really were astonished at, couldn't duplicate.
In the old world, everybody cooked. There was always somebody who cooked. But it's a myth that everybody cooked well. Only a few people cook really well. It is a form of craft. Very few people carve a piece of furniture by hand really well. It's not because others don't know how it's done; it's because there's an interval, a space, between the hand and the tool and the object, or the hand and the pot and the skillet. It takes time to go from the hand to the making. Within that pause, something happens that is not scientifically explainable. Something happens that makes the cooking of a few people, like Marcella, spellbinding, extraordinary.
Then, the other thing that Marcella would make if she didn't make lasagne. Remember that this is October, the height of the truffle season. If she felt like splurging, or if we had access to really good truffles—we lived in Venice, where you don't find truffles at the market—she would make Tortino.
It's a composition of boiled potatoes, cheese, Parmigiano, and white truffles. You keep on making layers: one layer of potato, dusted with one layer of cheese, and a few splashes of truffle. You would make a few layers of it, put it in the oven to melt the cheese, and it was the most extraordinary concentration of truffle aroma. It's one [rare] example of truffles being cooked with something else. That's what Marcella might have made for me on a few 20th of Octobers. Otherwise it would be lasagne.
For her birthday, if we were in Italy, I would make a risotto, because it was tiring for her to stir the risotto. Because of a childhood accident, Marcella had a lame right arm and she had to do everything with her left hand. On her birthday, for her to make something like a risotto would have been exhausting. And so I made it. I must confess I'm really rather good at it, and I would make it depending on what I could find at the market.
Her birthday was on April 15th, and it was the beginning of spring vegetables. I might make it with a dozen different vegetables, or make a plain risotto—the best risotto is with butter and cheese, and nothing else. You start with butter and onions, you almost caramelize the onions before you put in the rice, then you toast the rice a little bit, then you add the wine. If we were in Italy, I would use prosecco. And then I would continue with meat broth for exactly 25 minutes—that's exactly how long risotto with carnaroli rice takes. And then I would take it off the heat and beat in the butter, then once it was integrated I would add Parmigiano-Reggiano.
You've talked about listening to Marcella's advice when you cook now. What does that usually sound like?
It was mostly advice about how long to cook the onions. She would say, oh, you're not cooking it fast enough. She loved to cook things at a very high flame—she would come over and say, "Turn off that gas lamp, you're not going fast enough."
Sometimes I was inclined to use too much chile pepper. She has a philosophy about cooking, that you bring out the flavor that's inside the ingredient. Today, people cook something and they add this, and then the other thing, and then the other thing. Marcella would say, "That's 'add-on' cooking. What you have to do is bring out the flavor."
But when you live together for such a long time, you can't help but absorb her style of cooking, and that's basically what I did. We were very united; we were in the kitchen so much of our life.
For more Marcella, read Dorothy Kalins' 2007 account of cooking risotto at the Hazans' home in Florida, A Risotto Lesson »