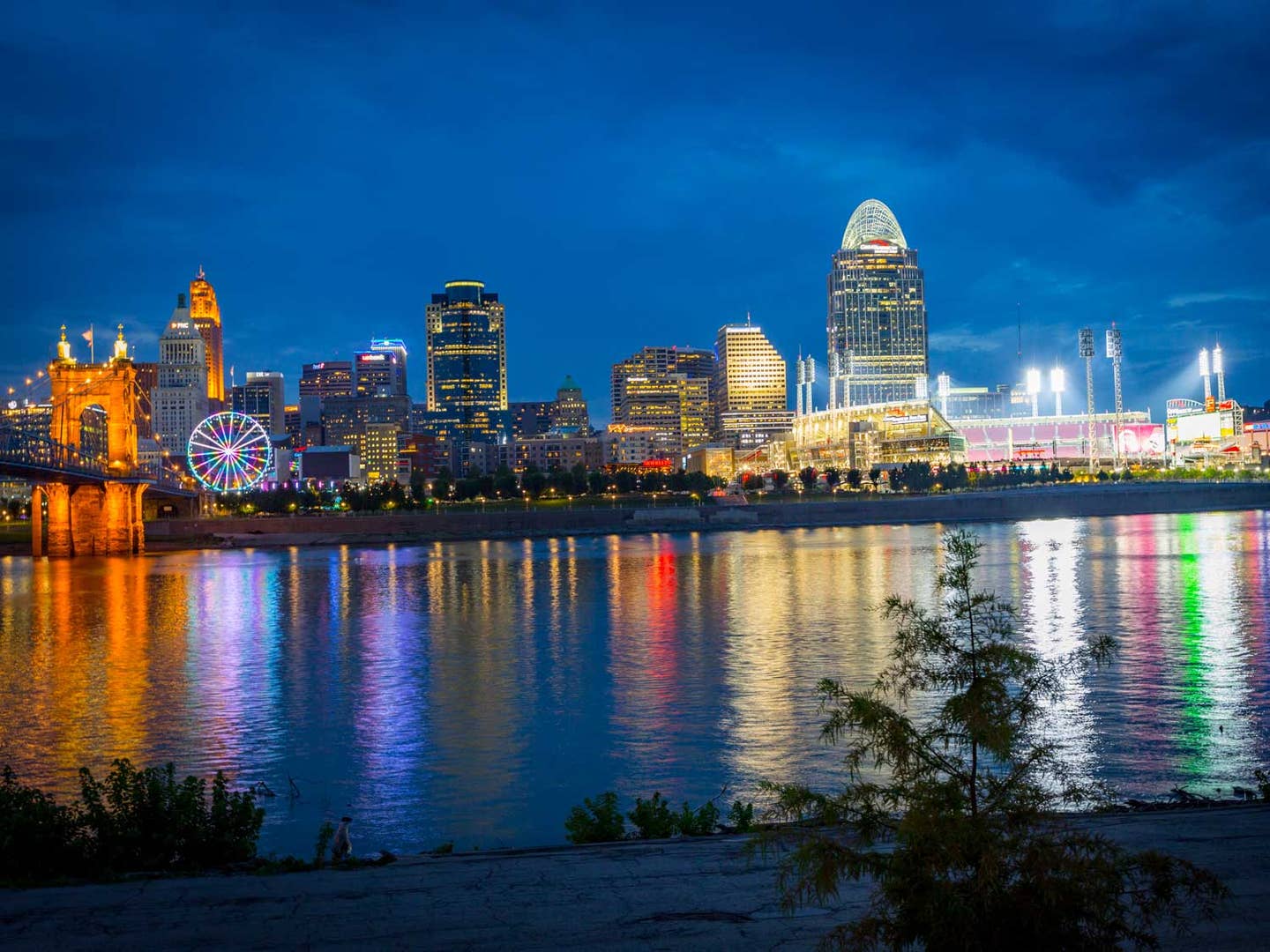 Culture
Why the SAVEUR Editors Are Heading to Cincinnati This Year
There's so much more to Cincy than its storied chili (although we're into that, too)
We've always appreciated Cincinnati's storied mom-and-pop restaurants, its Greek-style chili parlors, not to mention the porky steel-cut-oat sausage known as goetta (pronounced "getta"), which is as beloved here as andouille is in Louisiana. But there's so much more to this historic city on the banks of the Ohio River. Which is why we've chosen it as the location of our 10th annual Blog Awards. We want attendees to experience—and, perhaps, fall in love with—Cincinnati's classic Art Deco and Italianate architecture, its tranquil city parks, its defining role as a safe haven for African-Americans making their way toward freedom on the Underground Railroad, and the energetic restaurant and bar scene that has long made this Midwestern city a dining and drinking destination. Add to that one of the oldest city markets in the country, a new brewery opening, it seems, every day, and a cocktail and bar culture that'll transport you anywhere from an F. Scott Fitzgerald-era ballroom, to a Kentucky bluegrass jam, and we couldn't think of a city that's more ready for its close-up than Cincinnati.
One of the things we admire most about the so-called Queen City is that it's so hard to pin down. Is it a Rust Belt city? Given its surplus of abandoned warehouses and factories (most now converted to condos and breweries), sure. Is it a sleepy Appalachian village? Since it was a prime destination for the early 20th century Appalachian migration, go for it. A mini New York? Given that the prototype for both the Brooklyn Bridge and Rockefeller Center were built here, heck, why not? And while most people think of Cincinnati as Midwestern, its location just across the Ohio River from Kentucky makes it much more about Southern charm than Ohio stoicism.
One thing that's felt most prominently throughout the city is its German roots, which stem back to the 1800s, when tens of thousands of German immigrants arrived to stake their claim in the city's Over-the-Rhine neighborhood, which was—and, after a period of transition, is once again—packed with beer halls, butcher shops, bakeries, and mom-and-pop-style diners. It's also home to Washington Park, a six-acre urban oasis that sits in the shadow of Music Hall, home to the city's symphony and opera. A masterpiece of a building completed in 1878 as a venue for German choral competitions, it is considered one of the finest examples of Victorian Gothic Revival architecture in the world.
Cincinnati's German heritage can also be found at the city's countless Oktoberfests (it seems every neighborhood in town has its own version), and the ubiquity of just about every kind of sausage under the sun. Be sure to visit Eckerlin Meats for a goetta-and-cheese breakfast sandwich, and Avril Bleh downtown, which has been serving some of the city's best bockwurst, bierwurst, and knockwurst since 1894, though it's most beloved for the grilled brats and metts (a cured, smoked mettwurst) cooked right out front on the sidewalk during lunchtime. Oh, and just across the river in northern Kentucky—you'll find the Hofbräuhaus, the first U.S. location of the original one in Munich.
If you're searching for some of those Appalachian roots we mentioned above, look no further than Tucker's on Vine, a beloved 1940s diner where you can gorge on goetta and eggs in a diverse dining room first opened by Appalachian migrants E.G. and Maynie Tucker, and still run by their son, Joe, and his wife, Carla. Afterward, be sure to check out Findlay Market (where Tucker's and many other area restaurants source their ingredients). Opened in 1855, it's Ohio's oldest public market. Aside from local favorites like paw-paws and black walnuts, you'll also find small groceries specializing in Greek, Asian, and, of course, German specialty foods.
A Culinary History That Rivals New York
What most people don't know about Cincinnati is its legacy of fine dining. In the 1970s it was home to three Mobil Travel Guide five-star restaurants (while New York was home to two!). Those restaurants, all French, included Pigall's, where you could order black cod with a truffle pinot noir sauce, or rabbit confit with grapes and rice galette. The Gourmet Room had a 30-foot mural by artist Joan Miró wrapped around its dining room. The Maisonette, an ornate chandeliered French restaurant now occupied by the equally elegant Boca, still holds the record for the most consecutive years with a five-star Mobil guide rating, at 41.
Then there are the old-school joints, including Arnold's Bar, which opened in the 1830s. Along with being a good old-fashioned watering hole, it hosts live bluegrass on its magical twinkle-lit enclosed courtyard. If you're feeling a little fancier, head to Orchids, an Art-Deco-era ballroom inside the Hilton Netherlands Hotel where live big-band-era music fills the air, and patrons sip on Four Roses old-fashioneds while traveling through time.
Steeped in Social Justice
Perhaps the city's greatest point of pride is its role as a gateway to freedom for African-Americans by way of the Underground Railroad, a designation the city proudly displays at the National Underground Railroad and Freedom Center. Located on the banks of the Ohio, its mission is to explore the path to freedom in both history and the modern-day world. The city is also home to the Harriet Beecher Stowe House, where the Rev. Lyman Beecher, father of Uncle Tom's Cabin author Harriet Beecher Stowe, lived, and where Harriet herself resided until her marriage in 1836. Her brother, the women's suffragist, Henry Ward Beecher, and Gen. James Beecher, who commanded the first African-American soldiers in the Union Army, also lived there.
After decades of turning its identity over to chain restaurants and shopping malls, Cincinnati is in the act of reclaiming its roots. As more and more people move back into the city from the suburbs, downtown and Over-the-Rhine are regaining their strength as bars, lounges, beer halls (and more importantly, a brand-new Kroger grocery store) open their doors to natives, and an increasing number of tourists. One of our favorite relative newcomers is Taft's Alehouse, which is located in an old German cathedral, and pays homage to the nation's 27th president and Cincinnati native, William Howard Taft.
Many of the chefs who run these restaurants and breweries came from much larger dining destinations such as Chicago, New York, and Los Angeles. At Salazar, you can sample Per Se alum Jose Salazar's Florida rock shrimp, bacon lardons, grits and lobster broth, or Ohio wagyu sirloin, succotash, plums, and chanterelle mushroom butter. Meanwhile, at the mid-century themed Homemakers, Los Angeles transplants Julia Petiprin and Catherine Manabat serve 1950s cocktail party-inspired snacks like ham salad and salami rolls (think Betty Draper's dream come true) and a cocktail list that focuses on aperitifs, digestifs, and bitters. At Sacred Beast, chefs gather late at night over perfectly smashed and American-cheesy double-patty burgers served on soft but sturdy buns from local favorite Sixteen Bricks Bakery.
In the city's central business district, legendary French chef Jean-Robert de Cavel, who, before moving to Cincinnati in the 1980s to helm the kitchen at the Maisonette, worked with Daniel Boulud in New York, runs Jean-Robert's Table (among many other restaurants), which offers a sublimely flaky vol-au-vent filled with sweetbreads and lobster, and its famous French Lunch Tray, literally a public-school tray that would be hard to carry across a cafeteria given the weight of the four-course mini meal that might include an heirloom tomato salad, pork roulade, or an old-school French onion soup.
Yes, while you're here, please check out the city's number-one claim to fame: the cinnamon, allspice, and clove-infused Greek Bolognese sauce known affectionately here as "Cincinnati-style chili." While the Skyline and Gold Star chains are the most ubiquitous, just about every neighborhood in town has its own parlor. Camp Washington Chili, still owned by the same Greek family that opened it in 1940, is always a good bet. And if you need some help ordering, keep this in mind: A two-way is chili on spaghetti; a three-way adds cheese; a four-way, beans or onions; a five-way, onions and beans. And finally, let us leave you with this: if you want to fit in like a local, be sure to cut, not twirl, that spaghetti. AGAIN! CUT. NOT TWIRL! Follow that advice, and, in no time, you'll feel like you're right at home here along the banks of the O-Hi-O.