Recipes
Cincinnati Chili
The Queen City is specialty redolent of warm spices and perfect atop spaghetti.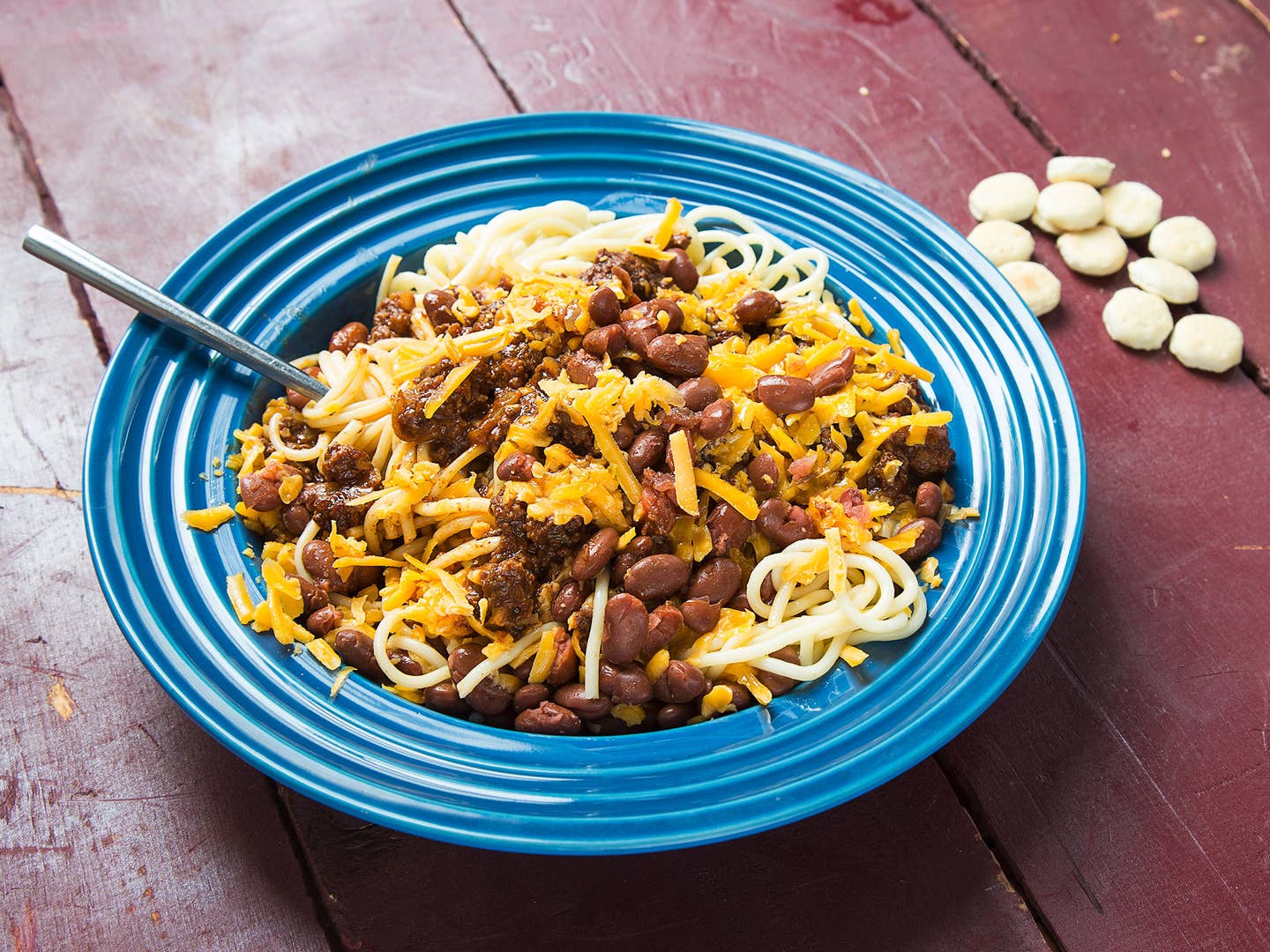 Redolent of warm spices, deeply flavored Cincinnati-style chili, whether prepared two-way (chili over spaghetti), three-way (with cheese), four-way (with onions), or five-way (with a finishing flourish of kidney beans), is a Midwestern classic. Find all of our best chili recipes here.
Ingredients
2 tbsp. olive oil
5 cloves garlic, finely chopped
2 medium yellow onions, finely chopped, divided
1½ lb. ground beef
2 tbsp. chili powder
1½ tsp. ground cinnamon
½ tsp. dried oregano
½ tsp. ground allspice
½ tsp. celery seed
½ tsp. ground cloves
½ tsp. ground cumin
½ tsp. celery seed
½ tsp. freshly grated nutmeg
1 bay leaf
Kosher salt and freshly ground black pepper
2 cups tomato sauce, preferably homemade
1 tbsp. cocoa powder
¾ lb. dry spaghetti
One 15-oz. can red kidney beans, rinsed under hot water and drained
4 cups shredded cheddar cheese
Oyster crackers
Instructions
Step 1
To a large cast-iron skillet set over medium-high heat, add the garlic and half of the onions and cook, stirring occasionally, until golden, 5–6 minutes. Add the beef, chili powder, cinnamon, oregano, allspice, celery seed, cloves, cumin, nutmeg, bay leaf, and salt and black pepper to taste and cook, stirring occasionally, until the beef is browned, 6–8 minutes. Tilt the skillet and spoon out and discard any accumulated fat. Turn the heat to medium-high and add the tomato sauce, cocoa powder, and 1 cup water. When the liquid boils, turn the heat to medium-low and cook, partially covered, until thickened slightly, 25 minutes.
Step 2
Meanwhile, bring a large Dutch oven filled with salted water to a boil over medium-high heat. Add the spaghetti and cook, stirring occasionally, until tender, 8–10 minutes, then drain. Meanwhile, place the beans in a microwave-safe bowl, cover, and microwave on high until hot, about 3 minutes.
Step 3
To serve, divide the spaghetti among 4 large bowls. Top with the chili, cheese, remaining onions, and beans. Accompany with oyster crackers.