The 2017 SAVEUR Gift Guide: Bottles We Love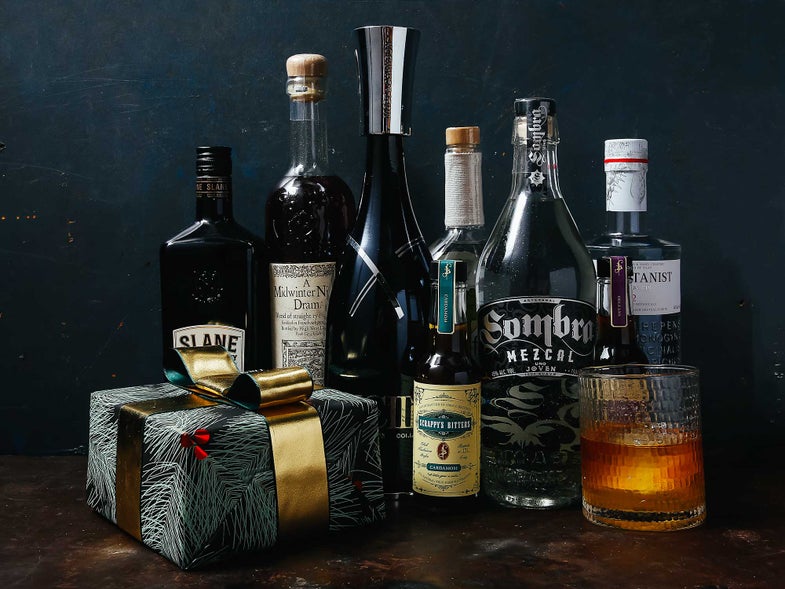 Vintage champagne, boutique amaro, and once-in-a-lifetime bottles—these are the spirits to get for the serious cocktail and drinks obsessive.
Don't be turned off by the Pinterest type on the bottle. If you are buying for someone that is particular about their cider, go with Millstone. It's affordable, while still being one of the best funky renditions of Basque-style cider you can get in the states. This bottle in particular is earthy and tart, with a mellow finish.
Turn champagne-loving friends on to something new but less familiar (for now). Hattingley Valley produces some of England's—yes, England's—crispest, classiest sparkling wines. Made in the same style as champagne, from similar chalk soils and the same grape varietals, the wines have the kind of racing acidity that true wine lovers seek out. The Classic Reserve is a blend of mostly Chardonnay with some Pinot Noir, Pinot Meunier, and Pinot Gris.
This bottle is for fans of Campari and Aperol on your list. The recipe for Cinque dates back to 1929, and is an elevated blend of bitter orange and smooth earthy notes.
Who knew a good sparkling wine could come from New Mexico and who knew good sparkling could be so reasonably priced? Gift a bottle to one of your wine friend snobs and surprise them too.
Once the sipping spirit of Italian royalty, the rose petal liqueur known as rosolio was lost to history in the late 1700s, its production confined largely to the homes of everyday Italians. Last year, bartender Giuseppe Gallo resurrected the formula, fusing Bergamot oranges with citron, chamomile, lavender, gentian, and yellow roses.
Have a rum drinker in the family? Why not put them on to cachaça? The sugarcane-based national spirit of Brazil is most famous as the central ingredient of that country's celebrated cocktail, the caipirinha. Presented in recycled glass bottles, Novo Fogo's organic variety is well-distilled, smooth, and an easy way to enter the world of cachaça.
From Scotch producer Bruichladdich comes this zesty, small-batch bottling that taps into the Scottish Hebridean Islands' rich harvest—fusing nine traditional gin botanicals with 22 local ingredients (such as mugwort, creeping thistle, and bob myrtle) in a 17-hour distillation process. The resulting product, the first-ever "Islay Dry gin," is one of our favorites.
For the beer lover, this Norwegian Wood smoked ale by Haandbryggeriet will be appreciated. The brewery's take on a traditional, Norwegian farmhouse ale, it has a smoky flavor spiced with juniper.
Champagne is for special occasions. This champagne is for very special ones. A new ultra-luxury prestige cuvee from Moet & Chandon, the bottling offers a rare blend of vintage champagnes spanning a decade under the purview of chef de cave Benoit Gouez. With a hefty price tag, this collector's item is one for a champagne aficionado who can appreciate it.
Dutch genever, sometimes called Holland gin, is distinguished from other gins by its malt base, which gives it a rounder body and sweeter taste. History buffs will enjoy the fact that Bols uses the original recipe created by Lucas Bols, the 17th century distiller and Dutch East India Company shareholder. Try it in a stirred Martinez or classic smash.
A limited release of Utah-based High West Distillery's Rendezvous Rye, finished in French oak port barrels, this complex spirit is ideal for fireside sipping. At 98.6 proof, the bottling offers the characteristically powerful rye spice, calmed by sweeter vanilla and fruit.
Bourbon may be America's most popular spirit, but brandy is our oldest. Made with classic muscat chenin blanc grapes grown in the central valley of California, Copper & Kings' American Craft Brandy bucks the European-centric production methods of cognac. The result? An exceptionally smooth, velvety sipper perfect for sipping or mixing.
Produced in the Rio Hormiga Colorada valley, this herbal, funky mezcal is ideal for the smoke lover. Twice-distilled and coming in at 90-proof, it isn't for the faint of heart either. Try it in a Juan Lockwood—two dashes of chocolate bitters, a dash of agave syrup, and an ounce each of reposed tequila and mezcal.
Irish whiskey isn't just for shots, and Slane is here to prove that. Produced on the hallowed grounds of the Slane Castle, this triple-casked newcomer is an ambassador for the category whose grain and malt base makes for smooth sipping, a heady nose of fruit and spice, and a strong finish.
Help your friend take their cocktail game to the next level with a selection of fun, creative bitters. For the martini lover, perhaps some orange bitters will help offset a heady gin. For the whiskey lover, Scrappy's has a house aromatic to substitute in for your Angostura. And don't forget the likes of cardamom, chocolate, and a favorite: black lemon. Whether splashed into soda, stirred into something spirits-forward, or sprinkled on top of a head of egg white, bitters are essential for any proper home bar.