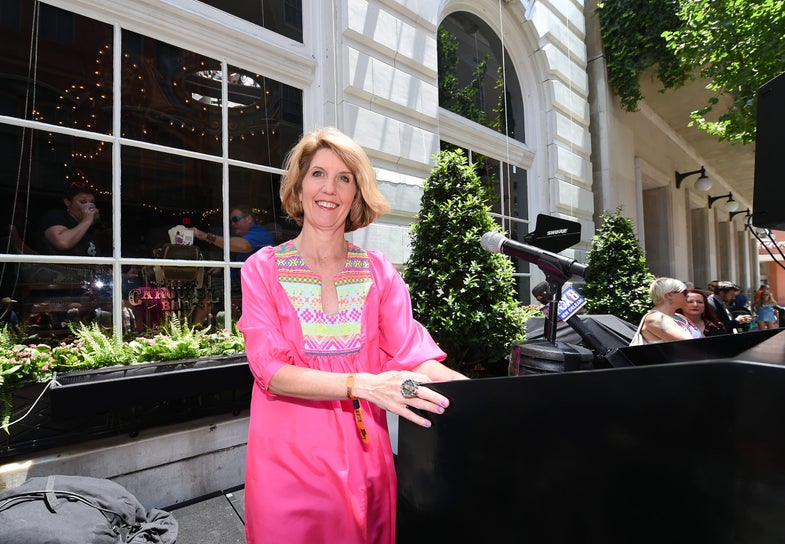 Born and raised in New Orleans, Ann Tuennerman is an established entrepreneur and go-to authority on well-crafted cocktails. Founder and director of Tales of the Cocktail, Tuennerman supports and celebrates the international cocktail industry. From July 13-20, Tales of the Cocktail, a premier international cocktail festival, will take place in New Orleans, where guests can enjoy seminars, tastings, product launches, competitions, and networking events. The week-long festival raises money to invest back into the international cocktail industry. Since Tuennerman has a lifetime of knowledge on the bar scene in New Orleans, we asked her to share her five favorite spots for a cocktail in New Orleans.
French 75 Bar
This cocktail lounge and cigar bar is connected to and owned by Arnaud's fine dining restaurant. It holds a special place in my husband's and my heart because we were married at Arnaud's. The head bartender, Chris Hannah, also makes a perfect Sazerac.
French 75 Bar
813 Bienville St
New Orleans, LA 70112
(504) 523-5433
Booty's
This place is my go-to neighborhood bar that is conveniently located two blocks from my office. The bar manager, Wyatt Lowery, and his team have a welcoming atmosphere, and the Bywater Bomber is a nice Frozen Daiquri that features Old New Orleans rum, rose water, house-made bitters, and fresh pineapple, orange, and lime juice.
Booty's
800 Louisa Street
New Orleans, LA 70117
(504) 266-2887
Bellocq
The Lillet Cobbler, made with a house-made strawberry syrup and citrus, is a drink I never tire of because it's so refreshing and low proof. This bar is great place to hold an after-5 p.m. business meeting.
Bellocq
936 St Charles Ave
New Orleans, LA 70130
(504) 962-0911
Tiki Tolteca
Upstairs from Felipe's on Decatur Street, this Latin American-themed tiki lounge makes for a great hiding place. Because it is above street level, no one can walk by and see you sipping your mai tais and frozen daiquiris.
Tiki Tolteca
301 N Peters St
New Orleans, LA 70130
(504) 288-8226
Cane and Table
Nick Detrich is the jolliest bartender in town and has such a friendly and warm personality that you can't help but love his bar. He serves a modern Hurricane, which will make you re-think any preconceived notions that you may have of the drink. The drinks are prepared with fresh fruits and juices, so after one, you'll definitely want another.
Cane and Table
1113 Decatur St
New Orleans, LA 70116
(504) 581-1112