Drinks
8 Pink-Tinted Products to Bring a Blush to Any Valentine's Day Celebration
From gin to amaro, spirits producers of all stripes are indulging in a pink moment.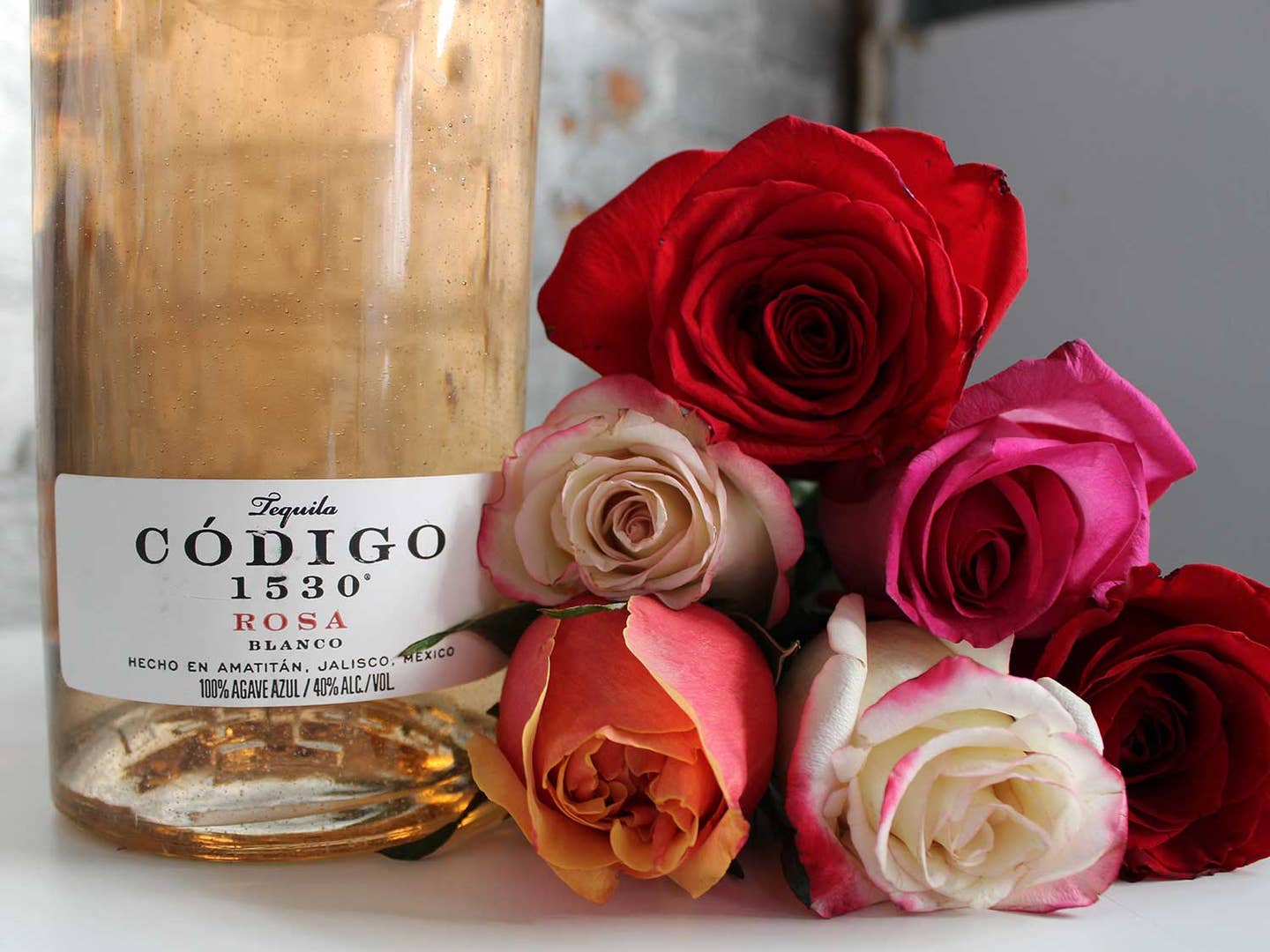 This Valentine's Day, a rose by any name tastes just as sweet.
Whether it's due to the current adoration of all things rosy (the phrase "millennial pink" returns over 31 million results in Google) or an extension of the now year-long appreciation of rosé wine, spirits producers of all stripes are indulging in a pink moment.
For consumers, this means a bouquet of products to choose from, such as rosé wine packaged in floral glass bottles to a pink gin that heralds back to the early days of the storied spirit.
"Pink is appealing," Federico Vaughan, CEO of Código 1530 Tequila, says. "It has a youthful, vibrant energy."
"Pink is very easy on the eye," Geoff Curley, founder of Gin Lane 1751, echoes. "In beverage, specifically wine and spirits, pink-colored beverages definitely evoke warmth, summer, and fun thoughts."
A soft coral hue doesn't necessarily mean that spirits will taste cloyingly sweet, or even that blush-tinted liquids are only for the feminine consumer.
It's worth noting that while pink is currently considered "girly," this is only a recent phenomenon. From the late 1800's to the 1940's, little boys wore pink while their sisters donned pale blue, a color then considered the more delicate of the two hues, according to the Smithsonian. But by the 1980's, pink was linked to not just infant girls but also to femininity in general. Consider Barbie's striking fuschia branding or the pink breast cancer awareness ribbons popularized by the Susan G. Komen Foundation.
When, in 2016, the Pantone Color Institute broke with tradition by announcing not one, but two, Colors of The Year, it set a few things in motion. Rose Quartz (a soft pale pink) and Serenity (a cool sky blue) set the tone for the current state of all things pink (and blue); Pantone notes that the rise of the twin pastels reflect "a gender blur as it relates to fashion, which has in turn impacted color trends throughout all other areas of design."
As the pink trend spread from fashion to consumer goods, it makes sense that salmon, blush and coral shades are showing up in spirits as well. And this time, more men may be open to rose-colored products.
"[Pink] used to be very female-positioned, but in the past couple years, it has become very androgynous," Mr. Curley says. "More men are not afraid to associate with soft pink color shades."
Launched late last summer, Codigo 1530 Rosa is a tequila with a pretty rose tint.
While the Rosa is technically still a blanco (or unaged tequila), the liquid gains its hue after resting in French white oak barrels that previously held Cabernet wine. No color or flavor additives are introduced to the Rosa, Código 1530 Tequila CEO Federico Vaughan says.
The Rosa began as an experiment, to see what would happen if unaged tequila was placed in uncharred, but previously used, wine barrels. "When we opened it, this pink tequila came out," Vaughan says. "We tried it and we knew we had something special." The red wine barrels give the tequila additional fresh citrus notes, in particular tangerine.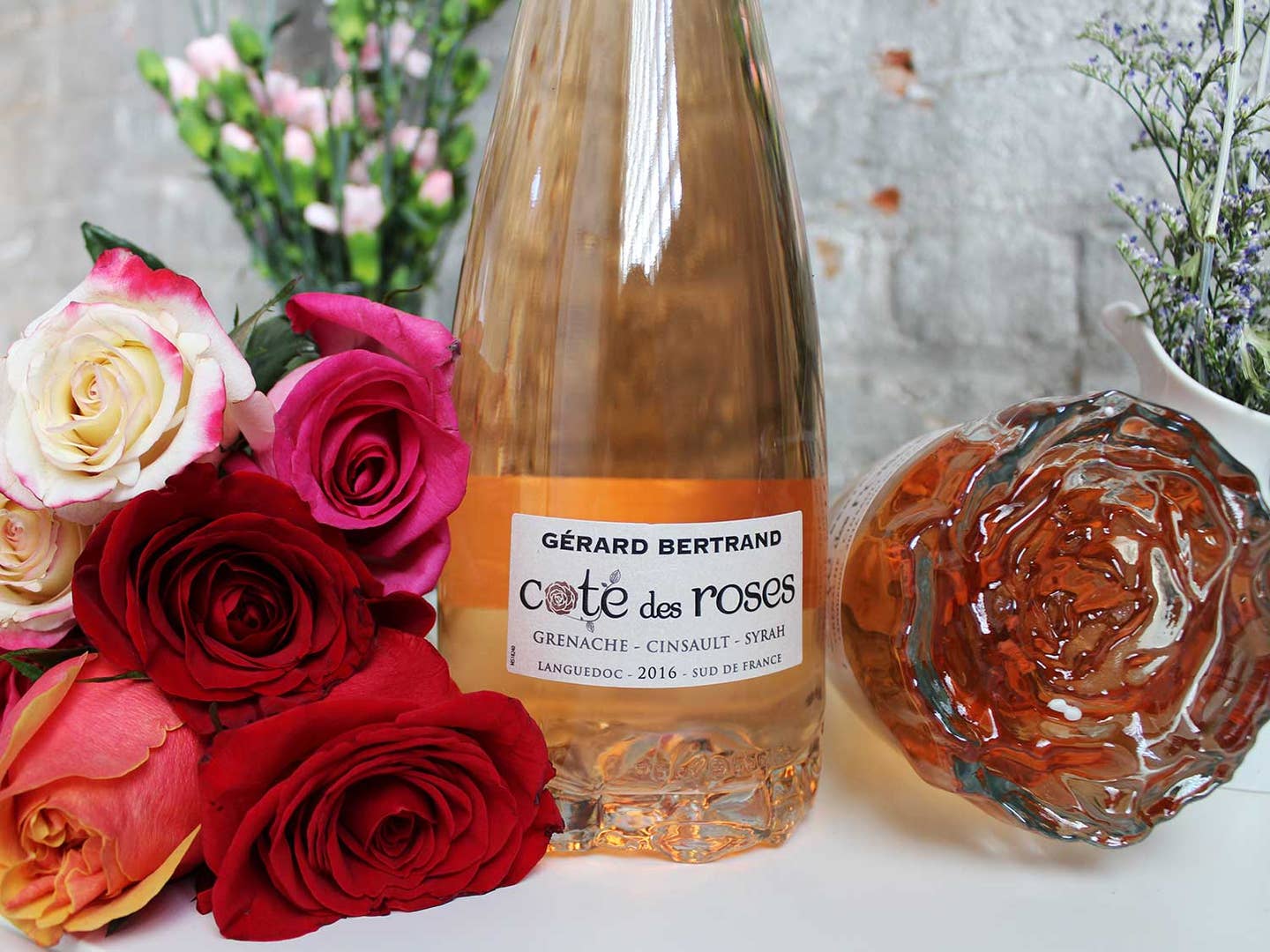 <a href='http://fxo.co/5tzD' rel='nofollow' title=''>Gérard Bertrand Côte des Roses,</a> $16
SHOP NOW
Deliver a bouquet of a different kind this season. The Côte des Roses's charming bottle features a garland of petals along the base; lift up the bottle to discover a blooming rose etched into the design.
The pale blush wine, a blend of Grenache, Cinsault and Syrah, delivers a sprightly floral note with grapefruit accents and a lush finish.
Do Valentine's Day right. Get the Dom Perignon.
Dom Perignon has been crafting rosé champagnes since 1959. Their rosés are bottled only when winemakers have exceptional Pinot Noir and Chardonnay harvests to work with.
Dom Perignon's 2005 vintage arrives in a striking fuschia and black bottle that's more sex than romance. (We're ok with that.) Inside, you won't find some flimsy liquid. The 2005 vintage is rich and structured, with a backbone of sharp blood orange and touches of licorice.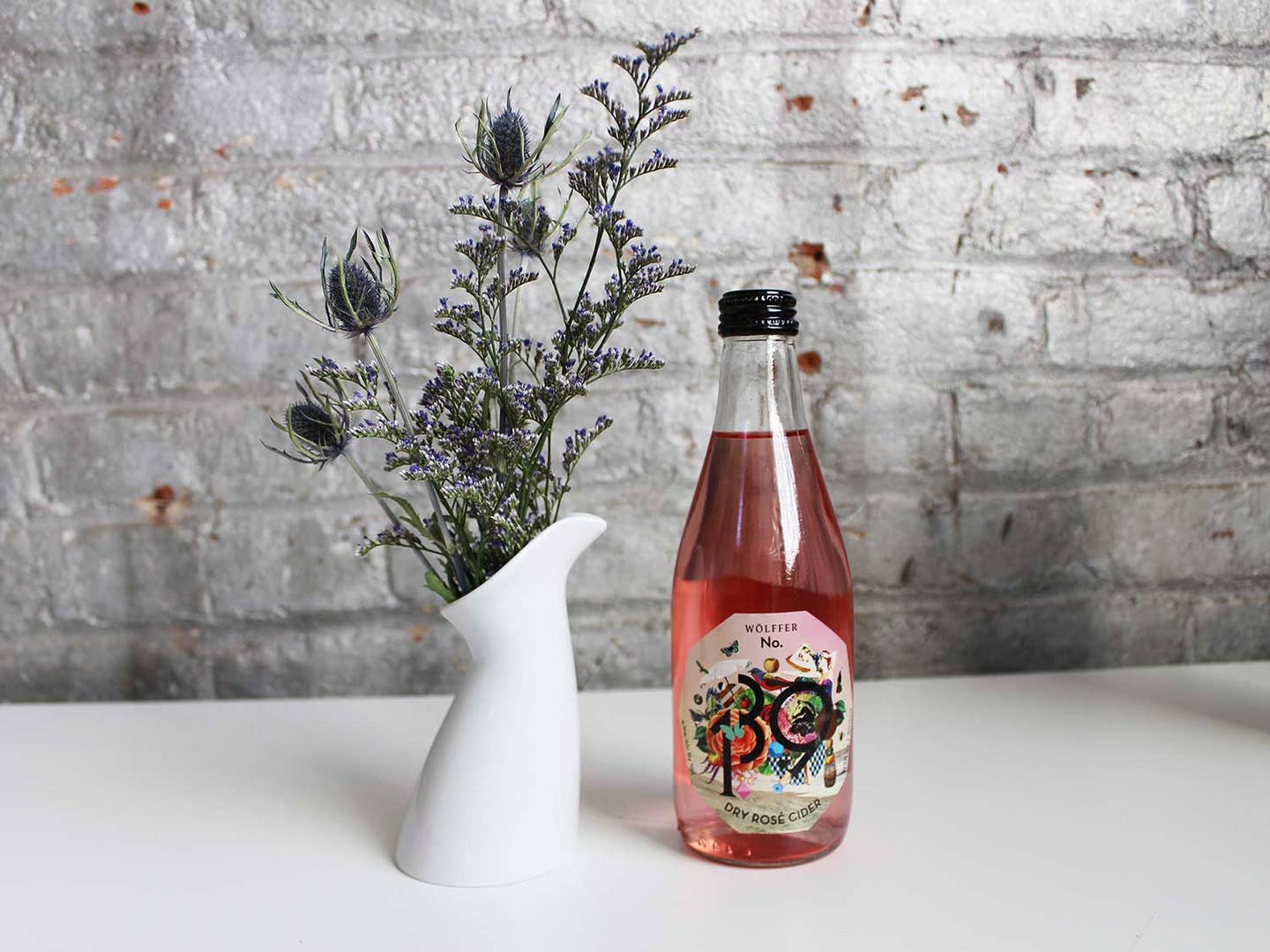 <a href='http://www.totalwine.com/beer/cider/apple-cider/wolffer-no-139-dry-rose-cider/p/169312126'>Wölffer Estate Dry Rosé Cider,</a> $16 for 4 pack
SHOP NOW
East Coast favorite Wölffer Estate is often spotted at Hamptons celebrations for a reason. Among their popular offerings, this dry apple cider, which gets its color from red grape skin extracts. Sipping these is like getting an early taste of summer while still in February.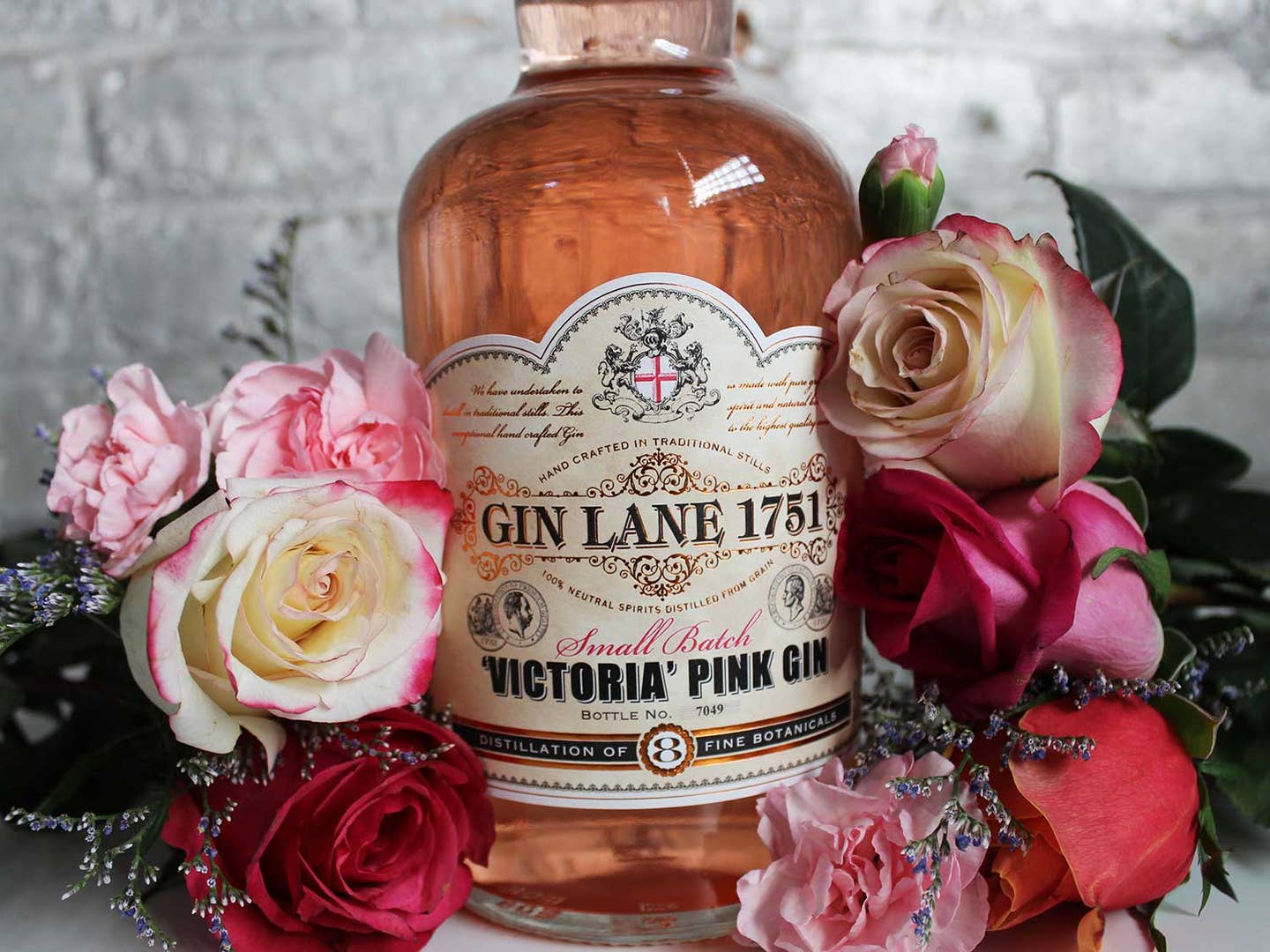 <a href='http://www.ginlane1751.com/gin/victoria-pink-gin'>Gin Lane 1751 'Victoria Pink',</a> $30
SHOP NOW
Like the gin-and-tonic, "pink gin" first originated in the British Royal Navy, when officers would douse their gin with Angostura bitters. The resulting concoction, as you can guess, turned into a shimmering rose gold that feels particularly modern today.
Gin Lane 1751's "Victoria Pink", which debuted last fall, harkens back to that early drink, by adding spices and herbs to its juniper-forward gin. With a base of a sturdy London Dry, the bitters highlight a delicate spicy note in the finish. Try it in a French 75.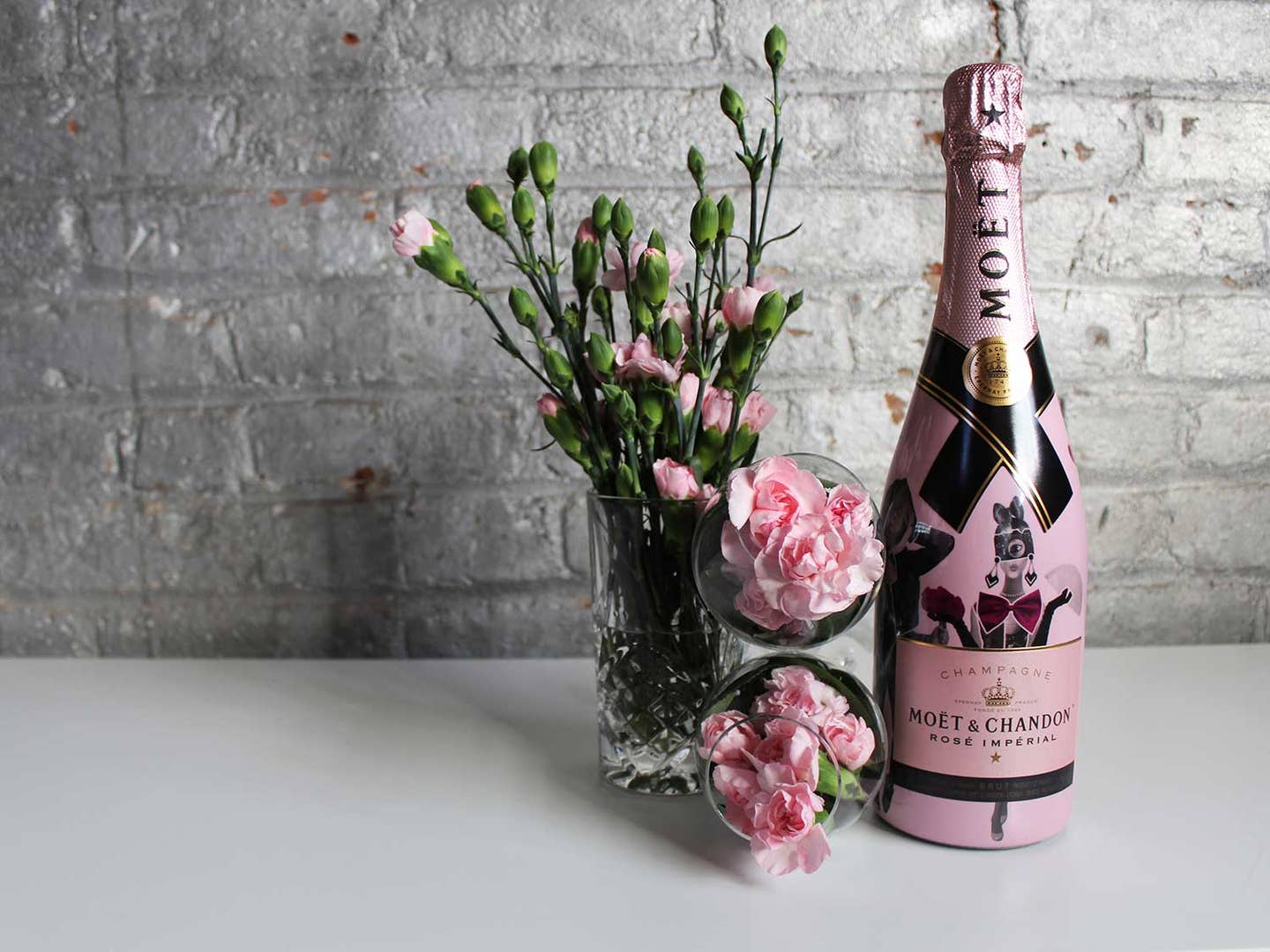 <a href='http://fxo.co/5tzH' rel='nofollow' title=''>Moët &amp; Chandon Limited-Edition 'Love Unconventional Rosé Imperial',</a> $50
SHOP NOW
Moët & Chandon's "Love Unconventional" comes close to bottling Valentine's Day itself.
Decorated with whimsical photo-illustrations set against a pink background, this rosé Champagne delivers a bright red berry bouquet with a pop of pepper and a hint of rose. Available in both a 750ML bottle or individual mini-bottles, this Champagne does double duty as romantic gesture but also as a playful best friends' gift.
There's a new trend to drink Champagne on ice, and while this causes some purists to clutch their pearls, the innovation gives France's storied liquid a youthful makeover.
Champagnes like Veuve Clicquot Rich Rosé are designed with ice in mind, which means drinking them on their own doesn't showcase the wines at their best. This wine has been blended with a touch of sugar to bring its red fruit accents to the forefront. When added to ice, the wine unfurls a bouquet of radiant red fruit notes.
The best way to serve Veuve Clicquot Rich Rosé is easy peasy: Take a big goblet filled with chunky ice cubes, pour in the rosé and top it with one fresh fruit garnish, such as lime or pineapple.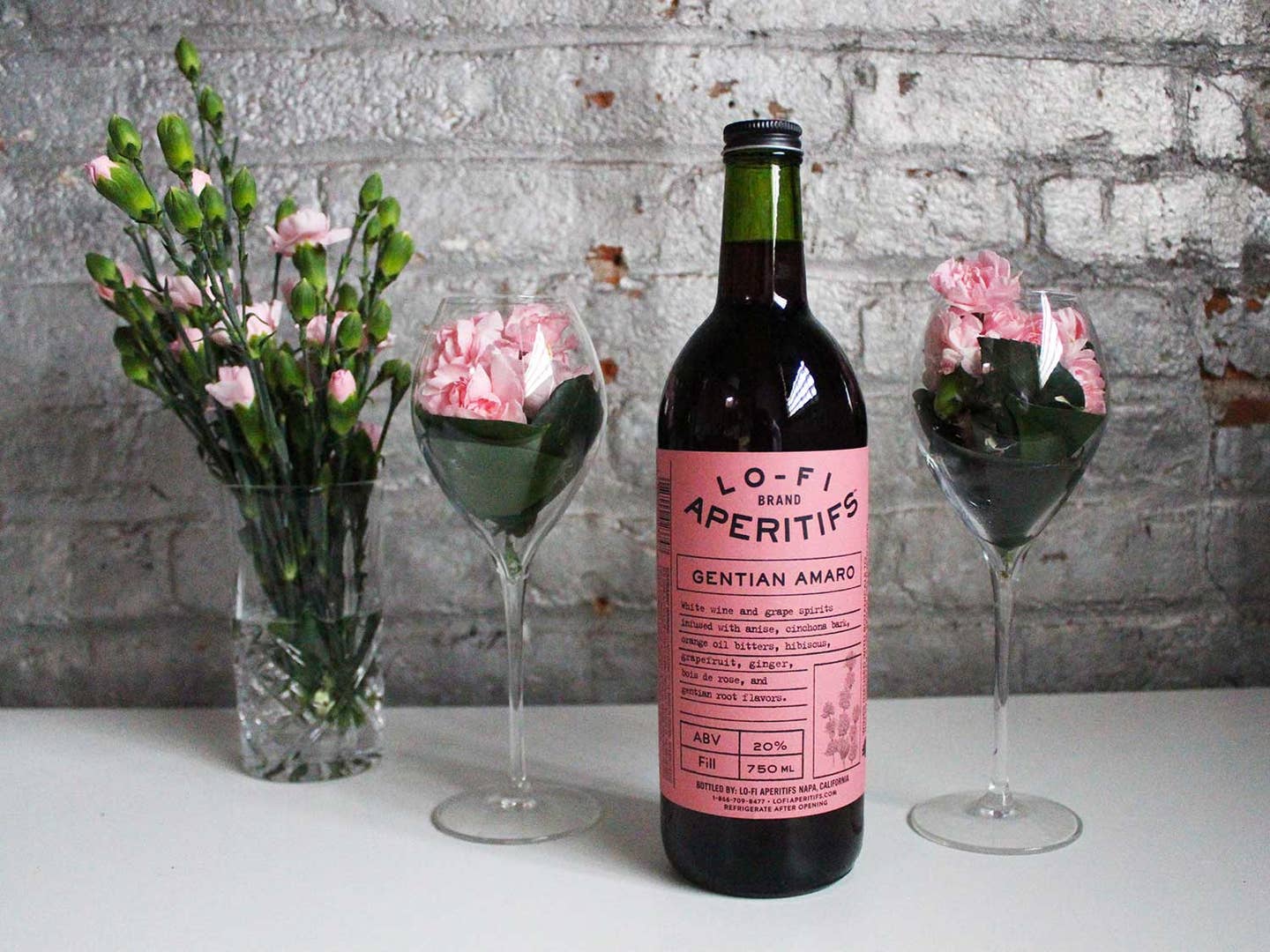 <a href='http://www.lofiaperitifs.com/genatian-amaro'>Lo-Fi Aperitifs Gentian Amaro,</a> $25
SHOP NOW
Don't let the dark bottle fool you, this Gentian Amaro from Lo-Fi Aperitifs boasts the loveliest shade of dark rose, courtesy an infusion of hibiscus flowers.
The amaro begins with a California white wine and neutral grape spirits base, to which Lo-Fi adds gentian root, cinchona bark, anise, and other spices. With hints of ginger as well as floral notes, pair this with rosé and soda for a summer-forward cocktail. For something as pleasant as it is unexpected, pour a shot of Gentian Amaro directly the lager beer of your choice.