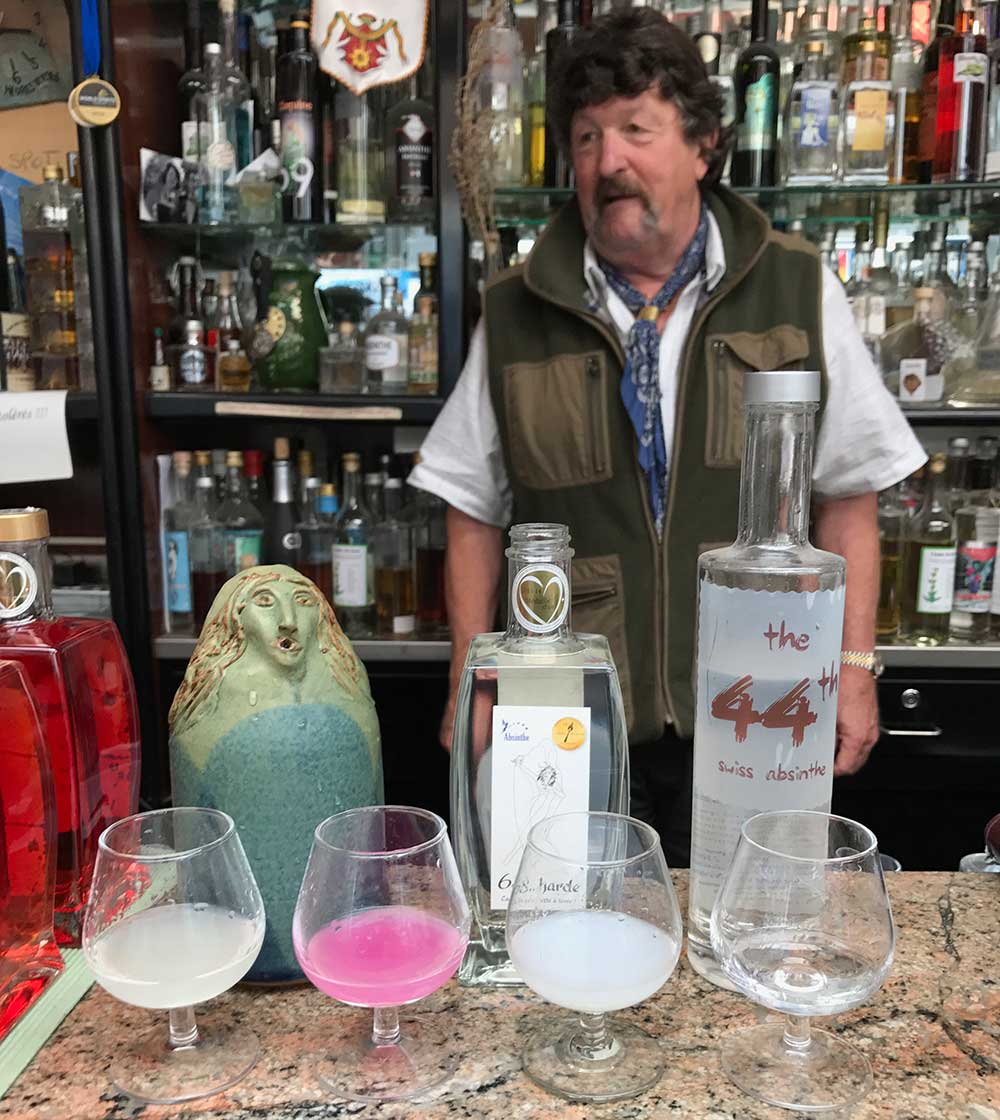 Drinks
This Ex-Detective is Now Making Absinthe on the French Border
It may seem like an odd career transition, but absinthe is in René Wanner's blood
"Never put an ice cube in absinthe," master distiller René Wanner advises. "That is a crime. You will upset the fairy," referring to the legendary green pixie associated with the drink. He slowly pours a rivulet of cold water into a small snifter, instantly turning the alcohol within a beautiful, cloudy white. His delicate and precise motions belie his six-foot frame. Wanner's broad shoulders are framed by a fleece vest and elegant neck kerchief. He carefully lifts the glass and points to a thin, clear layer floating above the opaque liquid. "You see," he whispers through his thick salt-and-pepper horseshoe mustache. "That is how you pour absinthe. You are over the cloud."
Wanner runs his distillery, Absintissimo, in Plan-les-Ouates, a small village near Geneva in southwestern Switzerland. It's a tiny operation producing nearly 3,000 bottles a year, a fraction compared to the two million or so liters produced annually in the country. He operates in a small rented space within a larger warehouse.
Hanging above his entrance is a hand-carved sign reading, "Absintherie. Not guilty," perhaps portending what comes from spending a few hours within. Both the granite-topped bar and the shelving behind it are littered with filled absinthe vessels and vintage memorabilia. His collection spans hundreds of bottles, some dating back as far as the 19th century. Is the stuff still good? "Absolutely," he affirms. "This will live forever."
Wanner has been making absinthe since 2006, after retiring from more than thirty years as a detective with the Geneva police. What seems like an unlikely second career makes perfect sense given Wanner's upbringing. He was born two hundred meters from the first absinthe distillery, in the Neuchâtel village of Couvet. His father made it with friends. Relatives and neighbors made it. Absinthe is in Wanner's blood.
There are nearly 300 absinthe distilleries operating in Neuchâtel today, yet Wanner plies his trade a hundred miles to the south, less than ten minutes from the French border. Why?
The partially surreptitious answer involves Swiss law. As part of the licensing process, the Neuchâtel alcohol commission requires applicants to affirm they have never participated in any sort of bootlegging, a promise Wanner wasn't willing to make. While he chooses to neither confirm nor deny any participation in the practice, he does mention knowing more than seventy bootleggers as a child. He views it as simply part of growing up.
His refusal to answer the question meant finding another location for his distillery. He chose Geneva because they don't require the same disclosure. Once there he discovered an existing absinthe culture so considerable, it is second in the country only behind his home canton.
More than ten years later, he's in the same location. In that time he's won more than a hundred product awards, and has certificates and awards randomly strewn about to prove it. He reaches for the nearest sheet. It's the silver award from the 2016 San Francisco World Spirits Competition for his 68...Harde blend, a floral liqueur inspired by the belle epoque of 19th century Western history.
Many of Wanner's products are personally inspired. He presents a carved wooden box with a single bottle inside. The label simply reads, "The 44th". From the way he handles the package, it is clearly significant to him. "I named this in honor of your President Obama," he says. "I was so happy when he was elected." When asked about the special packaging he confides, "I saved the first bottle. I am hoping to give it to him personally and share the first glass with him."
He pours blood-red absinthe from a bottle aptly labeled "Bloody Fairy." As water is added, the color morphs into a gorgeous fuchsia. Soft aromas of fennel and fresh herbs waft up from the glass. Wanner explains how he enjoys absinthe, a daily indulgence. "I don't use the typical glass," he explains. "It hides the flavor." Preferring a small tulip-shaped snifter, he adds ice-cold water to a few ounces of alcohol. "You must pour slowly if you want to rise above the clouds," he advises. Sugar is never used. "If you have good absinthe, you don't need it."
Looking into the future, the award-winning distiller sees room for diversification. He proudly announces, "I now make gin!" Two of his new recipes have already won medals, adding to the pile. Wanner is looking to relocate nearby to a facility that is more modern and suits his needs.
With so many accolades and more opportunities on the horizon Wanner must constantly be happy, and when asked, he smiles broadly and lets out a loud chuckle.
"With my health and absinthe, yes. No matter where I am."