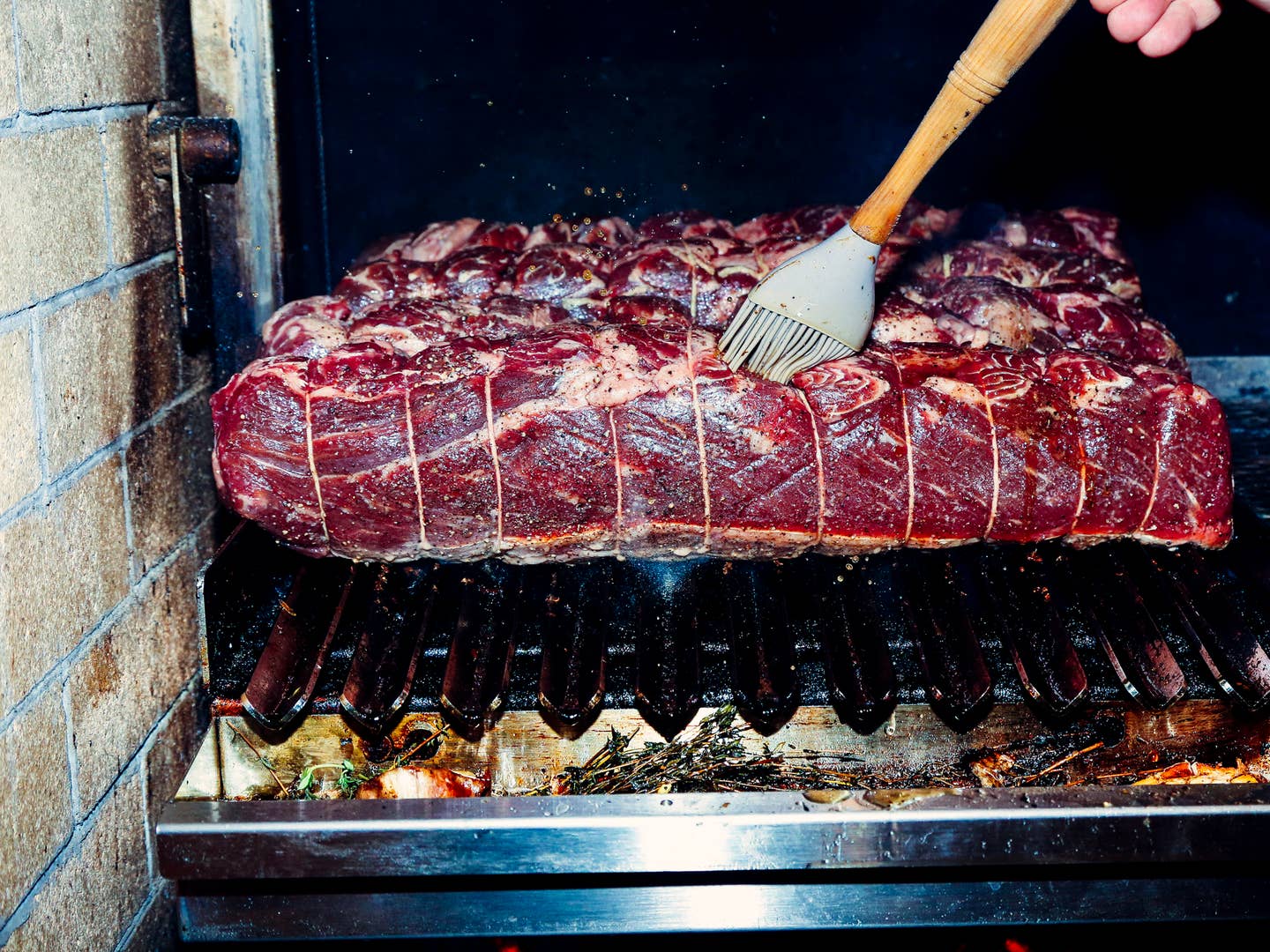 Techniques
Bring More Flavor to Grilled Meat With an Argentine-Style Grill
The chefs behind Portland's Ox restaurant deliver a grilling feast and teach us about a different kind of 'black gold'
I smelled them before I saw them. Huddled together in a row in front of the woodfire grill, glistening, blackened ribeye fat caps sat soaking up the aroma from the smoke. "The ribeyes will be good," says Gabrielle Quiñónez Denton, half of the husband-and-wife chef team behind Portland's Ox restaurant, "but those fat caps are the real treat." She is standing opposite the grill, arranging grilled shiitake mushroom tops on a serving tray while her husband and co-chef Greg Denton unwinds a flame-charred head of red cabbage into tantalizing ribbons.
Fire is the driving force behind Ox, and the duo's aptly named new cookbook Around the Fire (Ten Speed Press 2016, with Stacy Adimando) is an ode to the element. The book is a true reflection of the couple and their restaurant, bringing Argentine-inspired open flame grilling to the urban outlet of Portland, and giving local ingredients, which includes a surprising number of vegetables as well as sustainably farmed meats, an asado-style spin.
In Editor-in-Chief Adam Sachs' Brooklyn kitchen for last night's SAVEUR Supper, Gabi and Greg are delighted to find a near-replica of the grill back at their restaurant in Portland. It's made by Grillworks and is inspired by the traditional Argentine parrilla style, which means that the slats of the grill grate are actually V-shaped channels, which collect rendered fat and juices so they don't drip into the fire and cause flare-ups. Angled slightly downward, the juices drip into a tray, eliminating most of the perils of grilling over an open flame. If it seems ingenious, that's because it is—the gauchos in the Andean highlands have had centuries to perfect the technique.
But the innovation doesn't end there: The real key to the exceptional flavor behind Gabi and Greg's grilling lies in what's being siphoned away. "We figured if we've got these delicious, meaty, smoky juices and fats just draining into the tray," Gabi tells me, "why not freshen them up with lemon, garlic, and some fresh herbs, and put it right back on the meat?"
There at the grill, I see this process in action. The ribeyes have now hit the grate and sous chef Kyle Burgess is dipping his basting brush into the vat of juices and rendered beef fats at the front of the grill, where whole heads of garlic, sprigs of thyme, and lemon halves have been sitting for hours, just soaking it all up. The juices come off, infuse slowly over the fire, and get brushed back on. Were one not standing in the middle of a bustling kitchen, one might pause for a moment of reflection, stare into the mesmerizing flames and ponder this juicy, fatty circle of life.
That little tray of rendered fat is something Greg and Gabi call "black gold." "You'll never get a steak anywhere else that tastes like Ox," says Greg, "because on our grill, we've got the steaks, yes, but also the chorizo, and the morcilla (blood sausage), and any other meats we're grilling, and all those juices mingle together with the aromatics. It's our own unique umami bomb." They'll even take the fats and juices from the end of the night, strain out the aromatics, and reuse it to start the next day's batch, building the depth of flavor onto itself in perpetuity.
But what about the rest of us? Those of us for whom the closest we can get to a parrilla on a daily basis is a well-seasoned grill pan on the stove? "You can definitely make a version of black gold at home with any kind of fat, even olive oil or butter," says Gabi, but she's got a hack for sneaking that smoky flavor into it too: "Bacon. Render some bacon fat and infuse it with some aromatics before you start. You can sear indoors on a grill pan in the middle of winter, and as long as you sop a little of that on your steak, it'll taste like it came off a wood fire grill." And for the supremely dedicated, Grillworks sells a smaller (but still quite large) home version of their parilla-style grill complete with wheel-adjusted suspended grates to fully customize your cooking. So there is hope for us after all.
See more scenes from our supper below.