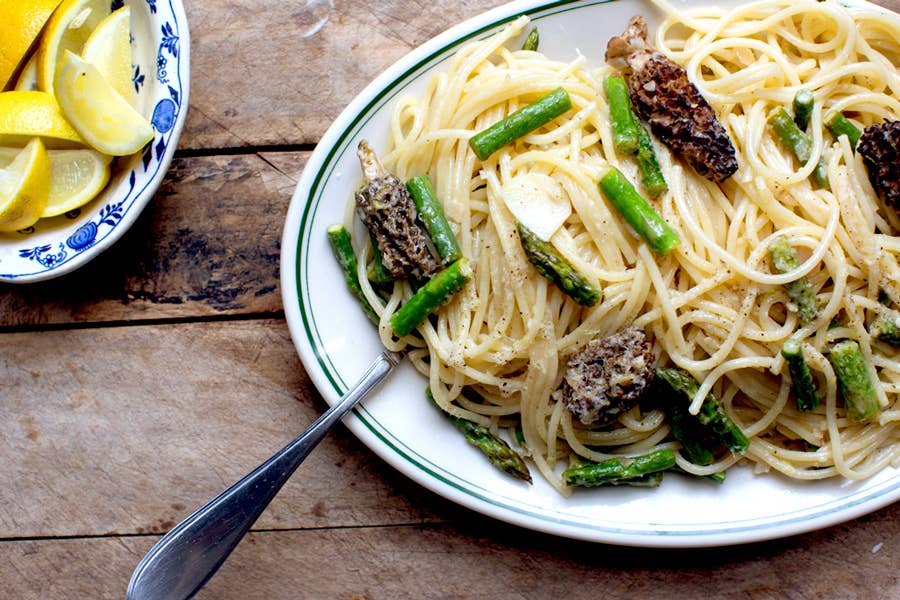 Recipes
Morel Mushroom Recipes
Find out how to use this woodsy springtime delicacy
One of the first mushrooms to arrive in the spring, morels are treasured for their woodsy flavor. They have a relatively short growing season, so we like to use them as much as we can during that period of early spring when they are available. We've rounded up some of our favorite morel mushroom recipes.
When morels come into season, you can find a bounty of other spring produce to cook them with. Ramps even more prized than morels—their bright, onion flavor pairs beautifully with the earthy mushrooms on a pizza with sharp Parmesan cheese, and just-set eggs. Peas are another great early spring vegetable. Try quickly sautéing snow peas and morels with mint and preserved lemon.
While morels are only in season for a short time, they can be dried and used year-round. Grinding the mushrooms makes an aromatic spice rub for roast chicken. Dried morels also reconstitute remarkably well—try roasting your morel-rubbed chicken over rehydrated morels so that they absorb the chicken's juices. For our morel and asparagus spaghetti, the pasta is cooked in the water used to rehydrate the mushrooms, giving the dish an extra layer of flavor.
The flavor of morels is at home in Asian-inspired cooking, too. The restaurant Tuome in New York City pairs morels with yuba. The mushrooms and tofu skin soak up a pungent black bean chile sauce.
For more inspiration on how to use this springtime delicacy, check out our collection of morel mushroom recipes.