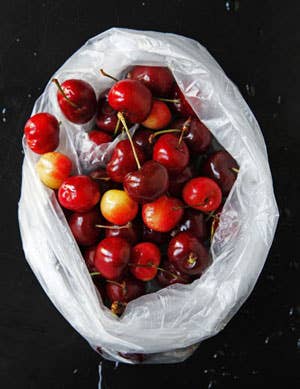 Summer wouldn't be complete without our spending at least one afternoon in the sun, eating cherries and staining our hands red with juice. These sweet and succulent stone fruits are a summer staple for eating raw or baking in pies, crumbles, and more. Sweet cherries, such as Bing, Royal Ann, and the yellow-fleshed Rainier, are just right for eating out of hand. Sour cherries (also called tart or pie cherries) make a fabulous addition to pies or cakes. One of the first tree fruits to ripen, cherries are at their peak from June through July on both coasts.
Unlike many other stone fruits, cherries do not ripen off the tree, so be sure to buy them ripe. Look for plump fruit with smooth, shiny skins.
Cherries are highly perishable, lasting only about four days even when refrigerated.
Cherries to be used in cooking or baking applications can be frozen, but do not defrost them before using them. The fruits will dry out if defrosted.
Cherries are available in the produce section of most grocery stores. Rainier cherries are available from late June through July, either at your local gourmet grocery store or at your local farmers' market (particularly in the Pacific Northwest). Cherries are also available online at Melissa's Produce.