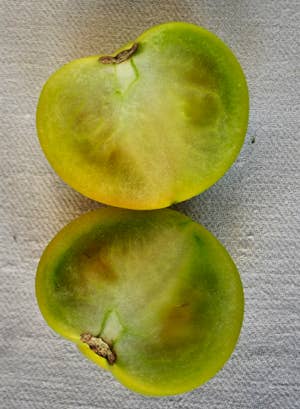 Northerners tend to eat green tomatoes in late summer or fall, just before the peak of harvest, but in the South, where tomatoes can be red and juicy as early as May and June, fresh green tomatoes are enjoyed all season long. (In fact, they're so popular that local supermarkets import them during the off-season.) When you're shopping, be sure you're getting a true green tomato—that is, an immature standard tomato—and not a variety that's green even when fully mature, like the Green Zebra. (And don't confuse green tomatoes with tomatillos, a tomato-like green fruit.) Look for an average- to large-sized fruit, as small green tomatoes can be bitter. A good, fresh green tomato has just a hint of sweetness and a more vegetal flavor than that of a fully ripe fruit.
Slice green tomatoes, coat them with cornmeal, and deep-fry them, or chop them up to use in a salsa or chutney. Green tomatoes also make terrific pickles.
Featured Green Tomato Recipes
Be sure to remove the woody stem and white core before using a green tomato.
The best place to get green tomatoes is fresh from the garden, but they are available in farmers' markets and supermarkets as well.