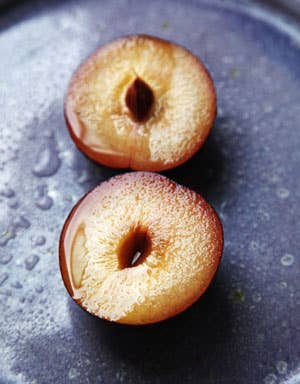 The irresistibility of plums is well known; just ask the poet William Carlos Williams, among whose most famous works is an apology for sneaking the fruit, which he touted as "delicious, so sweet and so cold." Growers understand the power of a perfect plum: after apples, they are the most widely cultivated fruit in the world. While plums are imported in winter from locales such as Chile, Argentina, and New Zealand, they are best during the summer months, with domestic varieties peaking from early summer until early fall. Be they maroon, red, black, or yellow, be sure to look for plums with dull skins: shininess is a good indicator that the fruit is not yet at its optimal ripeness or sweetness. With a thin skin, there's no need to peel these sweet little gems. Eat plums on their own or sliced over ice cream or yogurt, or bake them in tarts and cakes. Plums also make a wonderful stuffing for a pork loin. To extend the summer flavor of these fruits awhile longer, make plum chutney or jam.
Look for a plum that's firm but yields to gentle pressure (do not squeeze plums too hard when checking for ripeness; they're quite fragile).
Supermarket plums are mostly sold in a hard state rather than juicy and ready to eat, so it's best to be patient and let them ripen at home for two to three days after purchase.
Look for plums that still have an almost hazy, powderlike covering on the skin: this "bloom" lets you know that the fruits haven't been overly handled.
Plums can be purchased at your supermarket or local farmers' market during the summer months.