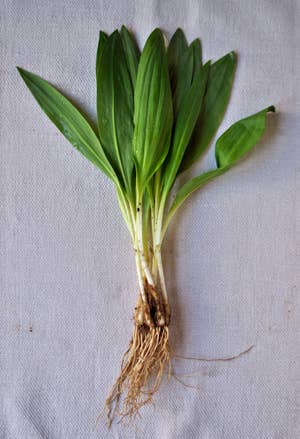 What we call ramps are actually wild leeks that are native to the forests of eastern North America and grow as far west as Minnesota. In many places, they are one of the first edible plants to break through the soil in the early spring; foragers know them by their narrow green leaves and red-purple stems.
For centuries, Native Americans valued vitamin C-rich ramps for their capacity to cleanse blood and fight scurvy. Throughout southern Appalachia, the appearance of ramps each year remains an occasion for festivals and celebratory meals.
A member of the lily family, ramps can be substituted for leeks, scallions, or onions in all kinds of dishes. Strong and garlicky in flavor, with a pungent aroma, whole ramps with leaves intact are delicious sauteed in olive oil with a bit of sea salt, or mixed into a simple pasta dish or potato gratin. You can also blanch them as you would asparagus and serve with a butter sauce; add them to a quiche or frittata; braise them in cream or stock along with chicken or rabbit; or pickle them for a tart, garlicky side dish.
Ramps are only harvested wild and can be purchased in many farmers' markets east of the Mississippi River. Look for firm, bright stems with the roots still attached.
Clean well before using, trimming off the roots and peeling off the first layer of skin around the bulb.
Cut the bulbs in half or use them whole; the leaves can be cooked along with the bulbs.
Ramps are available at local farmers' markets across eastern North America, or online at Melissa's Produce.