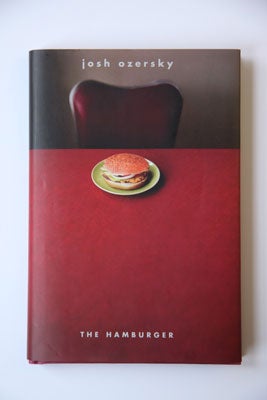 Hamburger : A Global History (Reaktion Books, 2008) Written by Andrew F. Smith, editor of The Oxford Companion to American Food & Drink, this fun read charts the burger's history from 19th-century lunch carts to international chains.
Hamburger Heaven (Hyperion, 1995) Jeffrey Tennyson, a designer who died in 2006, turned his collection of burger ephemera—vintage photos, advertising art, and such—into a one-of-a-kind coffee table book.
Burger Bar (John Wiley & Sons, 2009) Hubert Keller's cookbook, named for his restaurants, urges readers to take their burger making to new heights with recipes for blue cheese sliders, tuna burgers, and more.
The Hamburger (Yale University Press, 2008) Josh Ozersky's engaging narrative explores Americans' century-long obsession with burgers and chronicles how the food has evolved to reflect changing attitudes and tastes.
Hamburger America (Running Press, 2008) George Motz, the man behind the award-winning 2004 documentary Hamburger America, gives us a richly illustrated road map to 100 of the country's best burger joints.
Hamburgers and Fries (G. P. Putnam's Sons, 2005) Writer and historian John T. Edge brings regional burger styles and their inventors vividly to life. This fascinating book has recipes for foods from pimento burgers to pickle sauce.