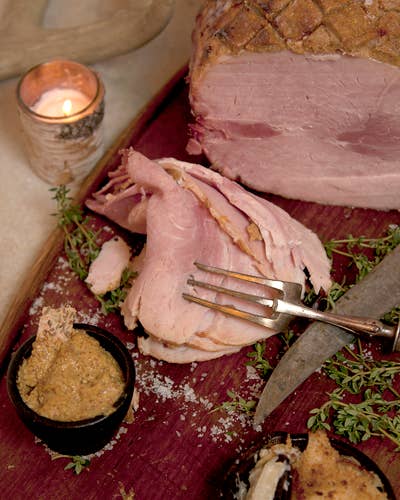 Culture
A Scandinavian Julbord Christmas
The Scandinavian Smorgasbord is a thing of beauty: a long table overloaded with robustly flavored meats, fish, cheeses, and breads, epitomizing the Nordic palate. The spirit of the the smorgasbord crashes headfirst into the holiday season with its cousin the julbord, a Christmas spread that's so complex, some home cooks will start work on dinner literally a month ahead of time. "If you're hard-core with your Christmas table, there are books that guide you through all of December," explains Marcus Jernmark, the Swedish-born chef at New York City's Aquavit restaurant. "There's really something you can do every day up until Christmas eve: you start infusing your aquavit on December 1, you start curing your fish on December 2."
While there's room on the julbord for family or regional variations on the classics, the actual selection of dishes tends not to stray too far from the traditional menu. At the center is the julskinka, a ham that's been boiled with aromatics and then baked with glaze and breadcrumbs. Surrounding that are seasonal dishes like herring and beet salad; Jansson's temptation, an anchovy-studded potato gratin; and, of course, the infamous lutefisk — a dish of lye-cured cod so widely reviled that the state of Wisconsin famously made explicit in law that it does not qualify as a "toxic substance." In Sweden, "lutefisk is more of a concept than an actual food," says Jernmark. The harsh fish preparation is almost obsolete in its home country — though it still has a thriving fan base in Minnesota, the world leader in lutefisk production. On the julbord, you're just as likely to see something that picks up components of the traditional __preparation in a slightly easier-to-palate version. "The flavor profile is actually quite good," Jernmark says. Riffing on the traditional accompaniments of green peas and an allspice-flavored bechamel, he uses brined, poached fresh cod instead of the "jellyfish-like" lye-cured classic.
At Aquavit, Jernmark serves a traditional julbord during the month of December, bringing in both holiday-happy diners and expat Scandinavians who miss the taste of home. He serves versions of julbord cuisine that he considers to be epitomes of their form: "For me, it doesn't make any sense to try to tell my story of the Swedish traditions," he says. "People are coming to Aquavit for the true story of what Scandinavian food is all about."