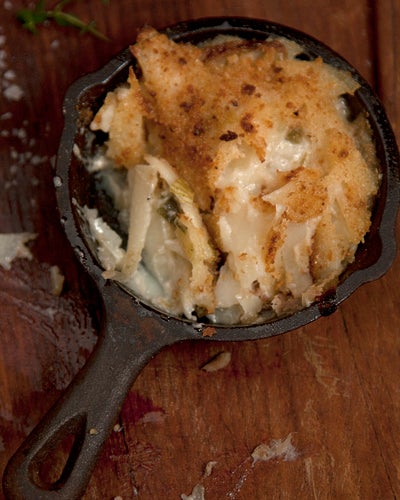 This recipe was developed by Marcus Jernmark, chef at Aquavit in New York City, as part of the restaurant's traditional julbord spread for Christmas. "It's not a creamy gratin, it's more of a rich gratin," says Jernmark of this traditional Swedish side that pairs spiced anchovies with potatoes, onions, and cream. "Everyone makes a different version, but this is fairly traditional. It's not my story of Swedish traditions — people are coming to Aquavit for the true story of what Scandinavian food is all about."
Jansson's Temptation
This rich gratin recipe, from chef Marcus Jernmark, is a traditional Swedish side that pairs spiced anchovies with potatoes, onions, and cream.
Ingredients
2 medium onions, thinly sliced
1 leek, white part only, thinly sliced
4 tbsp. butter
1 can of Swedish anchovy fillets (3 1/2 ounces)
6 to 8 medium-sized potatoes, peeled and thinly sliced
1 cup heavy cream
1⁄2 cup fine bread crumbs
Instructions
Preheat the oven to 350 degrees and butter a square baking dish. In a skillet on medium heat, saute the onions and leek in the butter until soft. Remove from heat and let cool. Drain the anchovies and cut into bite-sized pieces.
In a bowl, combine the onion mixture, potatoes, and anchovies, and transfer all to the baking dish. Pour the cream over the potatoes and cover the dish with aluminum foil. Bake for 50 minutes or until the potatoes are tender and most of the liquid is absorbed. Remove foil, sprinkle potatoes with breadcrumbs, and return the pan to the oven until the top is golden brown.