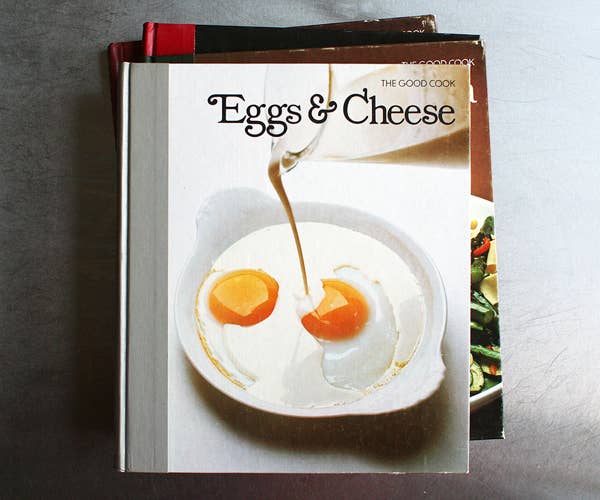 Culture
Back of the Bookshelf: The Good Cook
Some of the most beloved cookbooks in our library are the dustiest: books we grew up with, inherited from our grandparents, found at yard sales, or bought new decades ago. In this column, we celebrate these bibliographic treasures, and our favorite recipes therein.
The Good Cook series was published by Time-Life Books (remember them?) back in the late 70's and early 80's, but I actually didn't know about it until a few years ago when I found a few volumes tucked away on my mother-in-law's bookshelf. On an airplane somewhere between her bookshelf in Los Angeles and my apartment in Chicago, I discovered just how wonderful they really are. The now out of print 28-volume set covers virtually every culinary topic, with volumes dedicated to everything from preserving to game to cookies and more. Straightforward and comprehensive, each book is divided into two parts, with the first half full of photos and step-by-step explanations of techniques and ingredients, while the second half is devoted to the recipes. Though my collection from the series continues to grow (I seek them out in used book shops and online), I'm particularly attached to one of the original books I borrowed from my mother in law, Eggs and Cheese. It's my favorite in part because I love eggs and cheese so much, and in part because poaching an egg, making an omelet, or cooking fondue are all things I find myself always needing refreshers on.
The Author: "The Editors of Time Life Books" are listed as the author of each book in the series, though Richard Olney, the late great food writer often credited with helping introduce French cooking to American homes, served as chief consultant and the recipes were sourced from cooks from around the world.
Notable quote: "No foods excite more lavish praise than eggs and cheese."
Favorite Recipe: This book includes fail-proof recipes for everything from fritatas to fondue, but one of my favorites is a simple potato and cheese omelet that makes a comforting (and affordable!) dinner when accompanied by a green salad and a glass of wine. Once you've tried this version, feel free to improvise. I like adding roasted poblanos.
Tim Mazurek is a freelance writer and the blogger behind the site Lottie+Doof.