Recipes
Grated Potato and Cheese Omelette
Midway between an omelette and a latke, this cheesy potato-and-egg dish is an easy and satisfying meal at any time of the day.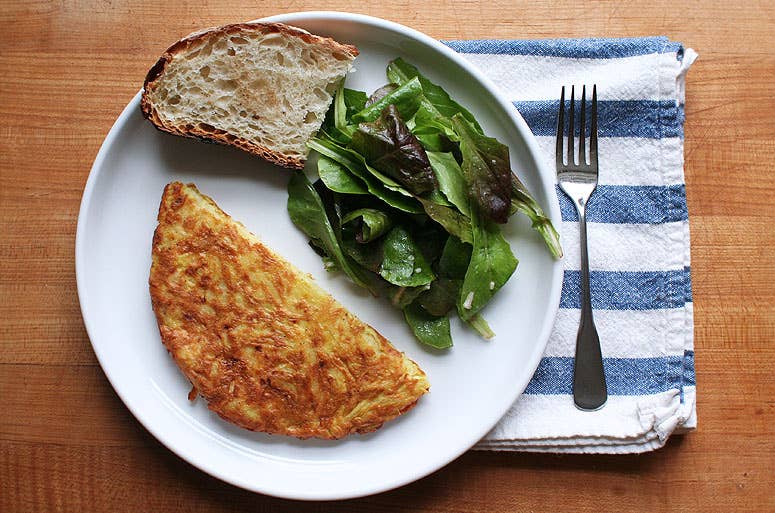 Ingredients
2 medium potatoes, peeled and grated (about 1 ¼ cups)
2 large eggs, beaten
2 Tbsp. finely shredded gruyère cheese
1 Tbsp. finely chopped onion
1 clove garlic, finely chopped
Kosher salt and freshly ground black pepper
2 Tbsp. unsalted butter
Instructions
Step 1
To a large bowl, add the potatoes, eggs, cheese, onion, and garlic. Season to taste with salt and pepper and toss well to combine.
Step 2
In a medium nonstick or well-seasoned cast iron skillet over medium heat, melt the butter. When the butter is hot, pour in the potato and egg mixture and cook until the edges have set and the bottom begins to crisp, about 2 minutes. Using a rubber spatula, push the edges of the omelette in a few inches toward the center so that any excess liquid flows in to fill the empty space and begins to cook. Continue cooking until the omelette is firm and crisp enough to flip, about 3 minutes more. Using a wide, offset spatula, scoop under the omelette and flip it over, then continue cooking until it is golden, firm, and cooked through, about 5 minutes more. Transfer the omelette to a large plate and serve hot.