Chicken Flautas for Cinco de Mayo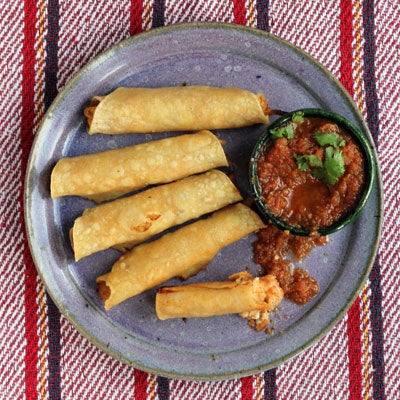 Although I can't claim any Mexican ancestry, I still find great fun in celebrating Cinco de Mayo. Since I have a long day ahead of me before I get home tonight to kick back with margaritas, I want to keep things simple when it comes to providing food for the festivities. My husband is a big fan of taquitos, crunchy, little stuffed tortillas you see in the freezer aisle at your local grocery chain. I'm not disputing their tastiness, but for one reason or another, I can never bring myself to actually buy them. To give my husband the taquito experience he's going for, coupled with the authenticity I like in my own cooking, I've decided on chicken flautas as a perfect compromise – plus, they get me in and out of the kitchen almost as quickly as if I had given in to the freezer aisle.
Although flautas are usually deep-fried until fully cooked, in this recipe the corn tortillas get just a brief flash-fry, just to soften them for filling and rolling. They're then finished in the oven, which both saves hands-on time and keeps them a bit healthier than their retail counterparts. If you don't want to sacrifice authenticity, then by all means fry away: just increase the amount of oil you'll need to one cup and fry the flautas in batches of six for 2-3 minutes per side (10-12 minutes total), until deep golden and crispy. Place finished flautas on a paper towel-lined tray and keep them in a 200° oven until ready to serve. Whether you fry or bake, to maximize margarita time, you can make the chicken filling and salsa roja up to a day in advance.
See the recipe for Chicken Flautas with Cotija and Salsa Roja »