Joël Robuchon
Amid a desert city's illusions, a promise of fantasy fulfilled.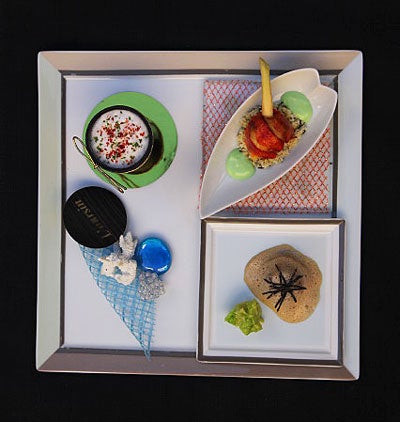 During our travels around the world as food writers, we've splurged on meals at a lot of high-end restaurants that pledge to transport diners to a higher plane of luxury and gastronomic bliss, but we've never seen that promise fulfilled quite as it is at Joel Robuchon in Las Vegas. That establishment—the acclaimed chef's first haute French restaurant on American soil and his most extravagant anywhere—rattles our jaded expectations with a fantasy experience on every level.
We find it fascinating that 13 years after Robuchon parted ways with haute French cuisine to focus on his less formal L'Atelier locations, he has returned to showcase his fluency in the highest culinary art in America's showiest city. While other chefs open mere satellites of their popular restaurants here, Robuchon seems to have discovered his id among the craps tables and floor shows of this shimmering capital of escapism. Here, in a roughly 700-square-foot restaurant within earshot of the MGM Grand's clanging slot machines, the most august French culinary traditions, the ones on which Robuchon built his reputation at the now closed restaurant Jamin in Paris, marry with an artful Japanese aesthetic and cutting-edge technology. It's a jewel box of a space, with purple velour seat cushions, crystal chandeliers, Christofle silver, and, in a nod to its surroundings, framed photos of David Copperfield, Lionel Richie, and other popular Vegas acts.
Perhaps it's the Vegas effect that has upped the ante for Robuchon to such an extreme. The chef, who transported top talent from his restaurants around the world—including his French executive chef, Claude Le-Tohic—conceives and approves every last detail, from the designs of the dishes to the color of the Staub mini cocottes that are used for sauces and vegetables. The meal begins, in true French style, with bread—in this case, more than a dozen different kinds, all arranged artfully on a three-tiered glass-and-silver cart: baguettes, brioches, focaccias, and rolls flavored with cheese, nuts, herbs, and bacon. Next comes the first course: on our last visit it was a finely diced apple in a light gelee flavored with nutmeg and olive oil. The rest of the meal is a cascade of indulgences: slices of potato topped with a "carpaccio" of foie gras and generous shavings of black Perigord truffle; a starkly simple Kobe beef rib eye cooked on a bed of rock salt to supple perfection; the chef's** famous whipped potatoes** enriched with a surfeit of butter and cream; and on and on. The meal costs a king's ransom (starting at $500 per person), but hey, this is Vegas. — Cheryl and Bill Jamison, authors of Around the World in 80 Dinners (William Morrow, 2008)