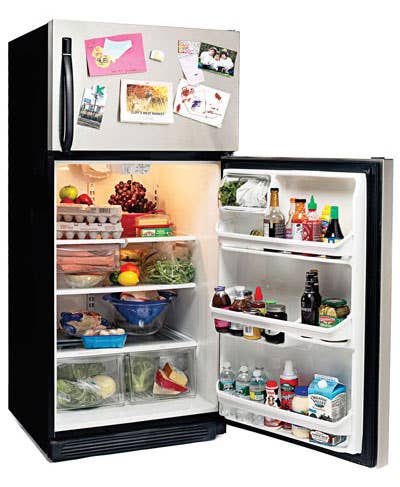 Techniques
Know Your Fridge
Beyond putting butter in the butter compartment, vegetables in the crisper, and ketchup and mustard in the door, most of us don't think much about what goes where in the fridge. But the fact is, different foods want different levels of coldness and humidity, and that's fine, because almost every refrigerator has defined microclimates within it. Here, a breakdown of a typical refrigerator's temperature zones and what foods each is best suited to.
1. Here's a revelation: butter doesn't do best in the butter compartment, which, contrary to popular belief, isn't the warmest part of most refrigerators. In fact, the front of the top shelf is one of the coldest places, meaning it's perfect for keeping butter and eggs.
2. Hardy fruits like apples do well in the colder back part of the top shelf.
3. The back of the middle shelf is a cold spot, too, just right for leftovers and prepared foods, whereas the front is warmer, a good choice for beans, melons, and other produce that can be damaged by very cold temperatures.
4. The meat drawer, usually the fridge's coldest spot, should be reserved exclusively for steaks, chicken pieces, ground beef and pork, and other raw meats.
5. Uncooked roasts and whole poultry should be stored in a cold spot, too; keep them in the back of the bottom shelf, safely stored on a sheet pan or in a plastic container.
6. The front of the bottom shelf, by contrast, is often the warmest zone, and thus ideal for mushrooms, corn, and other very cold-sensitive vegetables.
7. Crisper drawers are designed to retain humidity and are a good environment for leafy greens, broccoli, and cheeses.
8. If not butter in the butter compartment, then what? Herbs, in fact, do well in this moderately cool spot.
9. The relatively warm top and middle shelves of the fridge door are a good home for beverages and condiments, which needn't be super-cold.
10. The door's bottom shelf stays very cold and is the right place for milk, as well as egg- and dairy-based foods.
11. There is little temperature fluctuation in most freezers, but there are a couple of rules of thumb: don't overstuff the compartment, and keep the foods in it thoroughly and tightly covered.