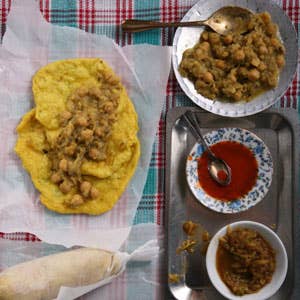 Culture
Make Mine a Doubles
One food drives Trinidadians' morning appetite more than any other: doubles, a handheld snack filled with curried chickpeas.
Breakfast is a national pastime in Trinidad, right up there with cricket and "liming", or hanging out. When I traveled to the island—the larger of the two that make up the Caribbean nation of Trinidad and Tobago—I found that one food drives Trinidadians' morning appetite more than any other: doubles, a handheld snack composed of two disks of puffed flatbread filled with curried chickpeas and sweet, tangy sauces. It's a specialty of roadside stands all over the island.
The complex cuisine of this former British colony bears traces of five centuries' worth of conquerors, pirates, planters, slaves, and laborers. Doubles, which resemble channa bhatura, a Punjabi chickpea-and-flatbread snack popular throughout India, are a legacy of the East Indian indentured workers who came to harvest sugarcane in the mid-19th century. The name, always stated in the plural, refers to the two pieces of flatbread used.
Back in Brooklyn, New York, where I live, my doubles fixation hasn't abated, thanks to A&A Bake and Doubles, a storefront in the Bedford-Stuyvesant neighborhood. (Bakes are either plain—sada in Hindi—or fried breads filled with items like shark and cod.) Owner Noel Brown, along with his wife, Geeta (pictured, left), fry their flatbreads in a cauldron of hot oil and slow-cook the chickpeas to make a velvety gravy, to which they add shado beni, a leafy herb that tastes like cilantro on steroids. The doubles come with chile sauce and mango chutney or, my favorite, tangy tamarind chutney brightened with shredded granny smith apples. Either way, they're so good that a line of Trinidadian customers frequently extends down the block, proving that homesickness is often felt the most keenly in the stomach.